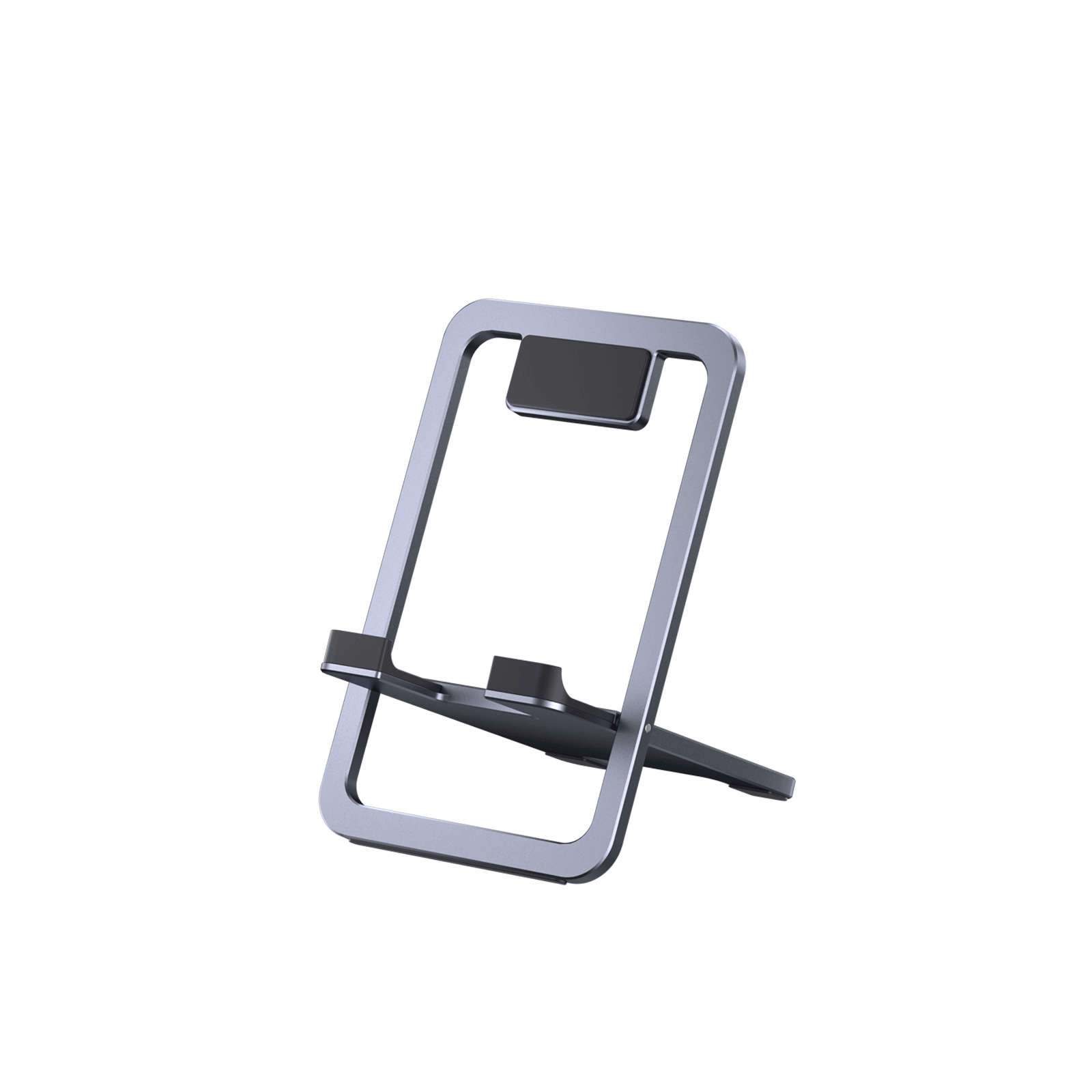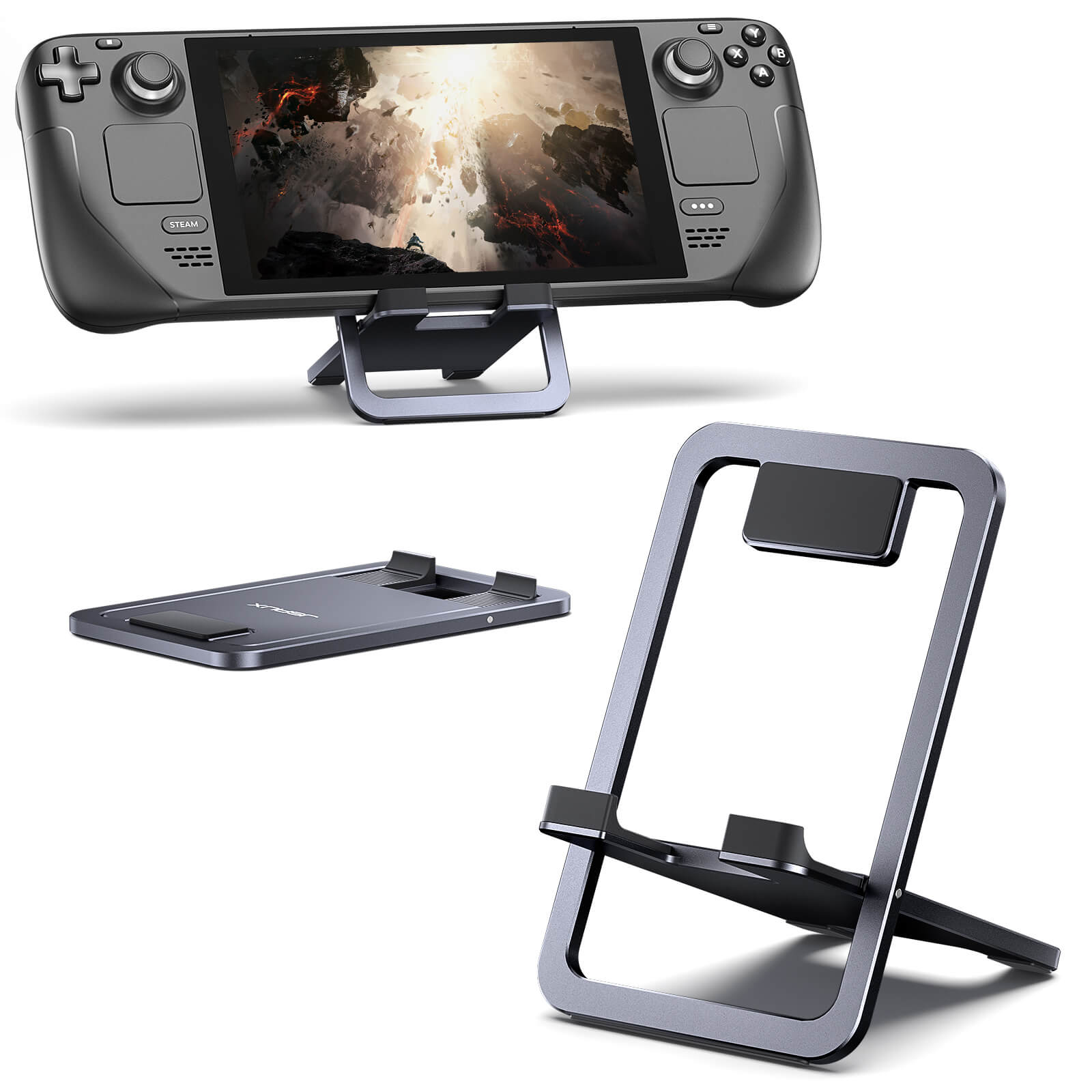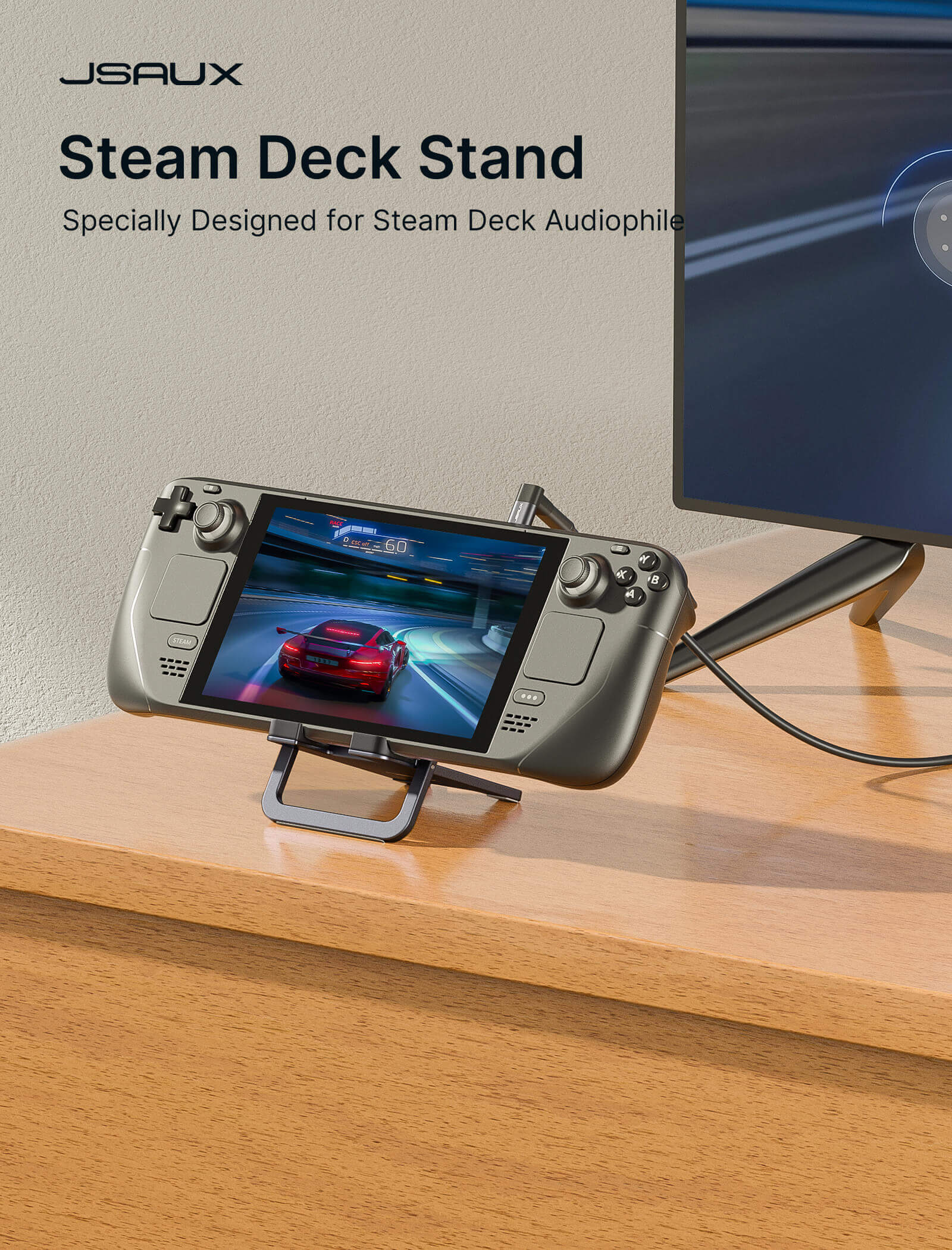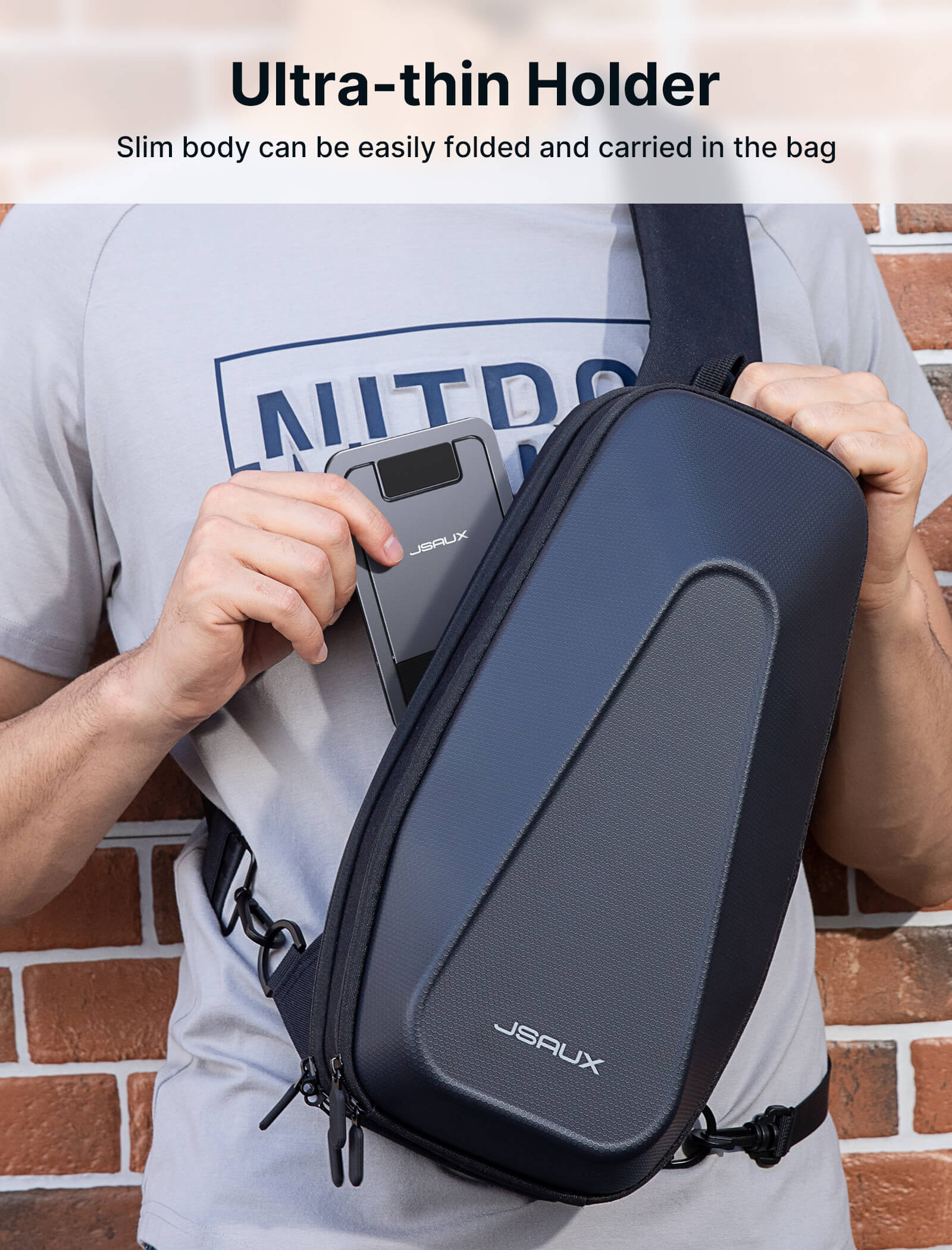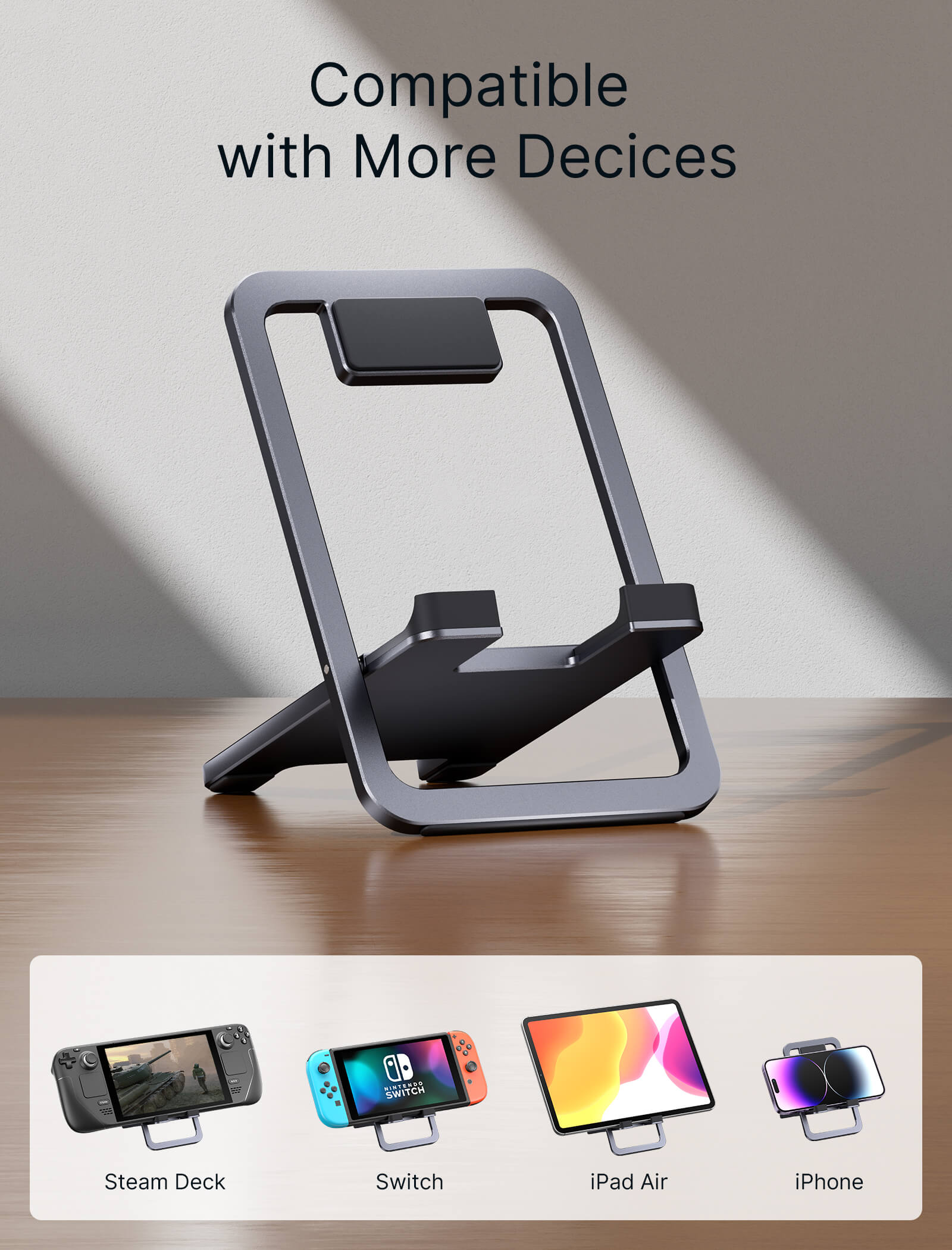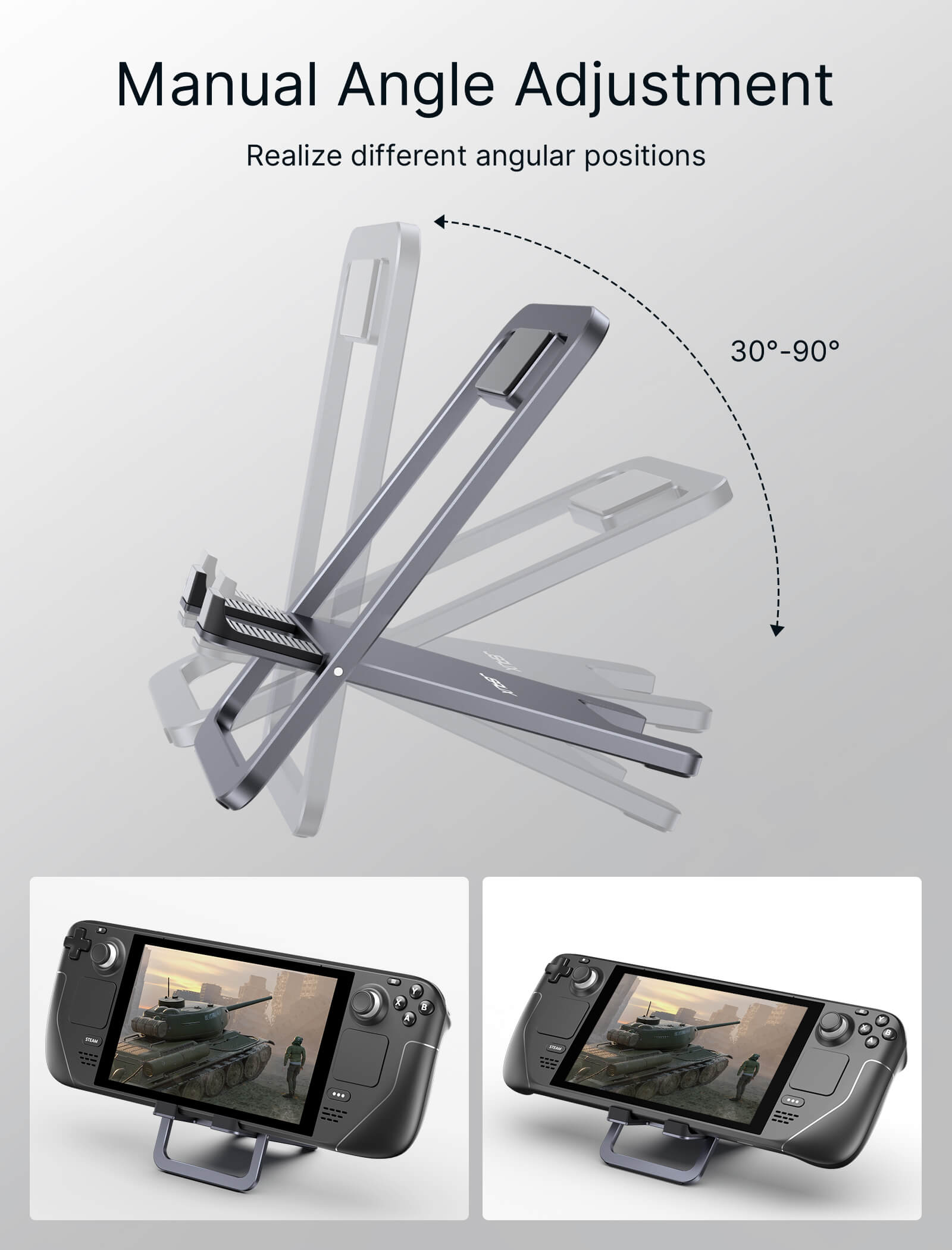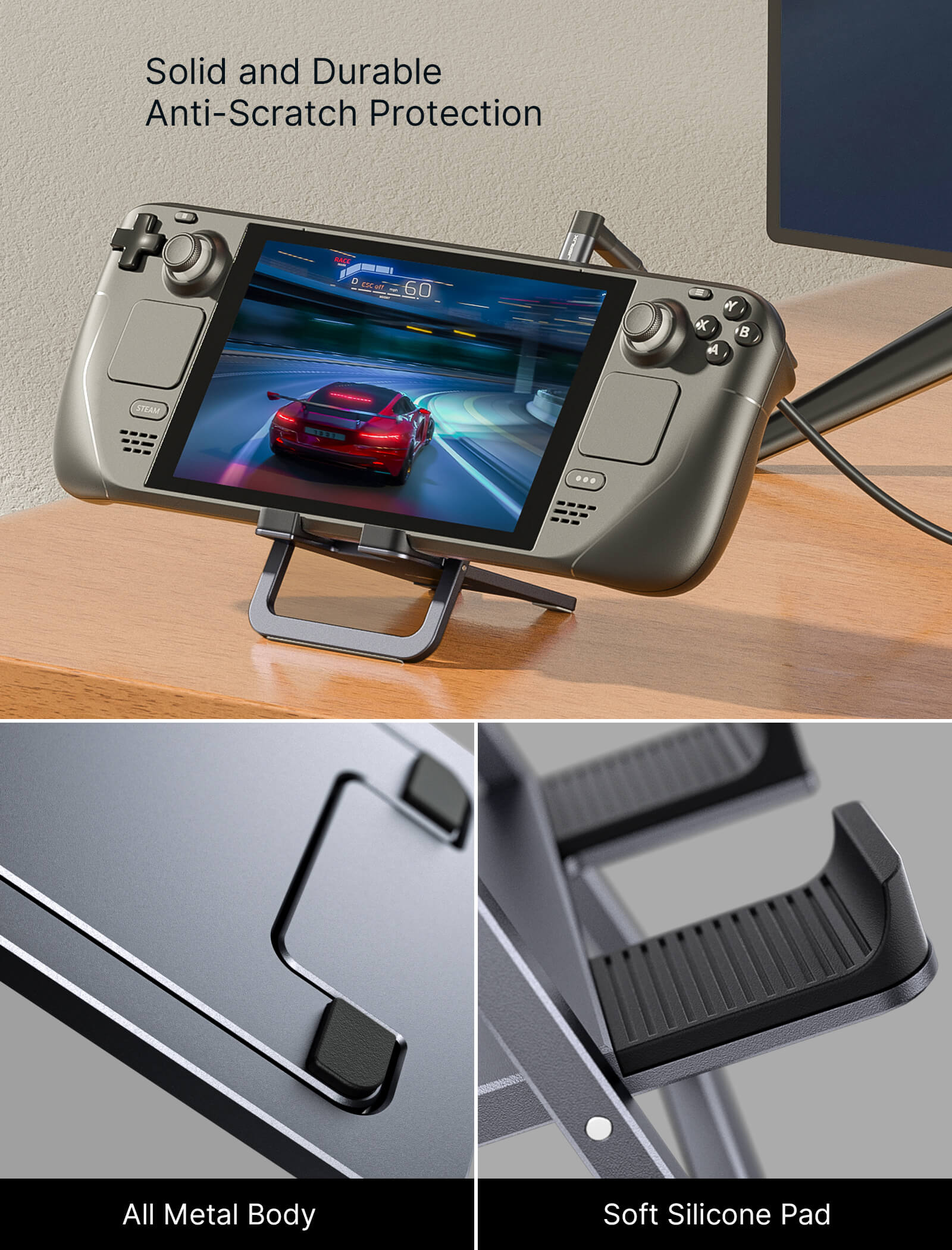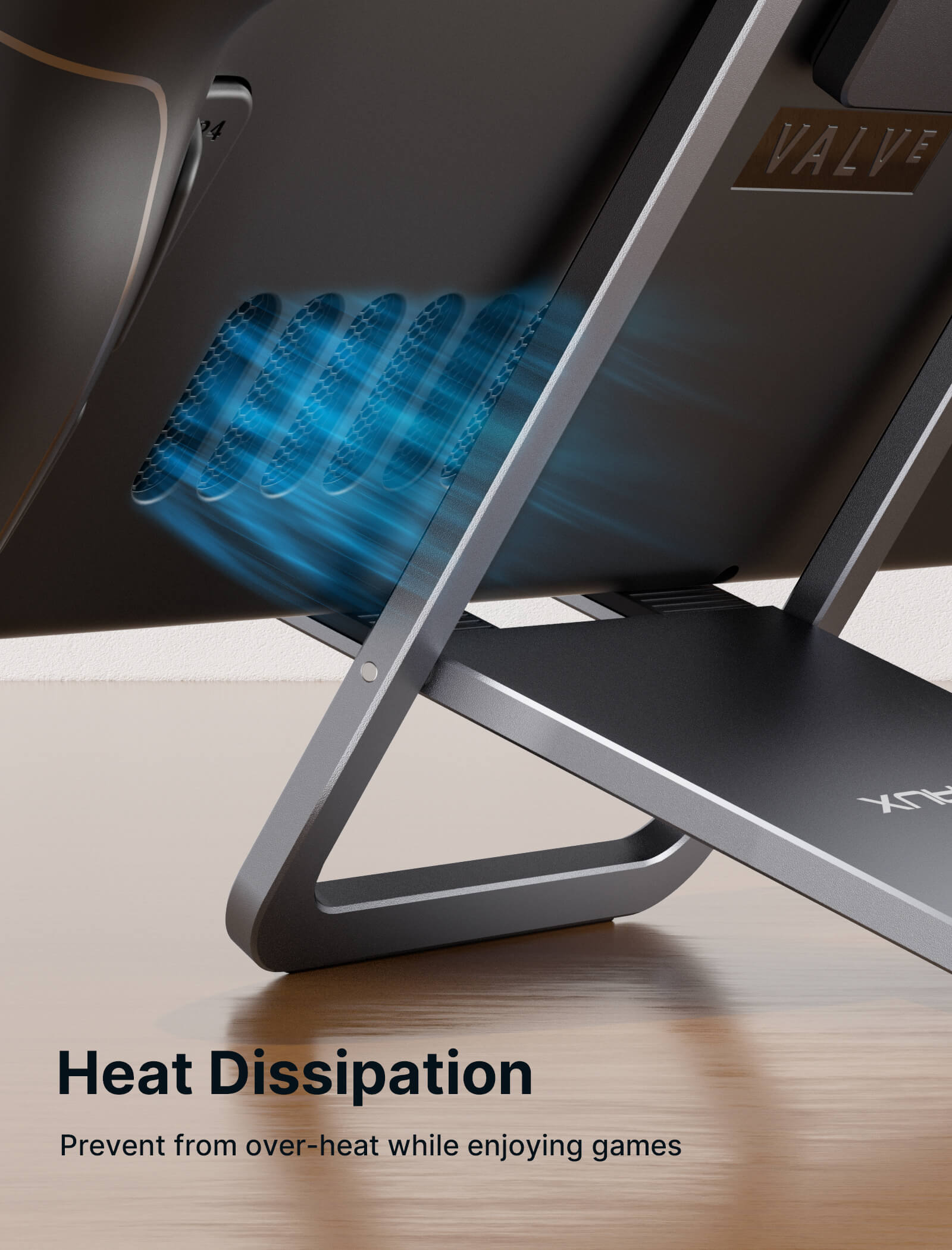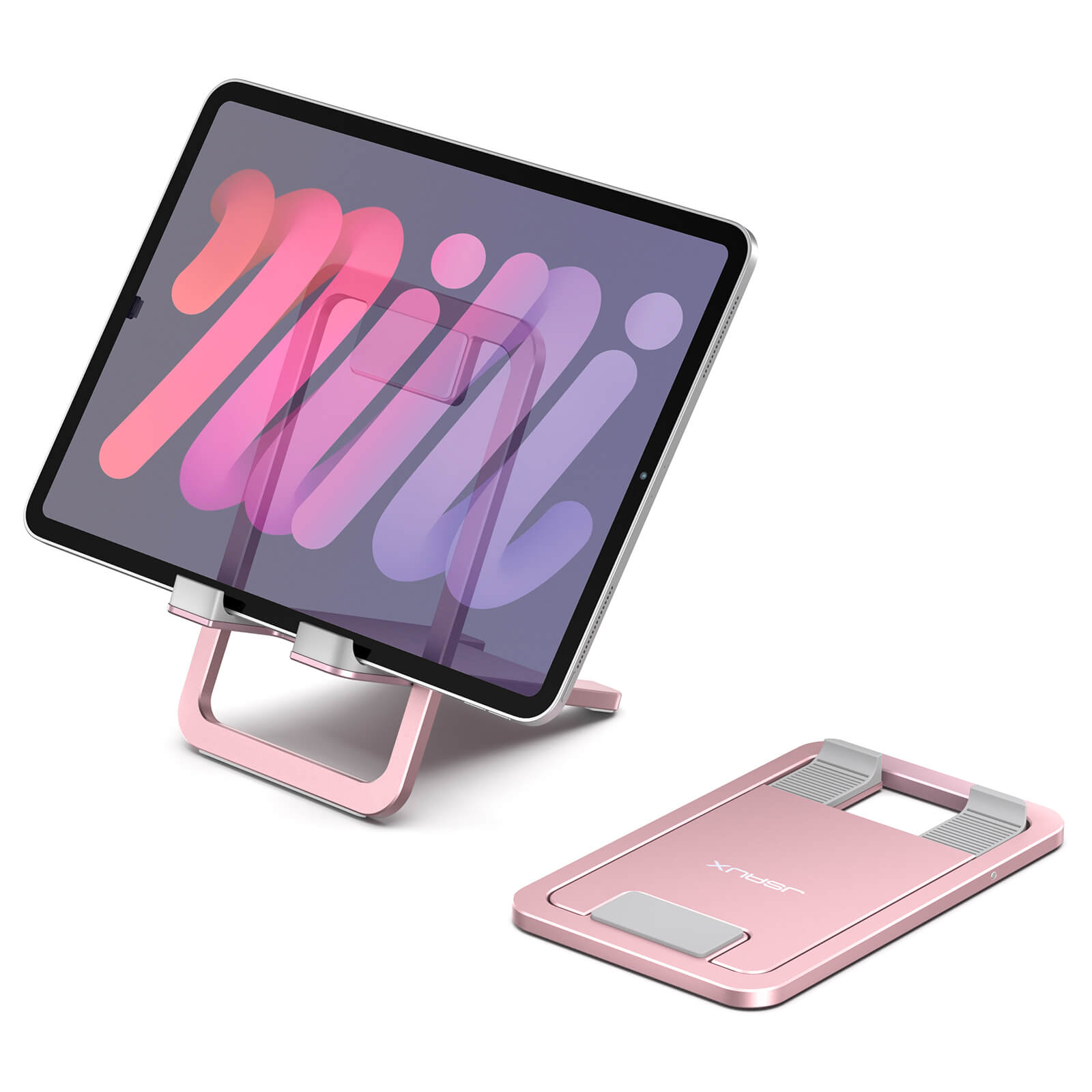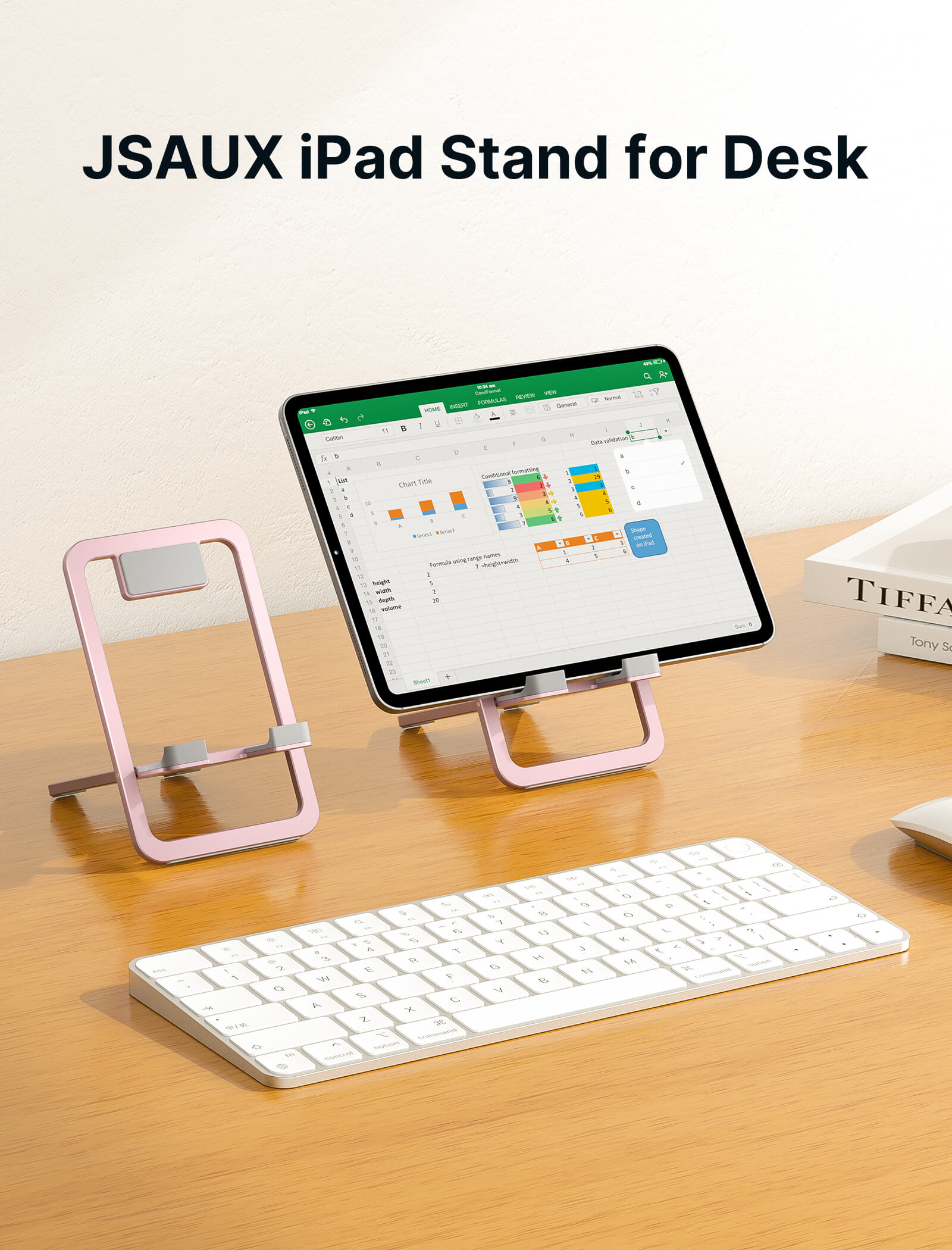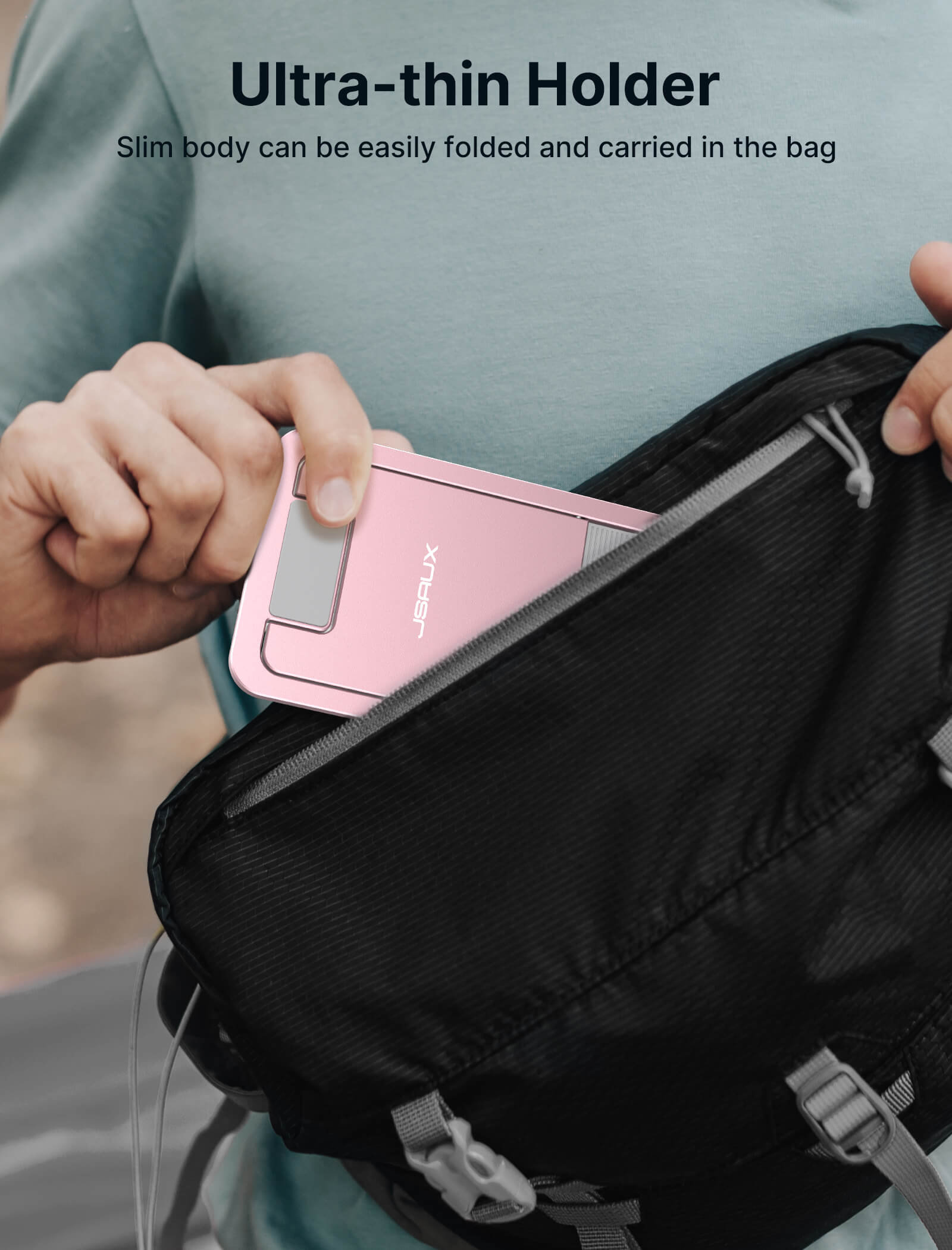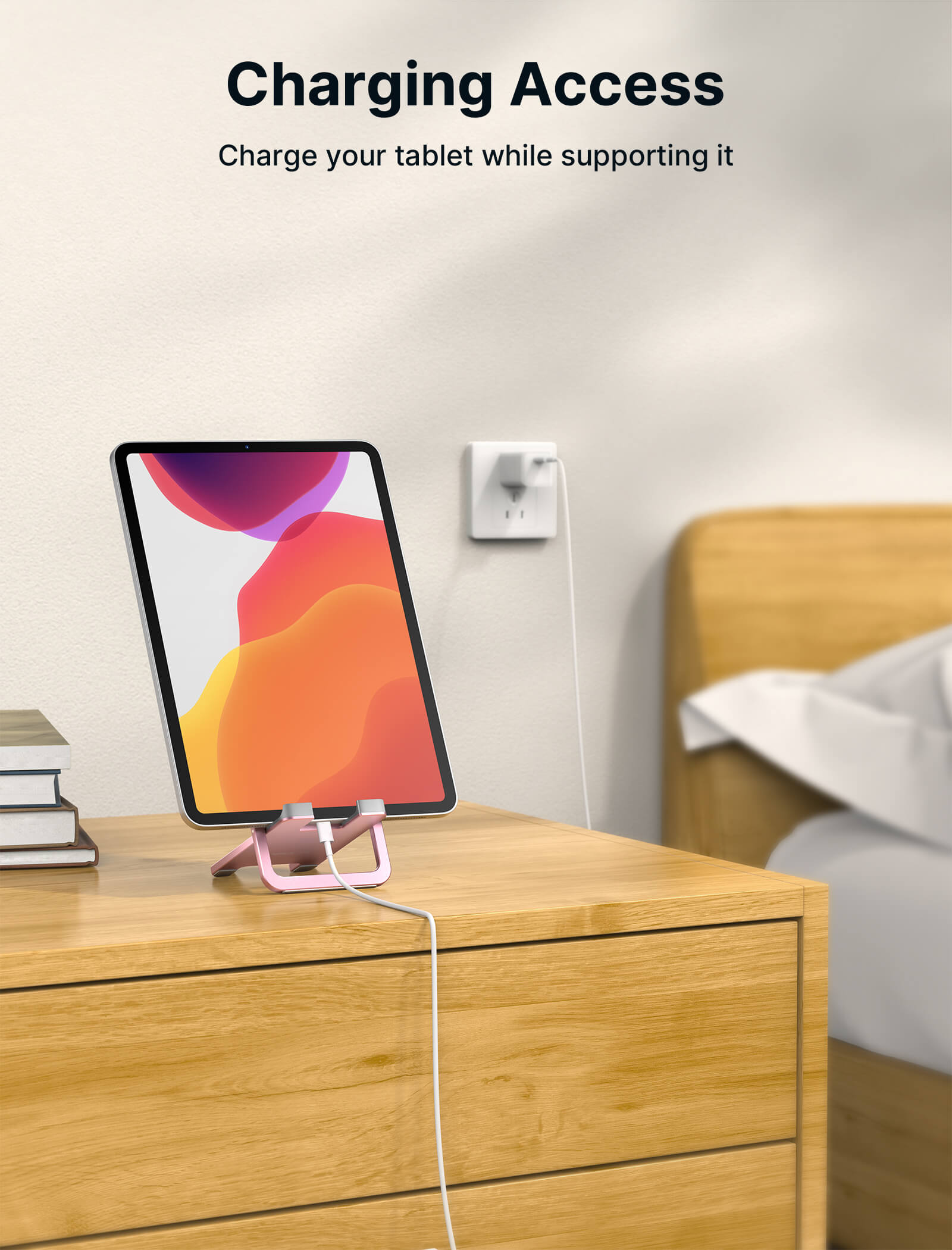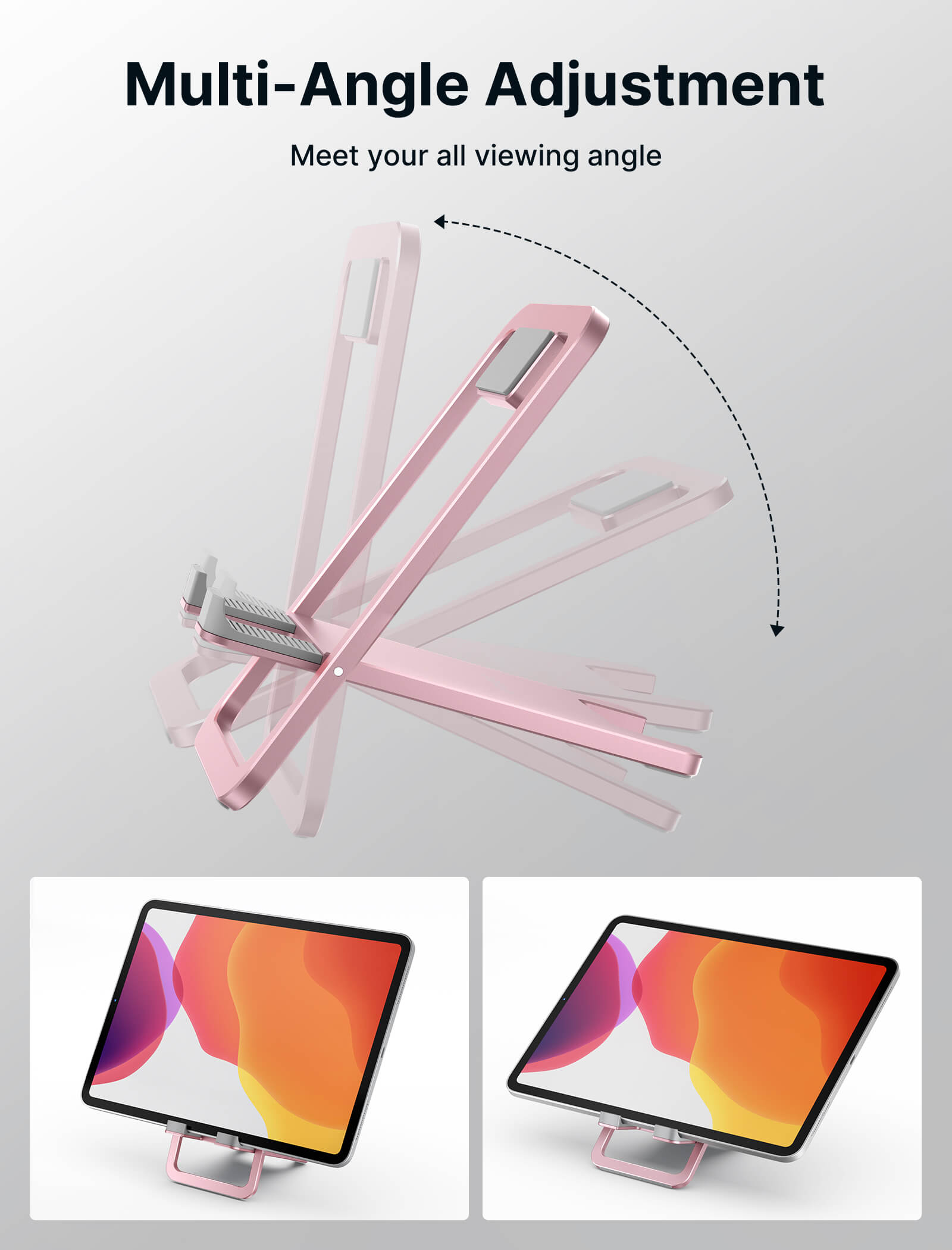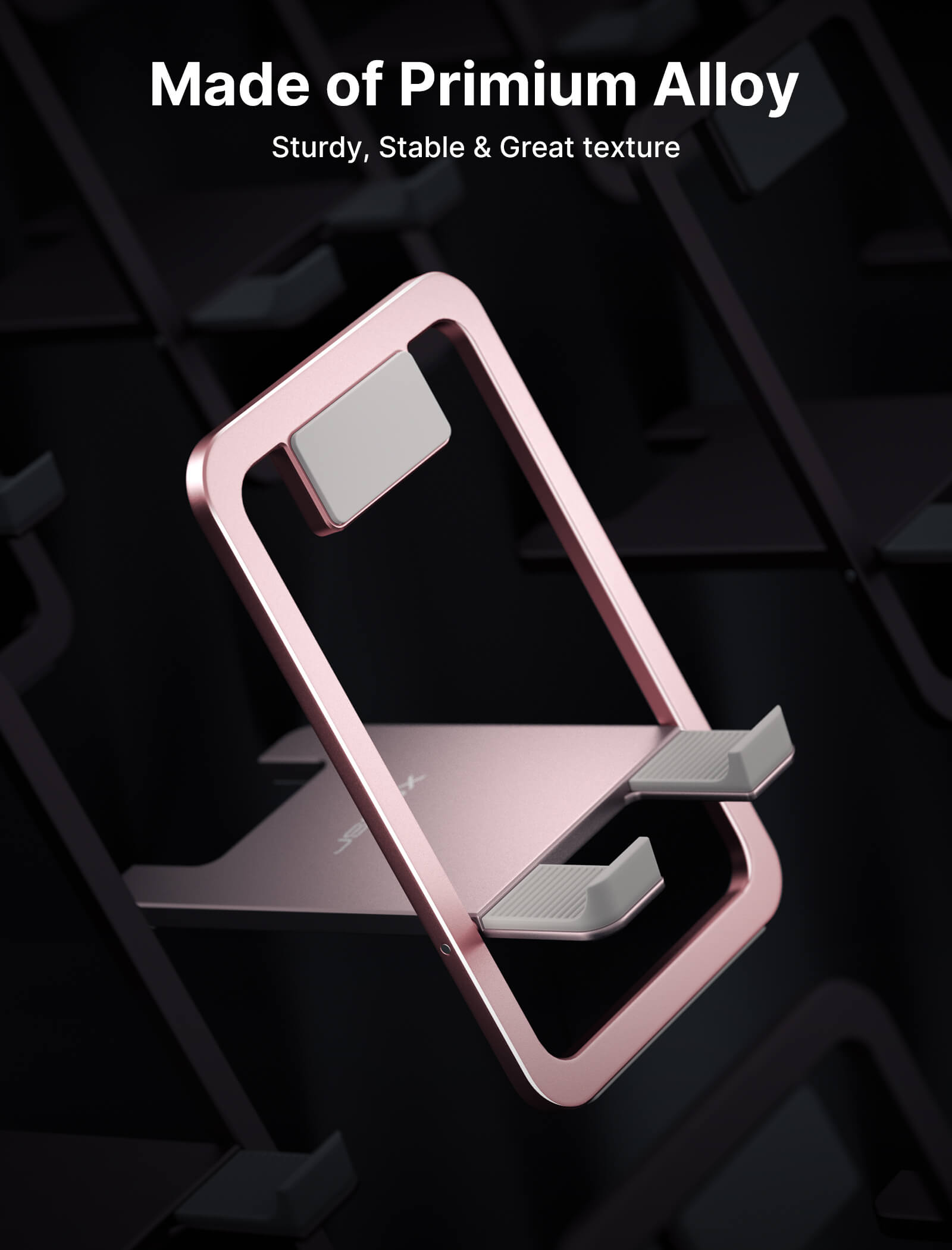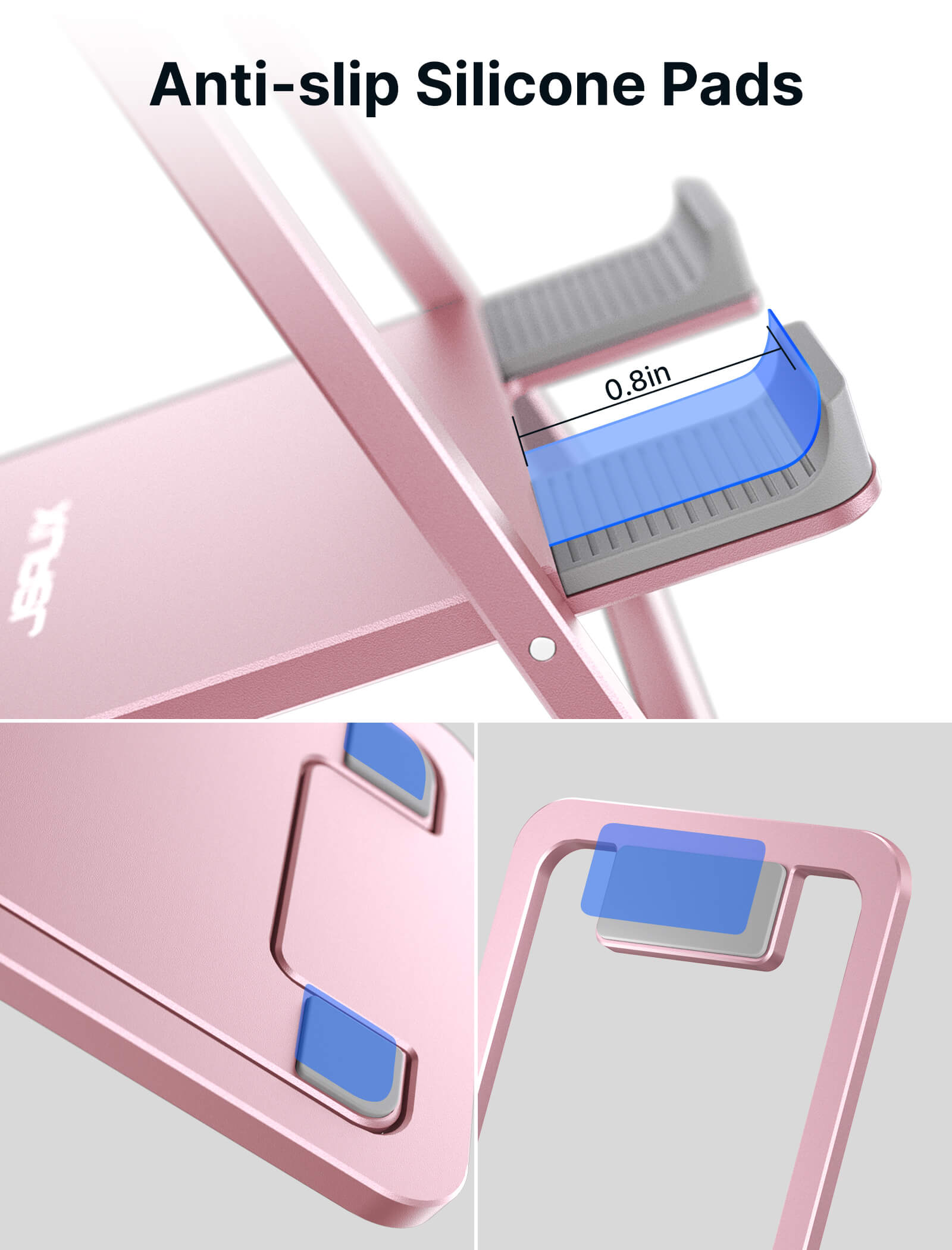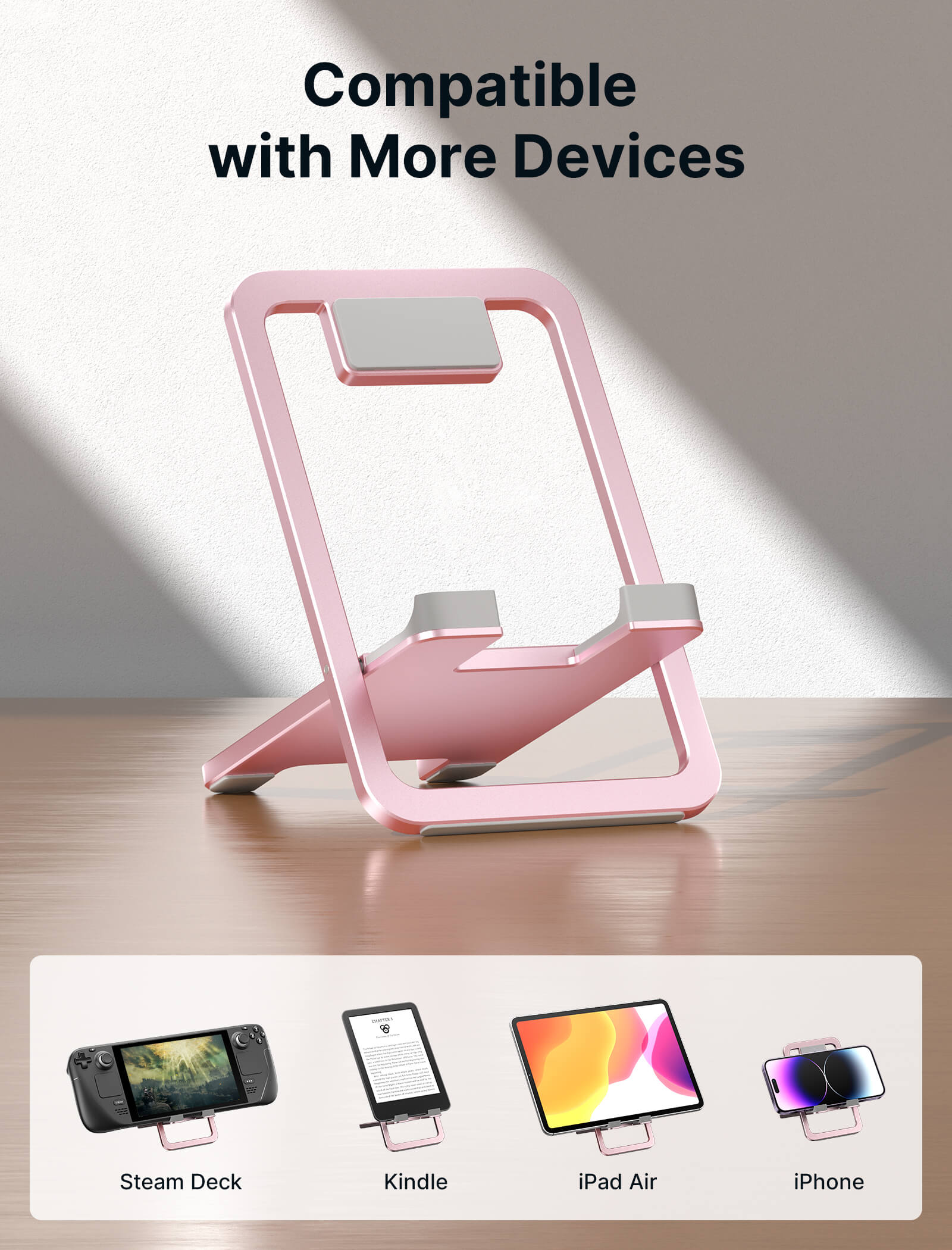 15-Day Refund Guarantee
Fast, Free Shipping Over $25
Quick Customer Support
SG0103
Anti-Slip Holder for Handheld
---
Black Friday Sale: Up To 40% Off!
1. When is the event?
Nov. 9th - Nov. 30th.
2. What benefits can I take advantage of?
💰Black Friday Event Prices💰:
Almost all products will be directly reduced in price. During this period, everyone can enjoy unique Black Friday event prices.
🏷️Black Friday Discounts🏷️:
👑New Member Benefites👑:
If you are a new customer, join our membership to earn 200 points!
🧡Black Friday Wish List🧡:
Add items to your wishlist by clicking the heart icon next to the product price. To share your wish list, tap the orange wishlist button in the lower left corner, take a screenshot of your wish list, and share it on social media with #JSAUXWishlist. We will draw 3 customers to fulfill their wishlist! – follow us on social media for updates!
3. Which products participate in the event?
All products are included. Mix and match as you like!
4. How to use the discount?
Simply add your favorite products to the cart, and the discount will be automatically applied based on the promotion's settings
Note: All discounts cannot be combined except for gift cards.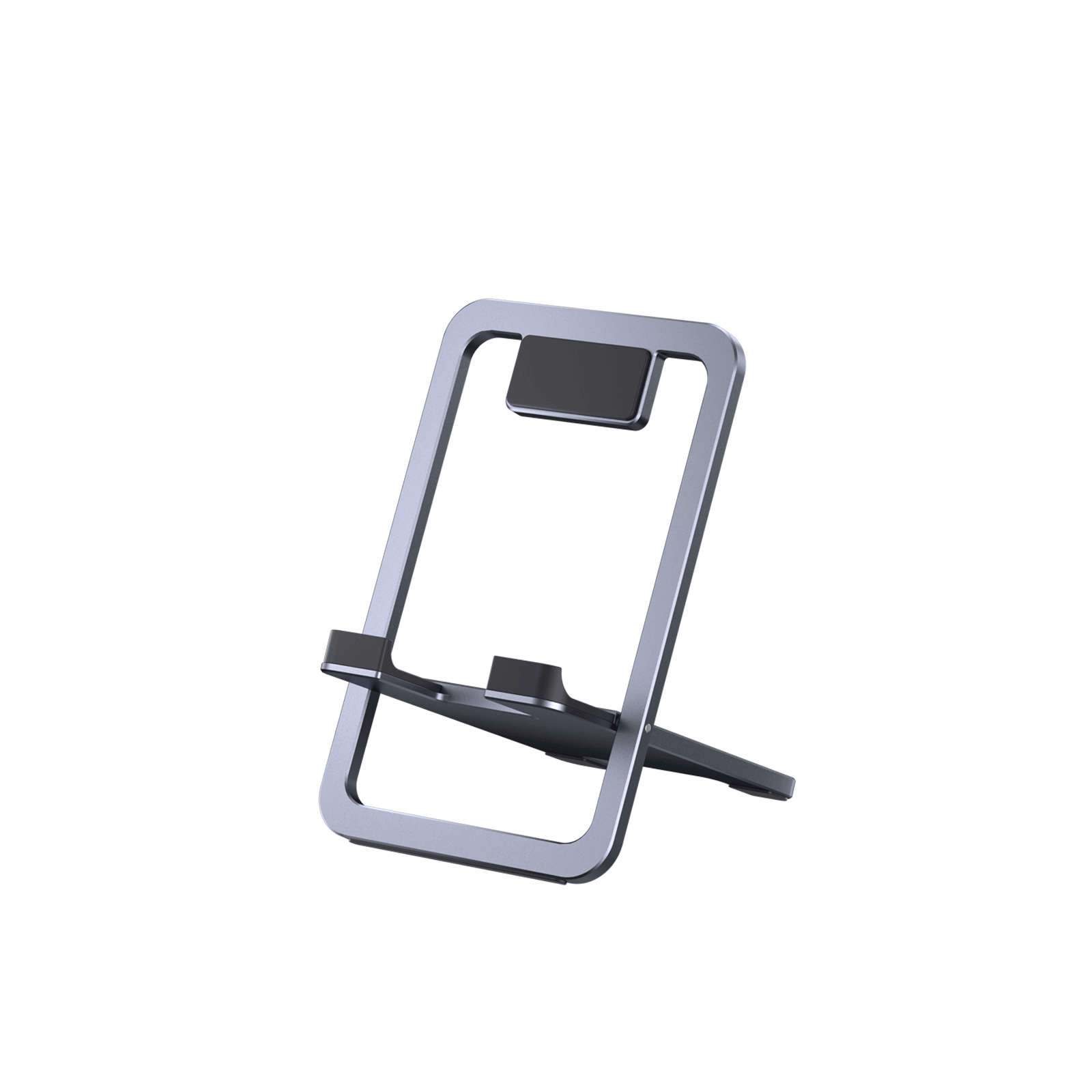 Foldable and Convenient: Enjoy your Steam Deck or ROG Ally gaming sessions on the go with this portable and foldable stand. Designed to fit easily into your pocket or bag, it's perfect for travel or business trips.
To Free Your Hands: With this stand, you can free your hands and enjoy your Steam Deck/

 ROG Ally

anywhere at any time.
Angle Adjustable: The holder supports angle adjustment from 0° to 90°, you can flexibly customize the angle of your device to find the most comfortable viewing angle.
Sturdy Swivel Never Loose: The swivel part of this stand is made with reinforced materials, ensuring that it's both strong and durable. No matter how many times you fold or unfold it, it will never break or lose its shape. The swivel is also smooth and tight, providing a stable and secure base for your Steam Deck.
What you get: One Pc JSAUX Holder for Steam Deck/

ROG Ally

, 24/7 friendly client consultation, if you have any questions, we will resolve your issue within 24 hours.
Material

Aluminum alloy + silicone

Compatible Devices

✅Perfect for Apple iPads smaller than 12" including iPad 10.9" 2022, iPad 10.2" 2019-2021, iPad 9.7" 2017-2018, iPad Air 5/ Air 4/ Air 3/ Air 2/ Air, iPad mini 6/ mini 5/ mini 4/ mini 3/ mini 2/ mini, iPad Pro 11" 2018-2022, iPad Pro 10.5" 2017, iPad Pro 9.7" 2016;

✅Perfect for Samsung Galaxy Tab A8, Tab A7 Lite, Tab S8, Tab S6 Lite, Tab S7, Tab A7, Tab S6 Lite, Tab A, Tab S6, Tab S5e, Tab E;

✅ Perfect for Kindle, Kindle Paperwhite 3/ 4 /5, Fire 7/ 8/ 8 Plus/ 10/ HD 10;

✅Perfect for Valve Steam Deck, Nintendo Switch</b>/ Switch Oled/ Switch Lite, OneXplayer, and All portable monitors smaller than 12";

✅Also Compatible with iPhone, Samsung Galaxy Smartphones, Oneplus etc,.
Please read our shipping tips carefully before you place your order

All orders above $25 are free shipping.
Orders under $24.99 will be charged $5.5 as shipping cost.

Please Note:

JSAUX provides fast and efficient delivery services for global customers.(But unable to deliver products at military addresses (APO/FPO) and some islands.)
The current processing time for all orders takes 2-4 days(Orders are not processed on weekends). 
Order delivery time will be at 7-12 business days(pre-sale items excluded).
International duties & taxes may apply and are not calculated at checkout.
Shipping time for pre-sale products is subject to the instructions on the product page.

Due to the requirements of logistics service providers: 

In order to get your order ready as soon as possible and avoid shipping issues, make sure to introduce an accurate postal address including your exact house number and any other info that may be necessary for the delivery company. 
For mainland China &

Taiwan China

: For mainland China customers, please use Tmall to place your order. Hong Kong, Macao, please include your name, ID number and shipping address in traditional Chinese. 

⚠️

Brazil: Due to local tax policies, customers need to pay customs duties themselves. JSAUX is not responsible for any customs and taxes applied to your order.
Due to logistical reasons, we are temporarily not providing order services to the following countries and regions: Afghanistan, Albania, Algeria, Andorra, Angola, Anguilla, Argentina, Armenia, Aruba, Azerbaijan, Bahrain, Bangladesh, Barbados, Belarus, Bermuda, Bhutan, Bosnia & Herzegovina,British Virgin Islands, Brunei, Burkina Faso, Burundi,Bolivia, Cambodia, Cameroon, Cayman Islands, Central African Republic, China, Christmas Island, Costa Rica, Djibouti,Egypt, El Salvador, Ecuador,Falkland Islands, Faroe Islands,French Polynesia, Gabon, Gambia, Georgia, Ghana, Gibraltar, Greenland, Guadeloupe, Guatemala, Guernsey, Guinea, Iceland, Indonesia, Jamaica, Jordan,Jersey, Kazakhstan, Kenya, Kiribati, Kyrgyzstan, Lebanon, Lesotho, Liberia, Liechtenstein, Maldives, Martinique, Moldova, Monaco,Mongolia, Montenegro, Myanmar (Burma), Namibia, Nauru, New Caledonia, Nicaragua, Niger, Nigeria, Norfolk Island, North Macedonia, Oman, Pakistan, Paraguay, Rwanda, San Marino, Senegal, Serbia, Seychelles, Solomon Islands, South Sudan, Sri Lanka, Sudan, Tajikistan, Togo, Tonga, Tunisia, Turkmenistan, Tuvalu, Uganda, Ukraine, Uruguay, India, Uzbekistan, Vanuatu, Vatican City,

Some regions in the United States

(including Puerto Rico, Guam, US Virgin Islands, Northern Mariana Islands, American Samoa, and military bases like APO, FPO, and DPO).

15-Days RETURN:

Our return & exchange policy will be active for 15 days from the very same day you receive your product(s) at home. For more information, please visit our Shipping Policy section.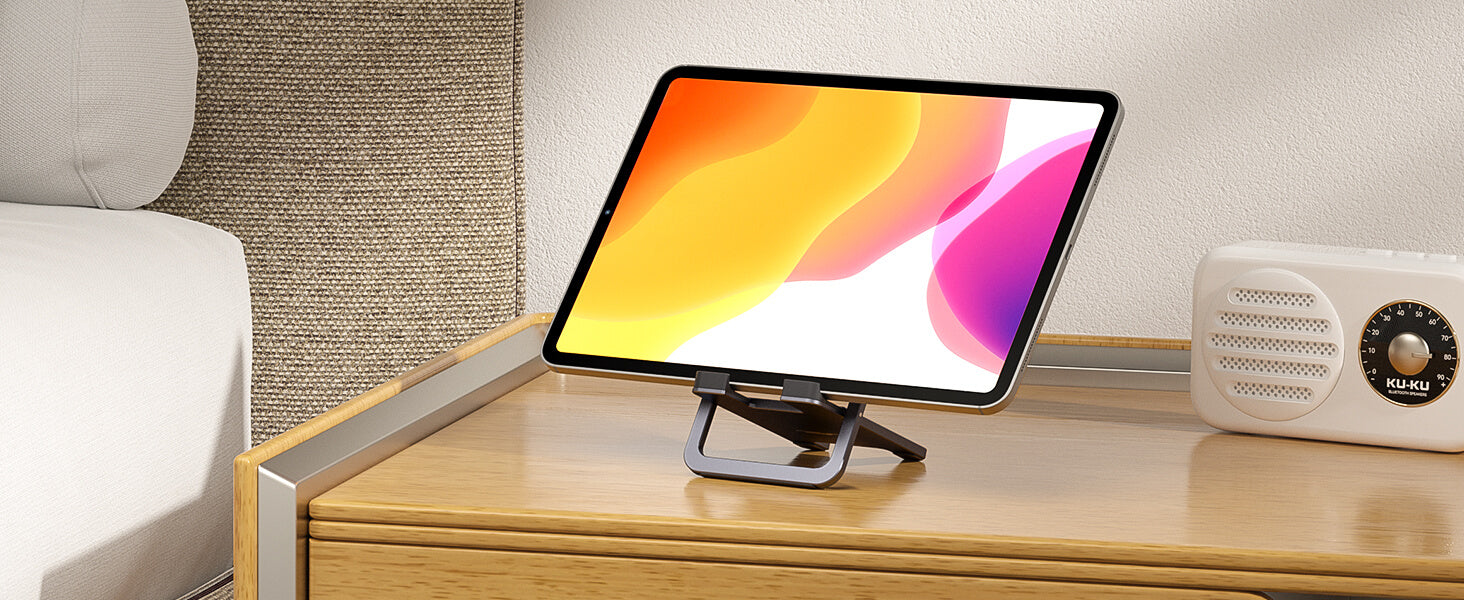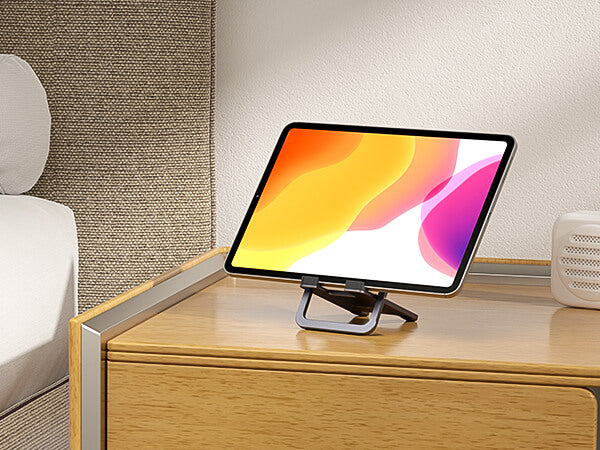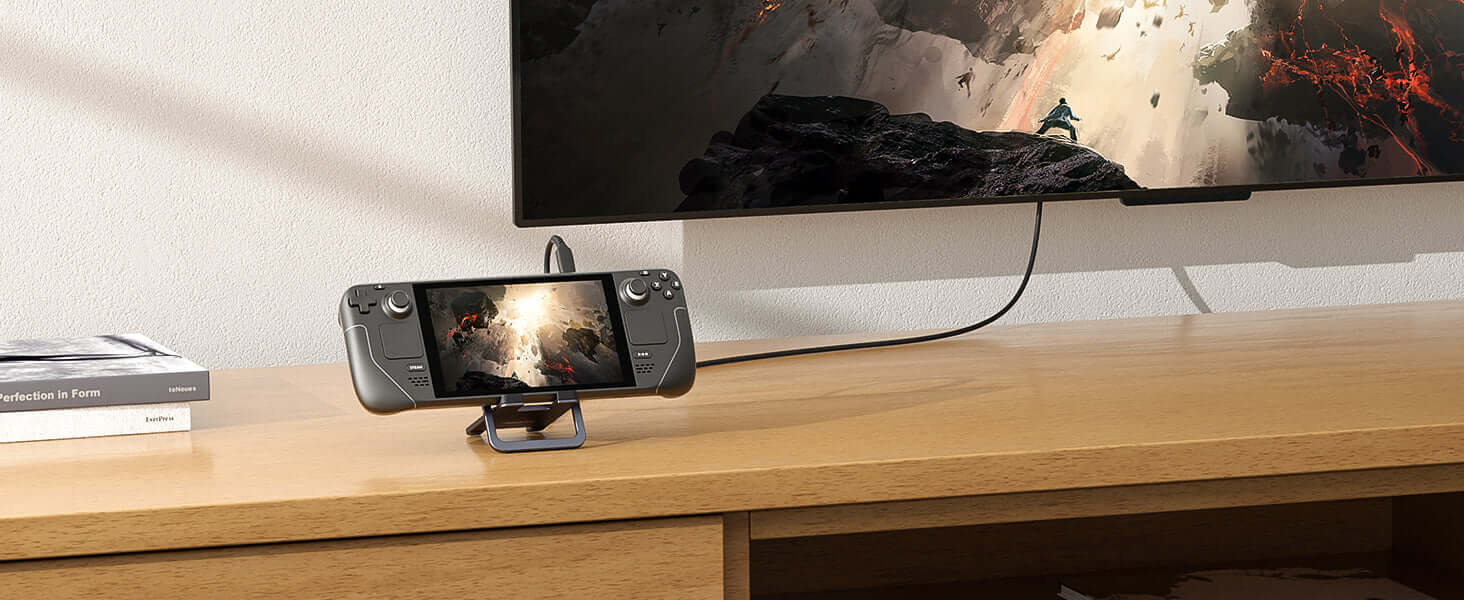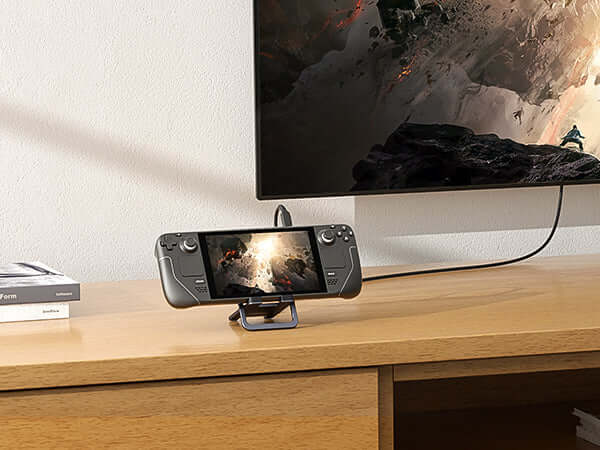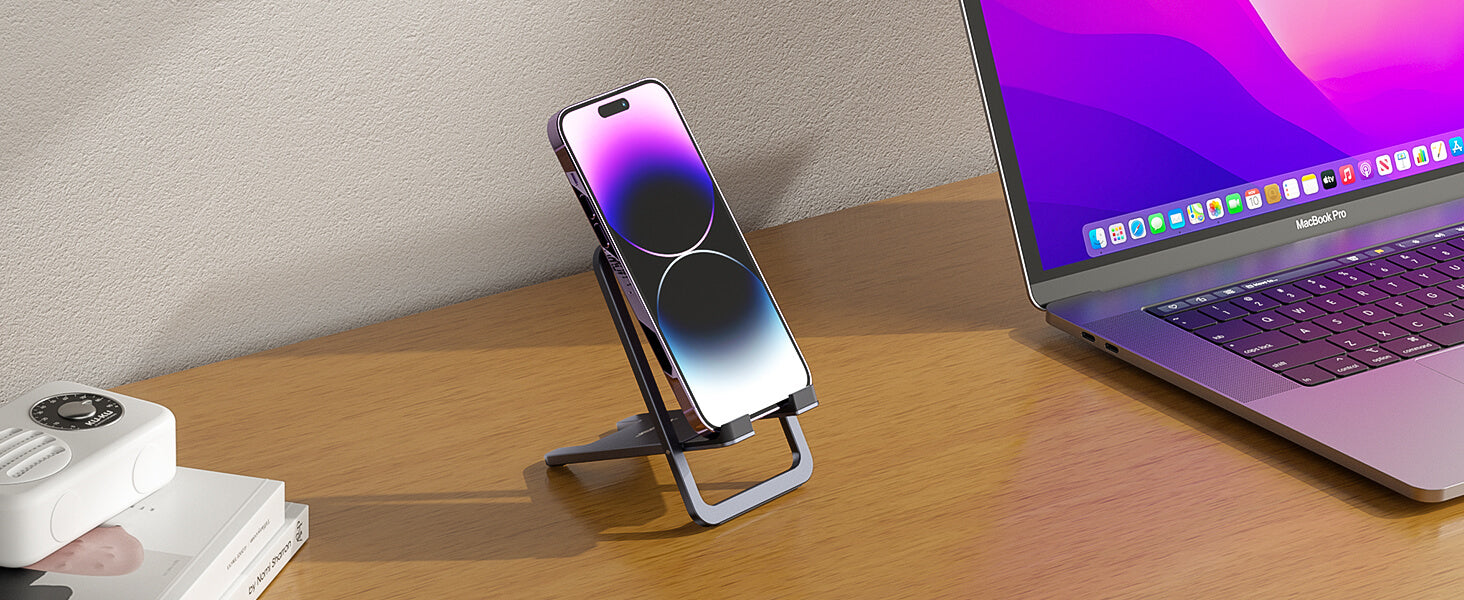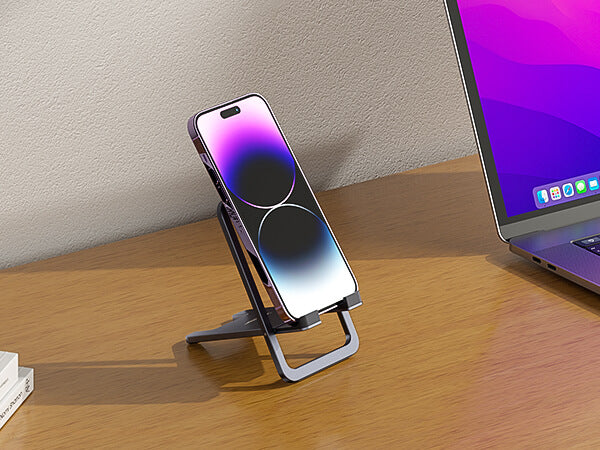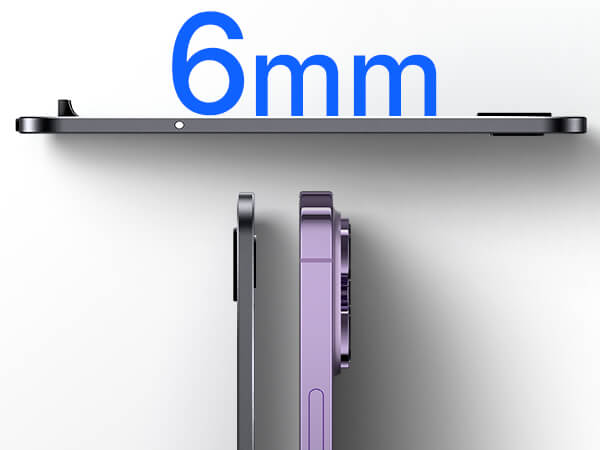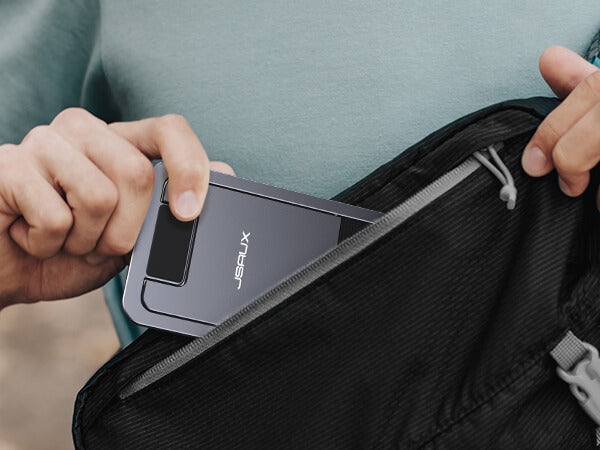 Fold it down to the size of a phone
Easy to carry and store
It is a good companion for your business trip, travel and study in the library.
Even thinner than a phone
Its thickness is only 6 mm
It is a good companion for your business trip, travel and study in the library.
Q1. Would an ipad with a heavy-thick case fit into the groove?

A1. Fit fine. The hook that the iPad sits in has a platform of about 1''.
Q2. What are the dimensions of the plate that the tablet leans on?

A2. 5.3" x 3.4", and it supports a 11" tablet very securely, both horizontally and vertically. However, Please note that it does not work with tablets larger than 12 inches.
Q3. Is it made of stainless steel, brushed steel, or plastic?

A3. None of the above. JSAUX tablet holder is made of high quality alloy to ensure its stability and durability. Also its surface is frosted to avoid scratching your tablet.
Q4. Is this tablets holder adjustable in angle?

A4. Yes, you can adjust it to any angle you want.
Q5. Does the stand "give" if you are pressing the home button on the bottom of a tablet or is it locked securely in place?

A5. The stand has a rubber buffer between the upper stand and your device. It keeps the device from sliding. There is also a lip that keeps it from coming off at the bottom. Unless you are very hard on the button it shouldn't slide.
This product is rated 4.5 of 5.0 stars.
It has received 4 reviews.
REVIEW
Decent
The stand is decent.
One of the rubber edges (ridges?) has been lose ever since purchase (I suspect mine just might have been faulty? it is pretty easy to put back in place tho) but I guess I haven't lost it yet haha.
The opening and closing ss pretty stiff (that's a good thing) and works well with tablets, phones and the SD.
Good quality, but slow delivery EU. Delivery to the post office, not to the door
Great stand for devices
Bought this mainly for my Steam Deck but found it also works really well with my ipad & and smartphone. Folds down nicely for travelling with a solid folding action, which is stiff but robust. I bought 2 to use with different devices. Good quality materials. My devices & the stand feel secure. A great option for not just the steam deck.