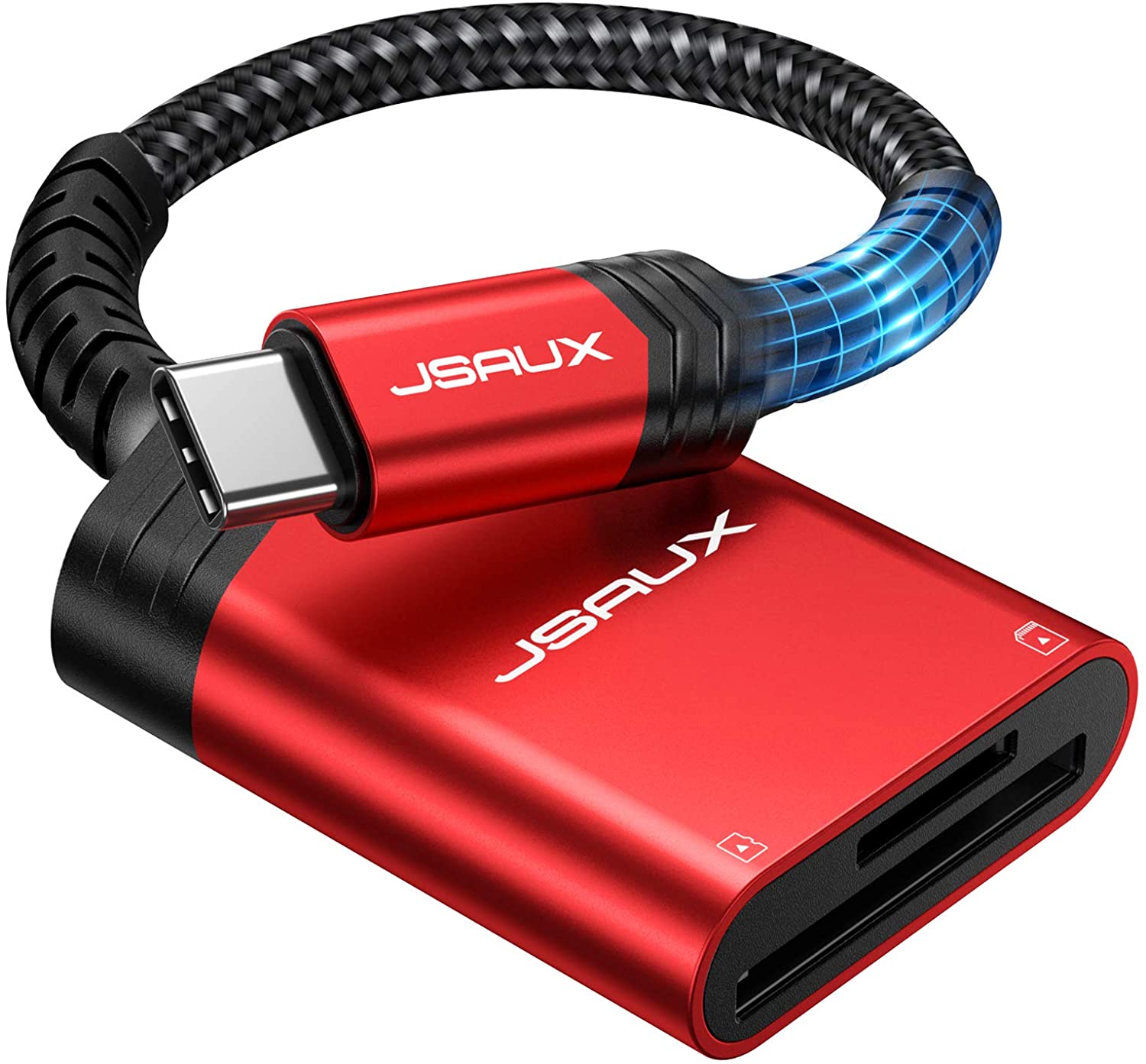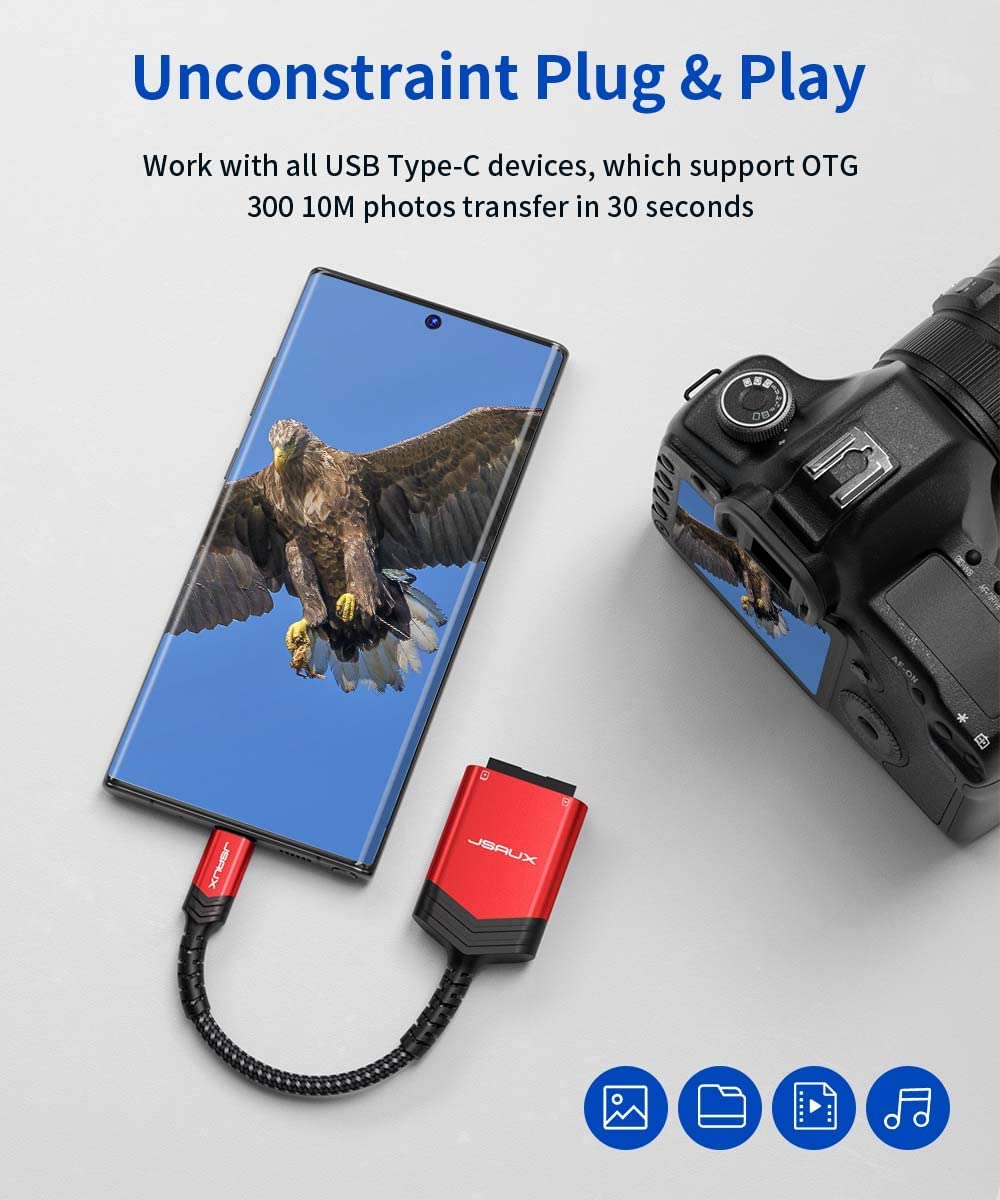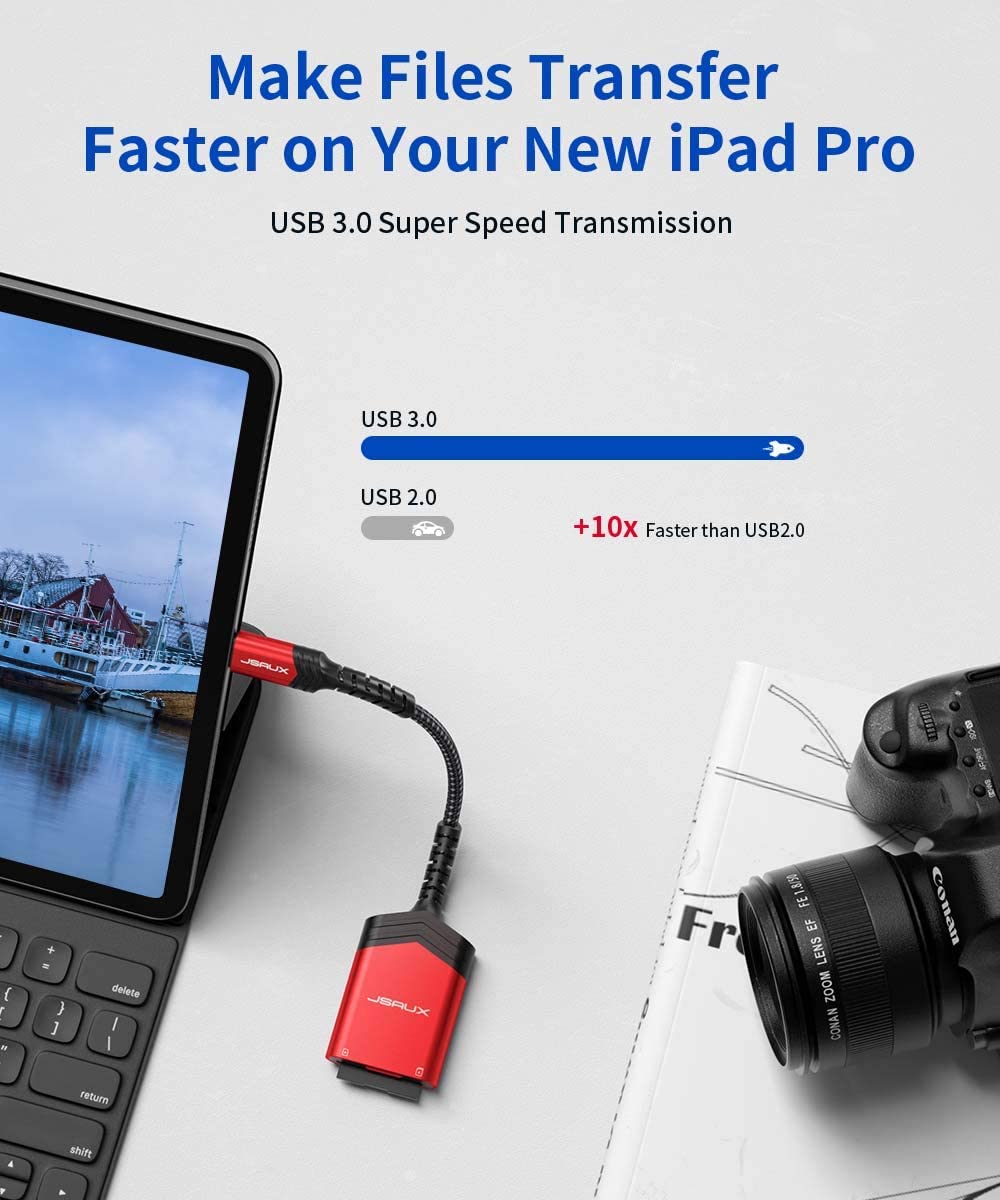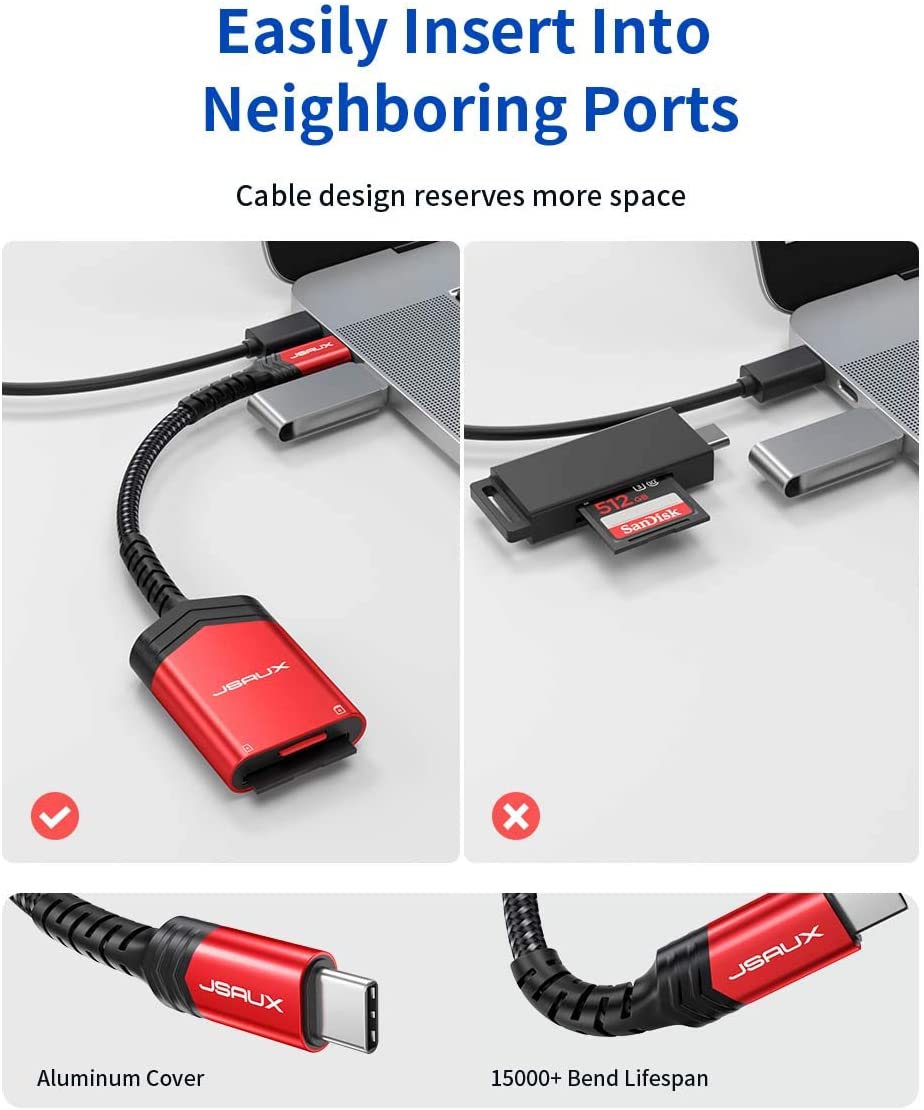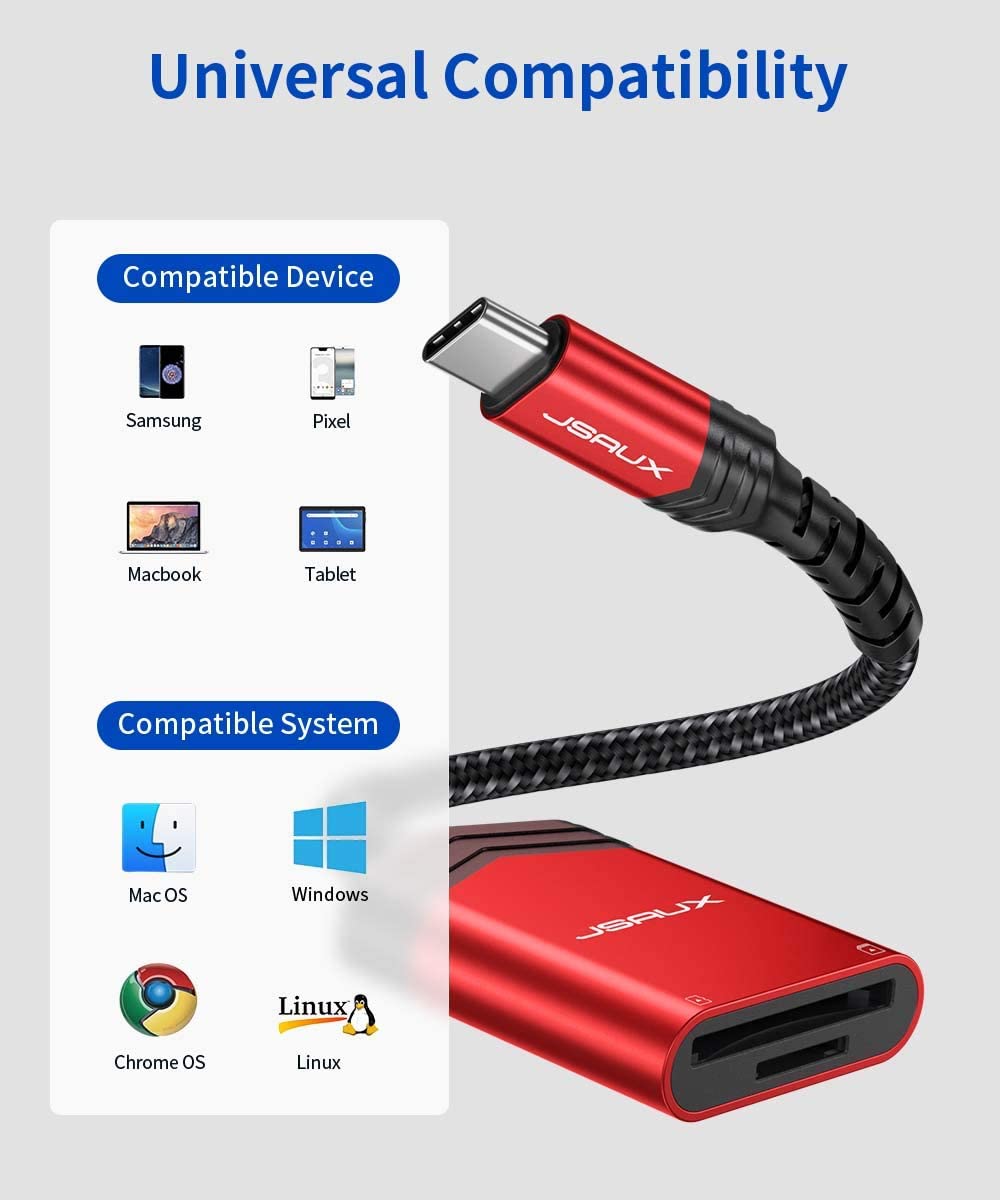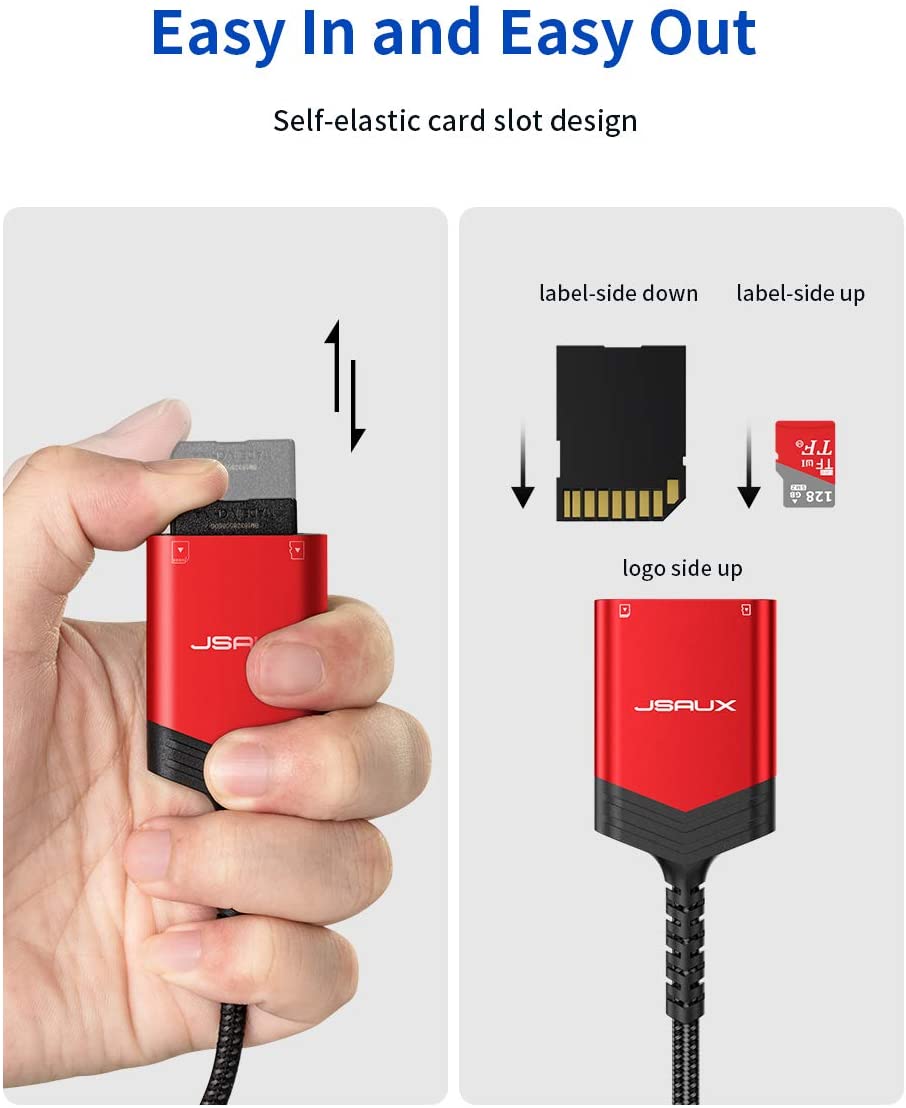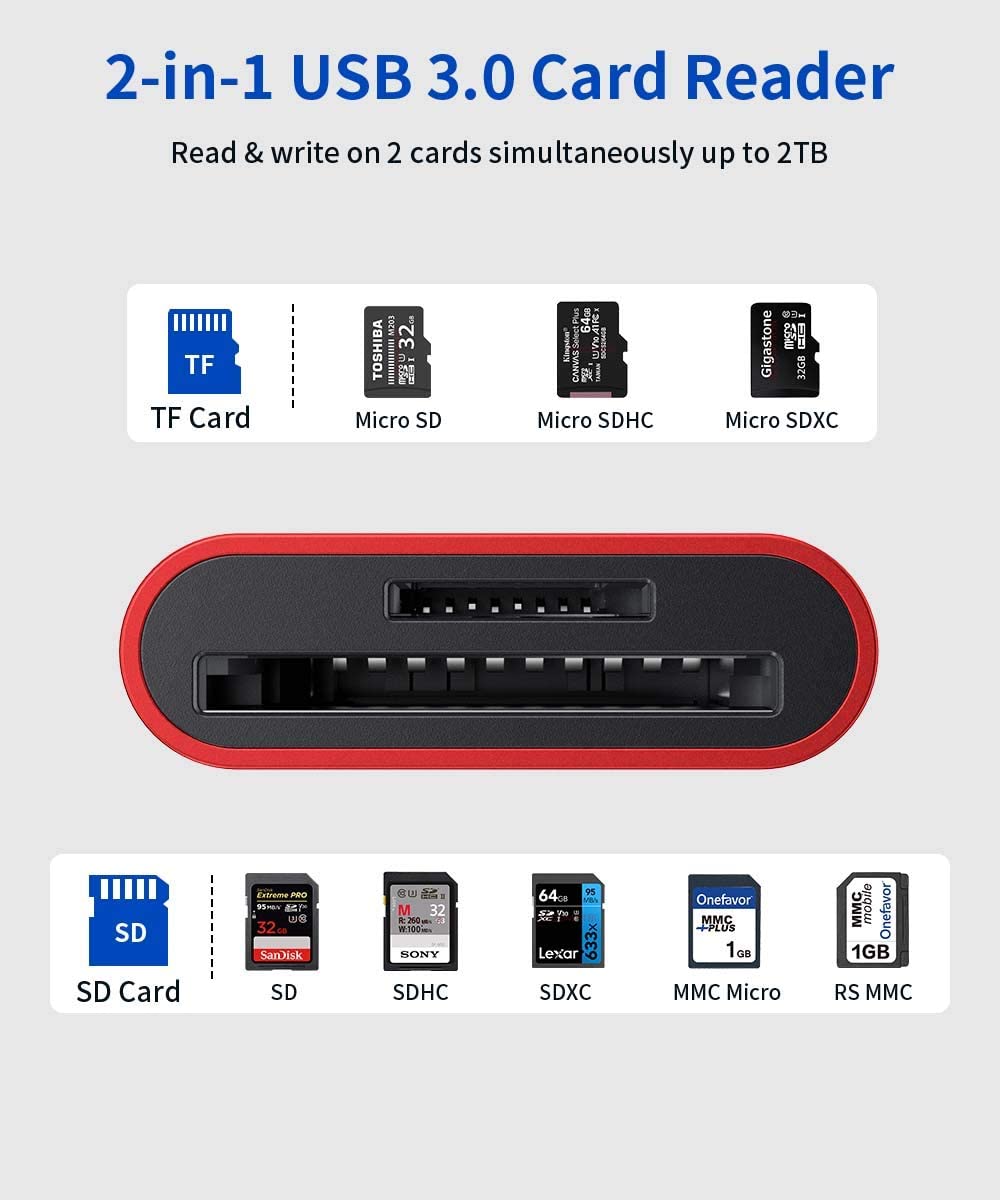 15-Day Refund Guarantee
Fast, Free Shipping Over $25
Quick Customer Support
CD0022
USB-C SD Card Reader
---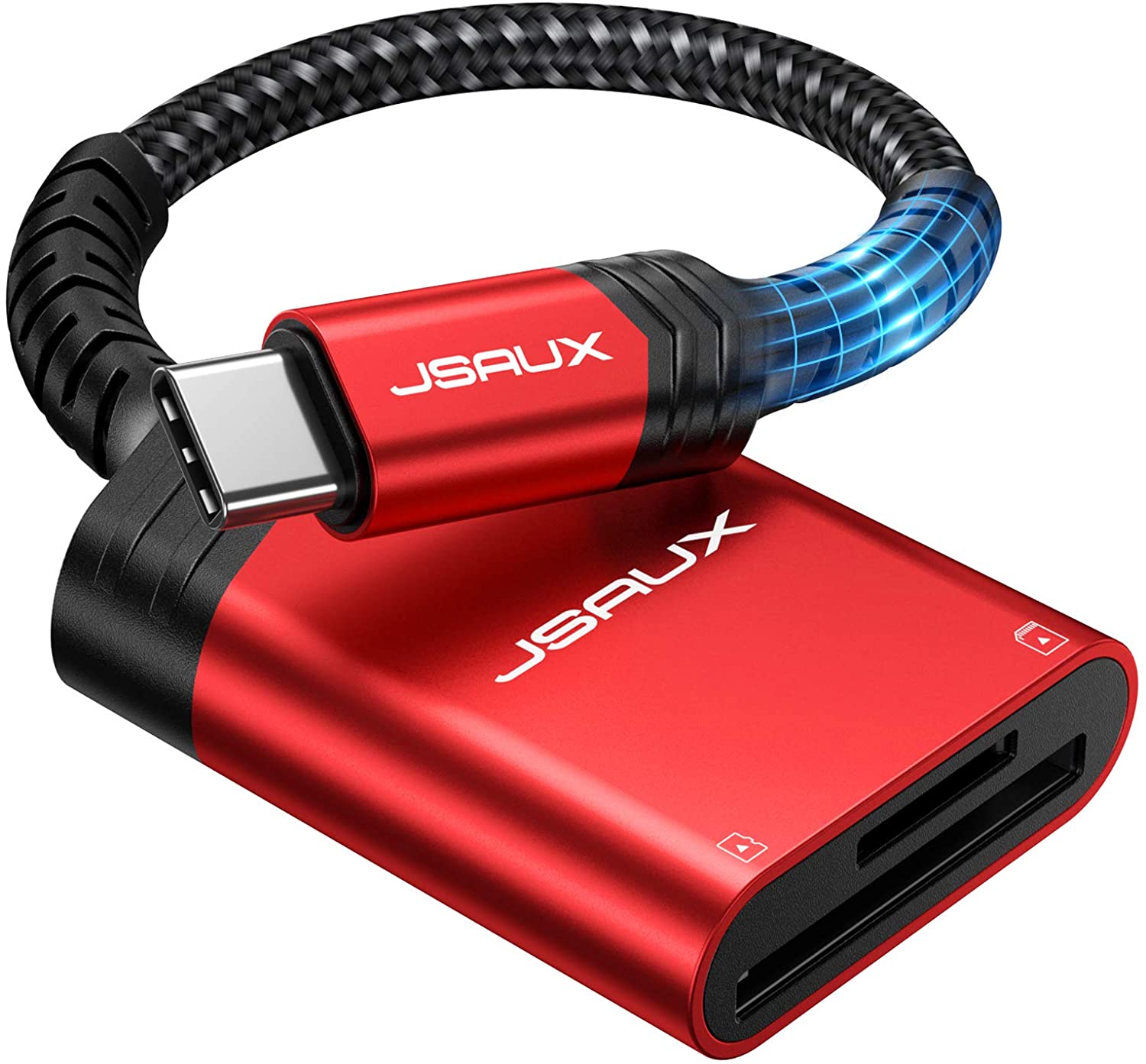 【Superior Durability】With Aluminium body, optimized connector, premium chips, Tin-plated pure copper core, and multi-shielded inside heavy-duty braided nylon cable. These designs ensure high data transmission efficiency and ultimate durability for the USB-C SD Micro Card Reader.
【Dual 5Gbps Ultra High-speed Transfer】Enjoy amazingly super fast-speed data transfer speed (up to 5 Gbps) with the Type C port. Backward Compatible with USB 2.0. Dual Card Slots, Compatible with SD, SDHC, SDXC, MicroSD, MicroSDHC, MicroSDXC MMC Micro RS MMC cards in UHS-I mode.
【Instantly Sharing & 2TB Capacity】Simultaneously Read & Write on two cards to keep you away from the hassle of constant unplugging and re-plugging. Support up to 2TB card capacity. It only takes a few seconds to share happiness with friends on social media.—Super Light Weight and Compact size for you to carry around, USB-C On the Go.
【Space Saving Design】The independent cable design will not prevent you from using other ports at the same time. Self-elastic card slot design, push to insert and push again to release, Plug & Play, No extra driver/APP required.
【Wide Compatibility】Compatible with Galaxy S21/ S20/ S10/ S9, Note10/Note 10 Plus, MacBook Pro 2020/2019/2018/2017, iMac, iMac Pro, XPS 13/15, Alienware 13/15/17, Surface Book 2, Razer Blade 15/ Stealth 13/ Pro 17, Google Pixel XL/2/2XL/3/3XL/3a/3a XL, and many other USB-C devices with OTG function.
Media Type

MMCmicro, RS-MMC, microSDXC, microSDHC, microSD, SDXC, SDHC, UHS-1, SD Card

Weight

7.87(L) x 0.15(W) x 0.15(H) inches
Please read our shipping tips carefully before you place your order

All orders above $25 are free shipping.
Orders under $24.99 will be charged $5.5 as shipping cost.

Please Note:

JSAUX provides fast and efficient delivery services for global customers.(But unable to deliver products at military addresses (APO/FPO) and some islands.)
The current processing time for all orders takes 2-4 days(Orders are not processed on weekends). 
Order delivery time will be at 7-12 business days(pre-sale items excluded).
International duties & taxes may apply and are not calculated at checkout.
Shipping time for pre-sale products is subject to the instructions on the product page.

Due to the requirements of logistics service providers: 

In order to get your order ready as soon as possible and avoid shipping issues, make sure to introduce an accurate postal address including your exact house number and any other info that may be necessary for the delivery company. 
For mainland China: For mainland China customers, please use Tmall to place your order. Hong Kong, Macao, please include your name, ID number and shipping address in traditional Chinese. Due to logistic reasons, it is temporarily not available for purchase in Taiwan regions.
Due to logistical reasons, we are temporarily not providing order services to the following countries and regions: Afghanistan, Albania, Algeria, Andorra, Angola, Anguilla, Argentina, Armenia, Aruba, Azerbaijan, Bahrain, Bangladesh, Barbados, Belarus, Bermuda, Bhutan, Bosnia & Herzegovina, British Virgin Islands, Brunei, Burkina Faso, Burundi,Bolivia, Cambodia, Cameroon, Cayman Islands, Central African Republic, China, Christmas Island, Costa Rica, Djibouti,Egypt, El Salvador, Ecuador,Falkland Islands, Faroe Islands, Gabon, Gambia, Georgia, Ghana, Gibraltar, Greenland, Guadeloupe, Guatemala, Guernsey, Guinea, Iceland, Indonesia, Jamaica, Jordan, Kazakhstan, Kenya, Kiribati, Kyrgyzstan, Lebanon, Lesotho, Liberia, Liechtenstein, Maldives, Martinique, Moldova, Monaco, Montenegro, Myanmar (Burma), Namibia, Nauru, New Caledonia, Nicaragua, Niger, Nigeria, Norfolk Island, North Macedonia, Oman, Pakistan, Paraguay, Rwanda, San Marino, Senegal, Serbia, Seychelles, Solomon Islands, South Sudan, Sri Lanka, Sudan, Tajikistan, Togo, Tonga, Tunisia, Turkmenistan, Tuvalu, Uganda, Ukraine, Uruguay, India, Uzbekistan, Vanuatu, Vatican City, United States (including Puerto Rico, Guam, US Virgin Islands, Northern Mariana Islands, American Samoa, and military bases like APO, FPO, and DPO).

15-Days RETURN:

Our return & exchange policy will be active for 15 days from the very same day you receive your product(s) at home. For more information, please visit our Shipping Policy section.
This product has no reviews yet.
REVIEW