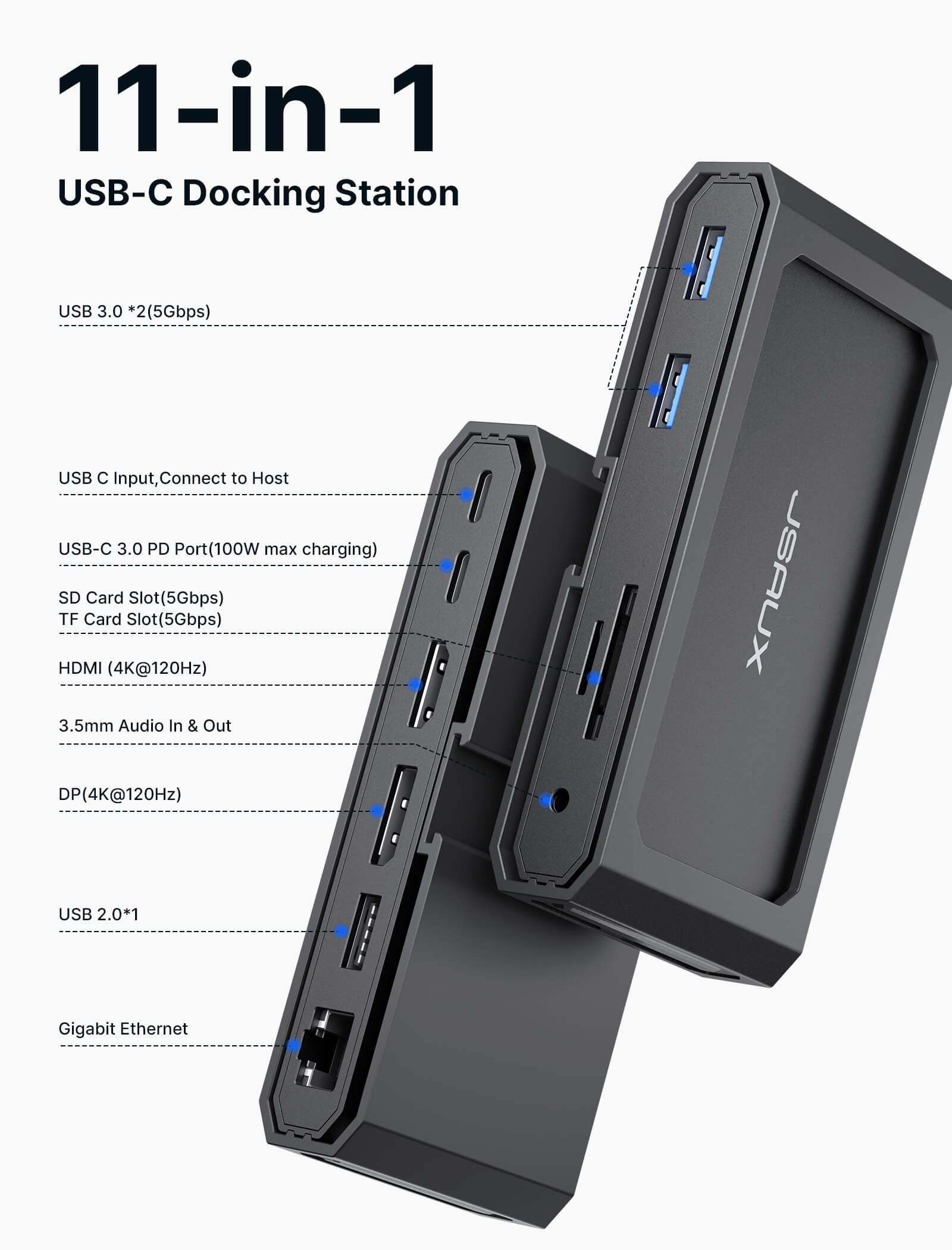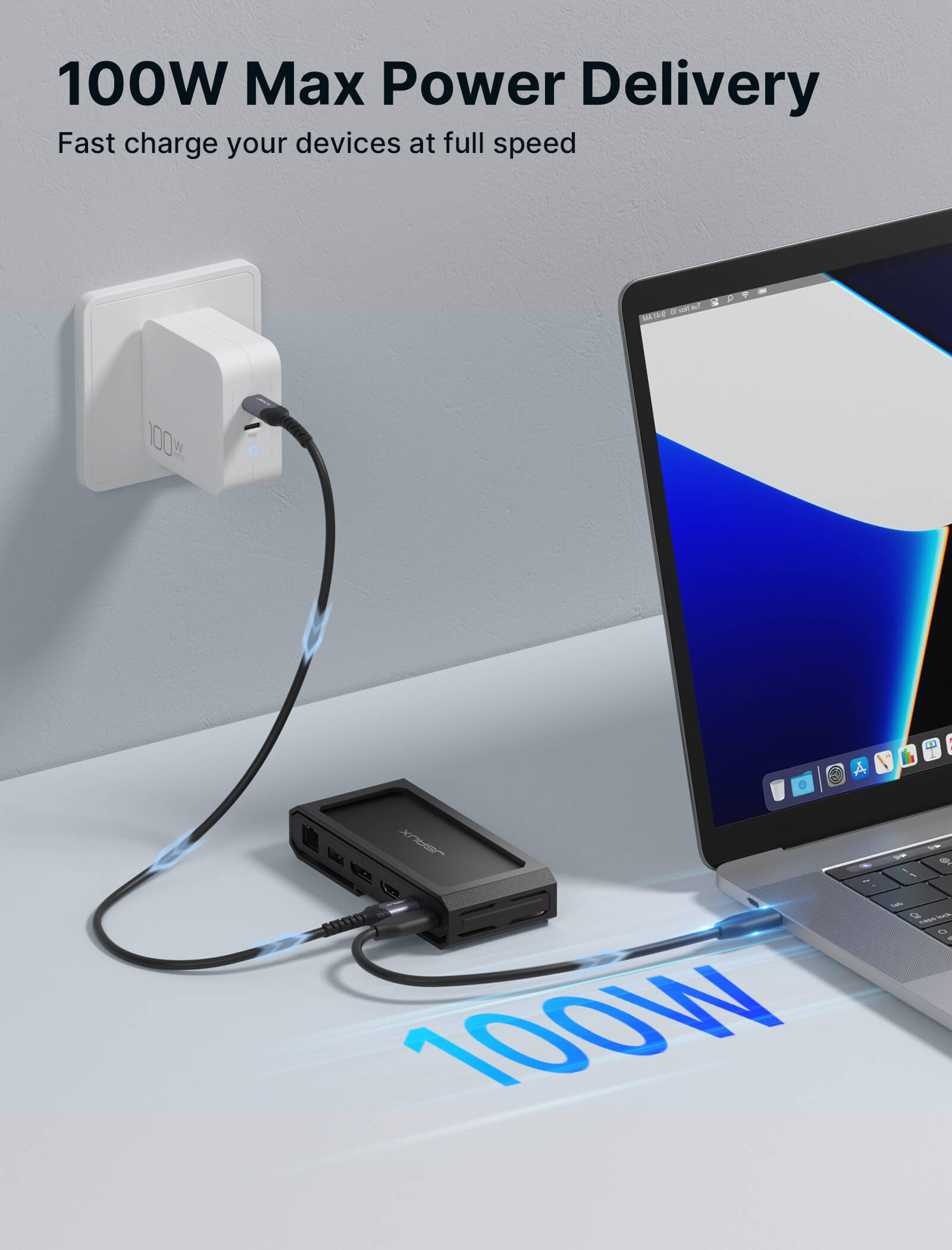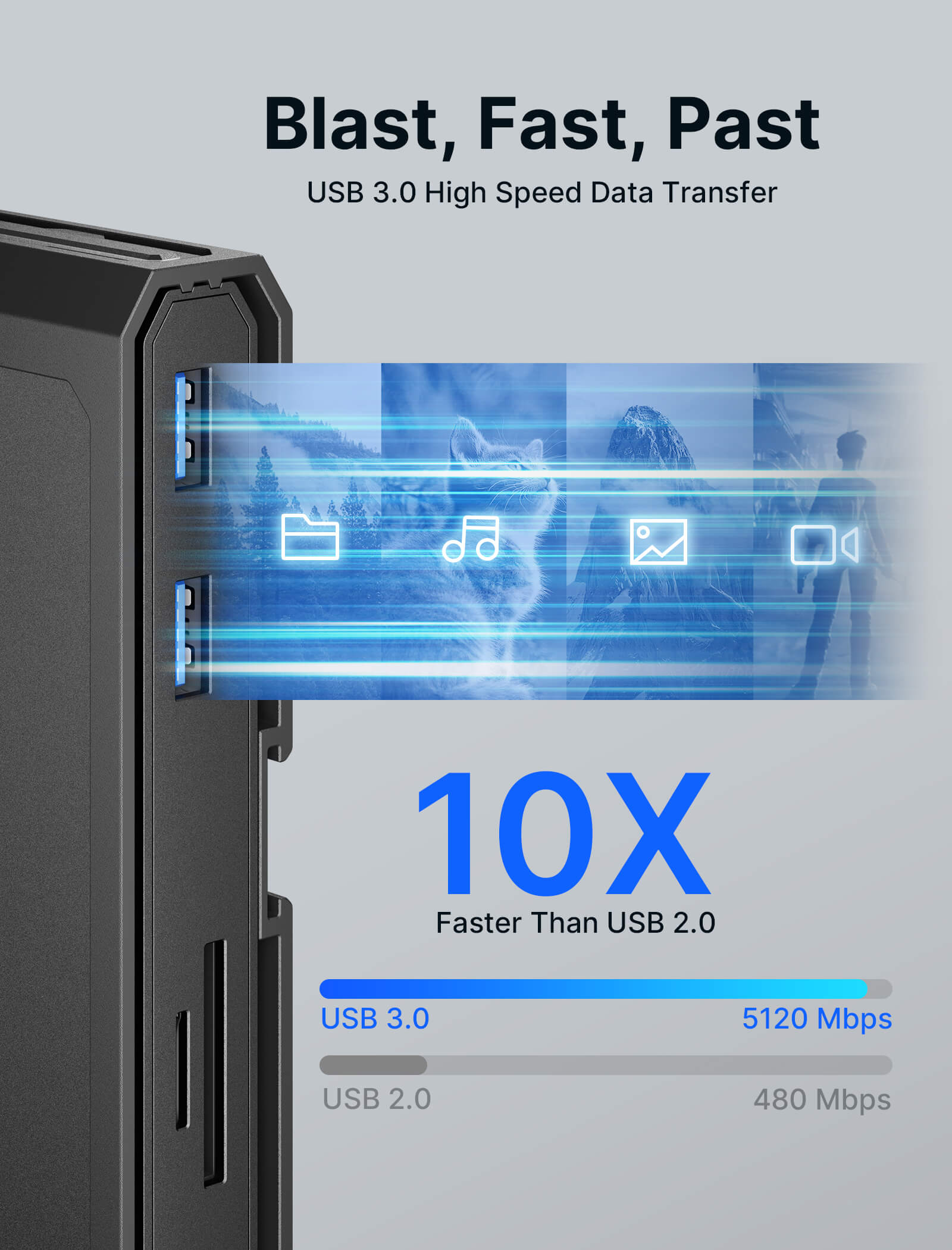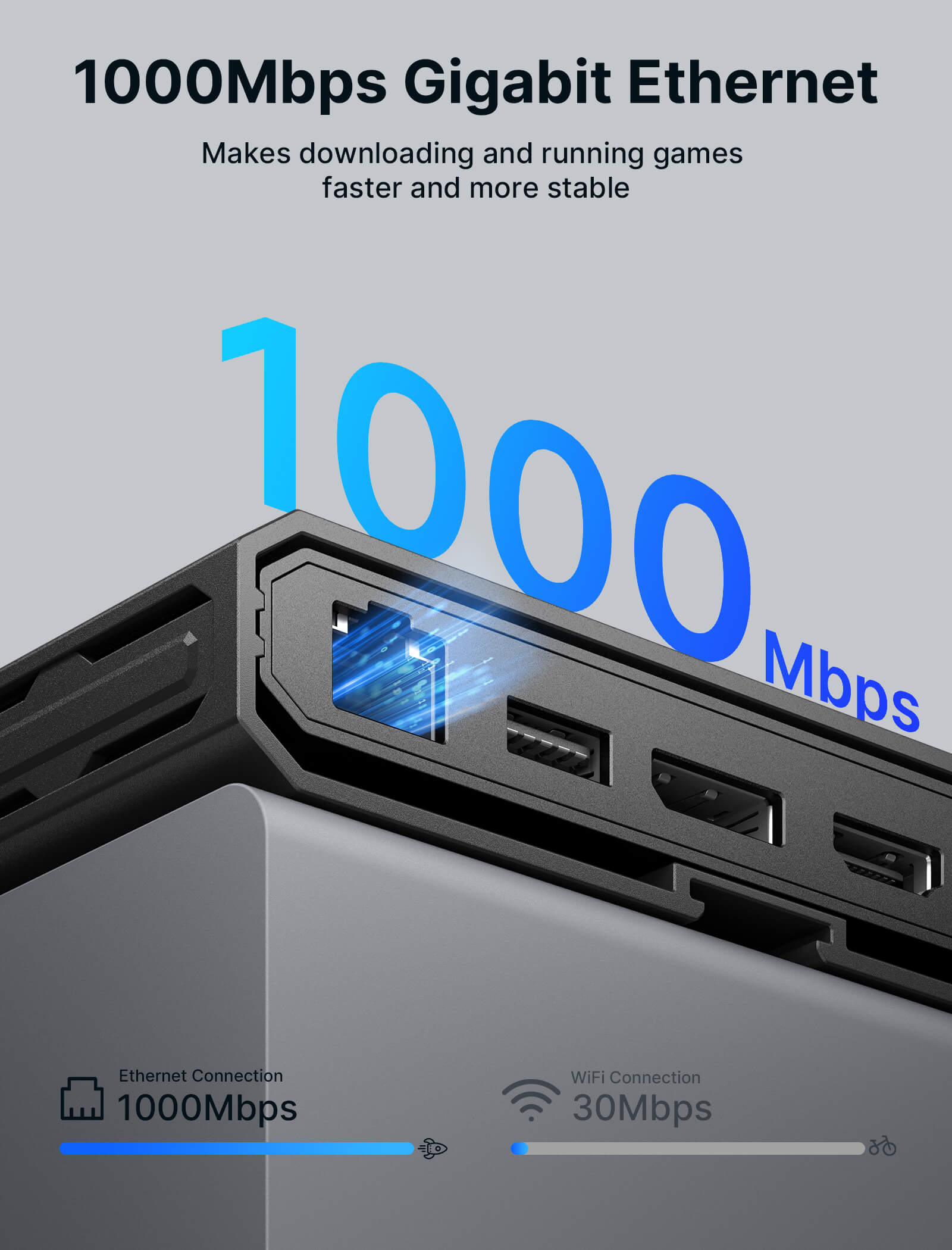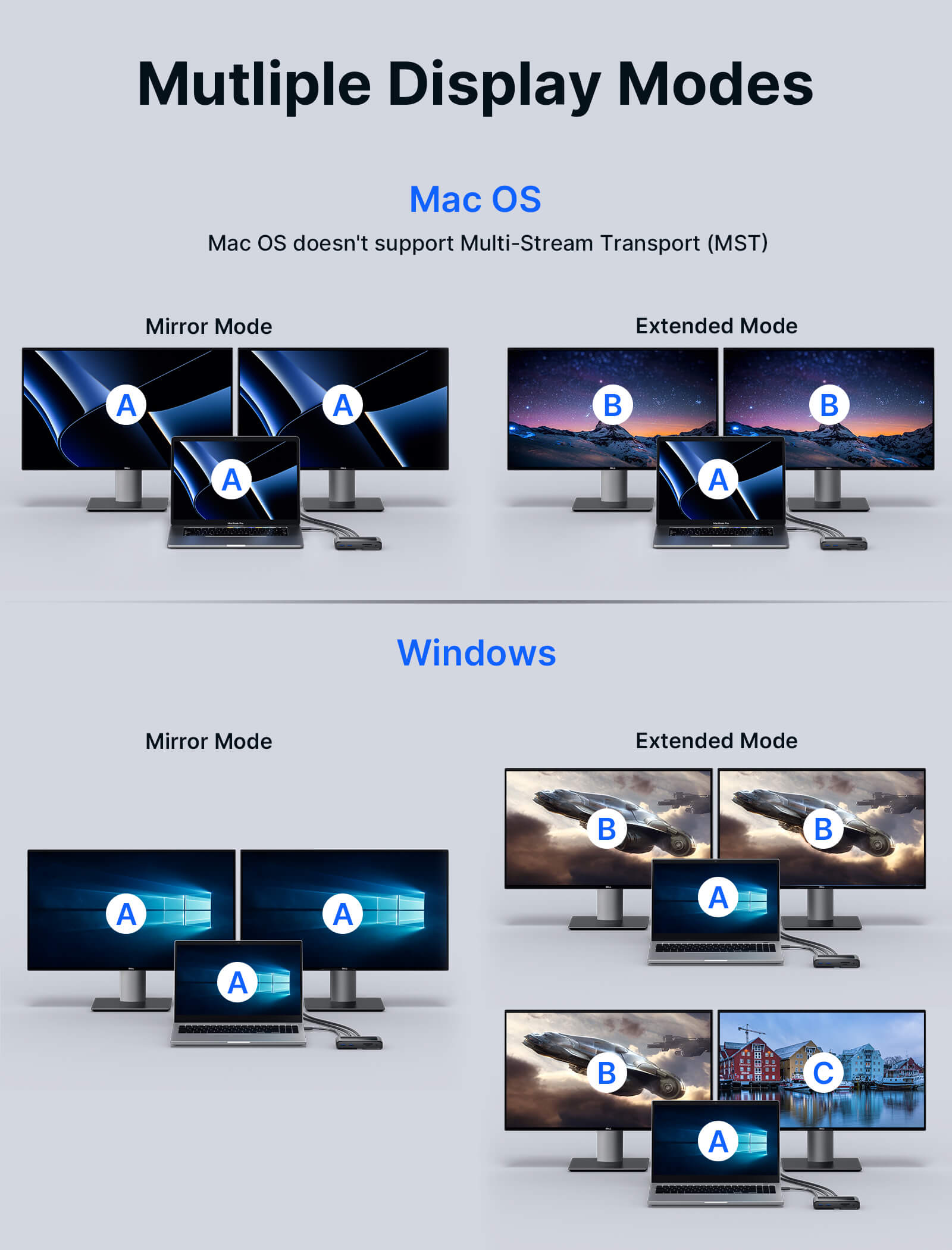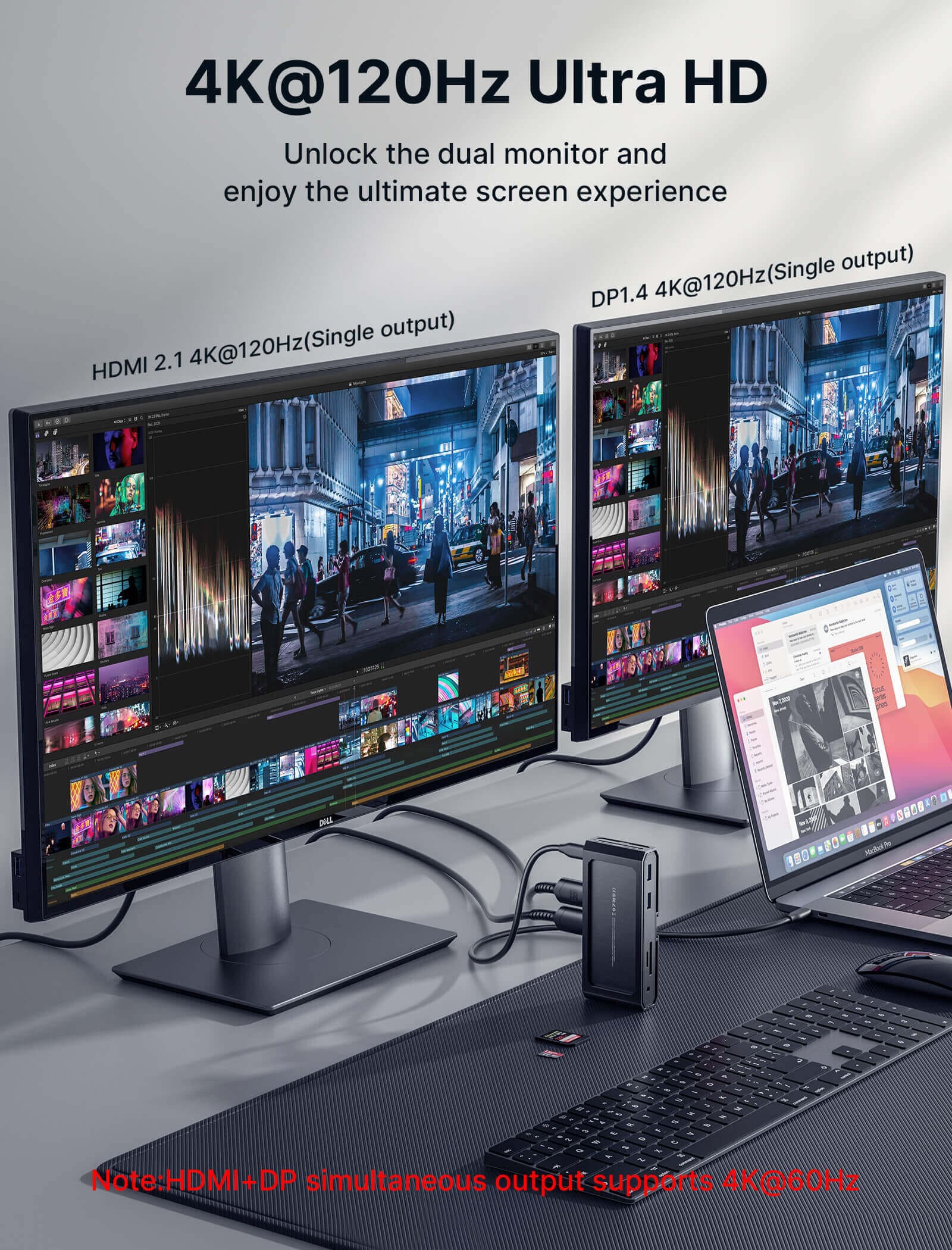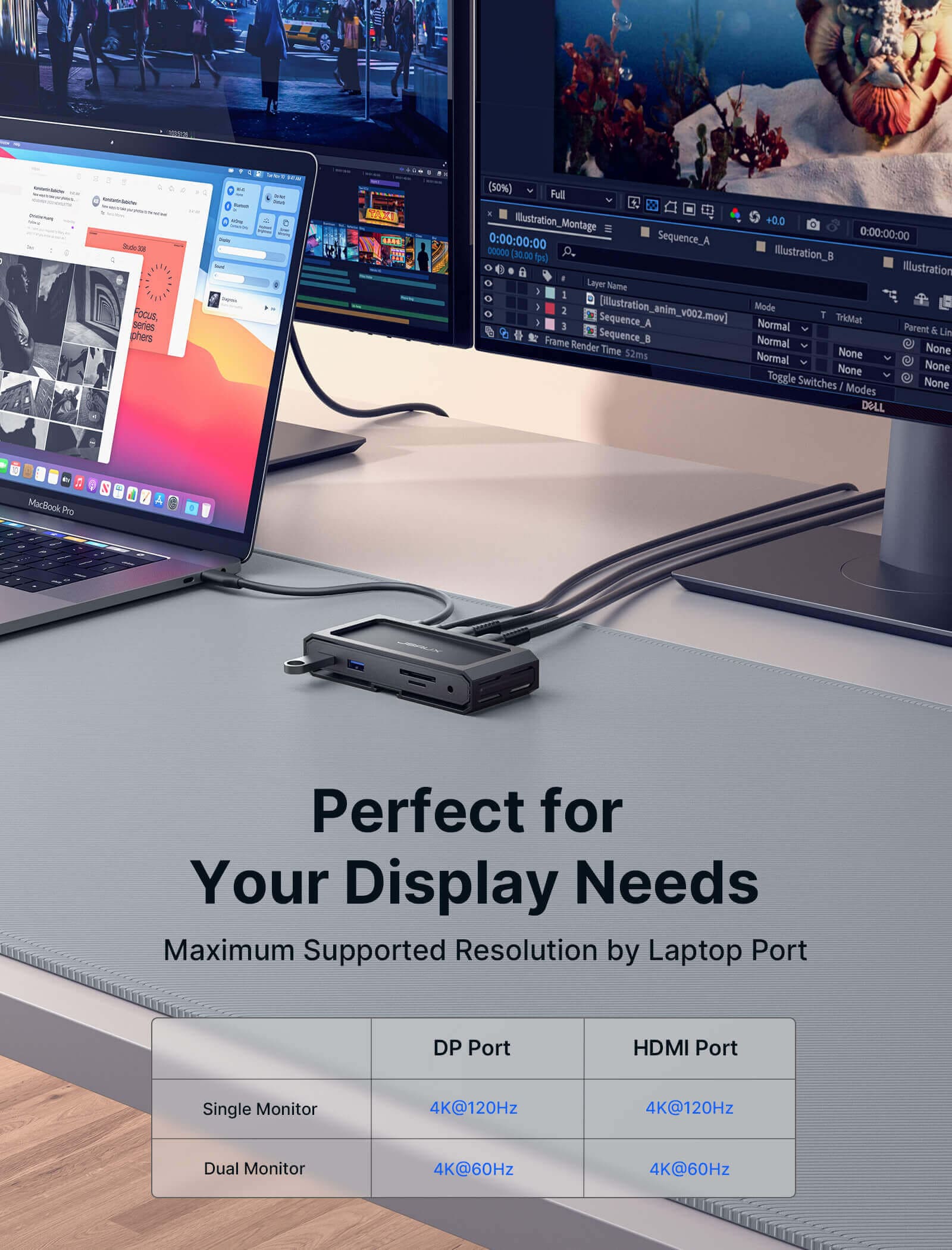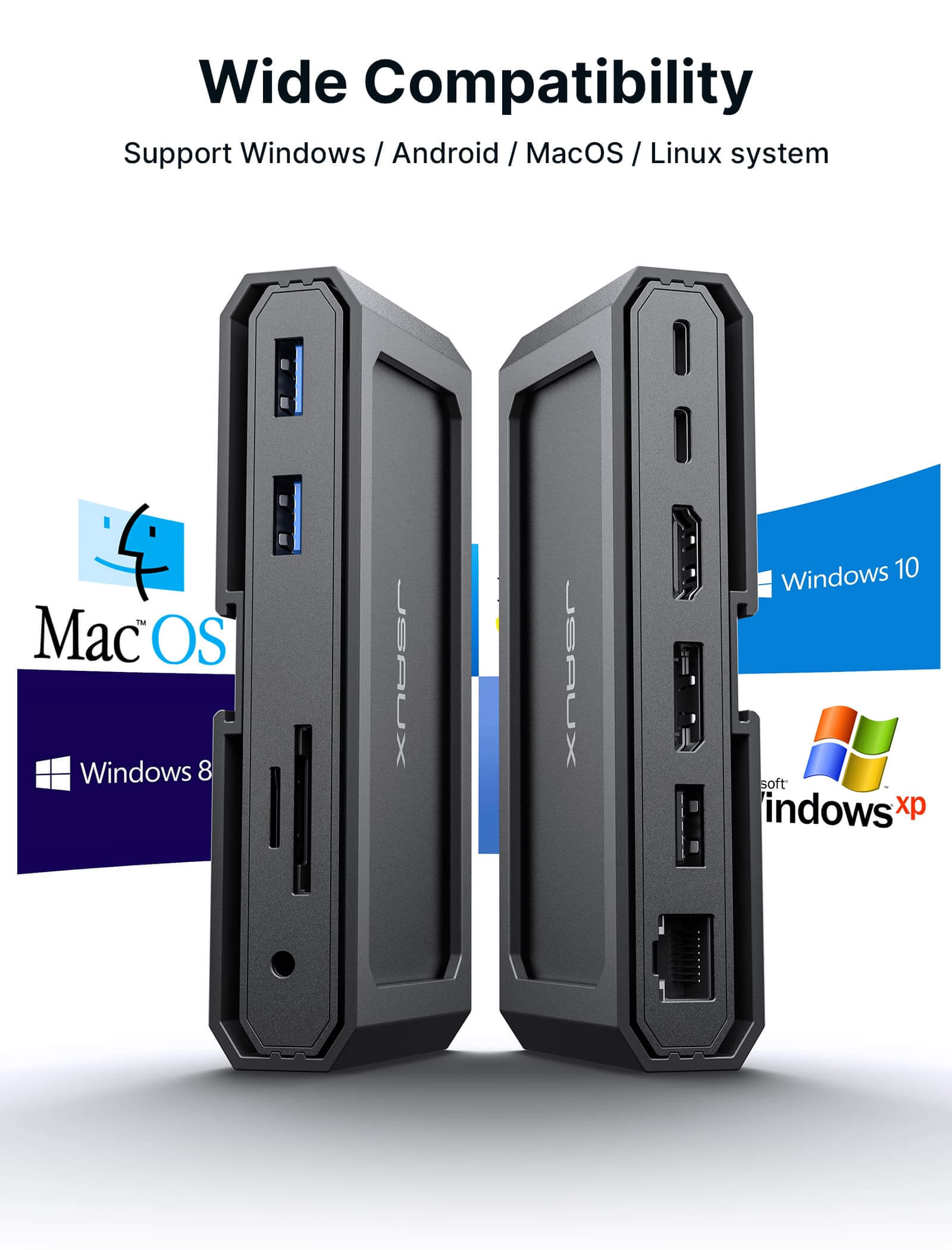 15-Day Refund Guarantee
Fast, Free Shipping Over $25
Quick Customer Support
HB1101
11-in-1 Docking Station
---
Black Friday Sale: Up To 40% Off!
1. When is the event?
Nov. 9th - Nov. 30th.
2. What benefits can I take advantage of?
💰Black Friday Event Prices💰:
Almost all products will be directly reduced in price. During this period, everyone can enjoy unique Black Friday event prices.
🏷️Black Friday Discounts🏷️:
👑New Member Benefites👑:
If you are a new customer, join our membership to earn 200 points!
🧡Black Friday Wish List🧡:
Add items to your wishlist by clicking the heart icon next to the product price. To share your wish list, tap the orange wishlist button in the lower left corner, take a screenshot of your wish list, and share it on social media with #JSAUXWishlist. We will draw 3 customers to fulfill their wishlist! – follow us on social media for updates!
3. Which products participate in the event?
All products are included. Mix and match as you like!
4. How to use the discount?
Simply add your favorite products to the cart, and the discount will be automatically applied based on the promotion's settings
Note: All discounts cannot be combined except for gift cards.
11-in-1 USB-C Docking Station: This USB-C Docking Station includes a Gigabit Ethernet network, fast 100W USB-C PD charging, 8K HDMI, 8K DisplayPort, 2 USB 3.0 ports, 1 USB 2.0 port, SD and TF card readers, and 3.5mm Mic/Audio ports.
Single 8K or Dual 4K Display Docking Station: Connect a single 8K or dual 4K display using DP and HDMI outputs.
Stability and Efficient Transfer: Enjoy fast data transfer with 2 USB 3.0 ports (5Gbps) and 1 USB 2.0 port (480Mbps). The built-in SD and TF card slots support simultaneous card reading at up to 5Gbps.
Gigabit Ethernet and 3.5mm Mic/Audio: Support Ethernet 1000Mbps connection, making downloading and running games faster and more stable. Plug and Play, No more additional drivers are required.
100W Max Power Delivery: Charge your tablets, notebooks, Steam Deck, and ROG Ally at full speed.(NOTE:📢NOT compatible with AYA NEO console. Cannot guarantee 30W Turbo Mode for Rog Ally. It may require a charger over 65W, based on current information. Ultimately, enabling 30W Turbo Mode depends on the specific charger used.)
Wide Compatibility: This docking station works with most systems and supports Windows/Android/macOS/Linux systems, ensuring compatibility with a wide range of devices.

Note📢:

If you face operational issues, ensure your USB-C cable is correctly connected to the 'IN-USB-C' port. We recommend using the provided USB-C cable for best results. If you choose to use an alternative USB-C cable, please ensure that it adheres to the USB-C 3.2 standard.

It is recommended to use a 100W charger to better experience ROG Ally's high-performance 30W mode.
ARC

Compatible with ARC, CEC audio back transmission function

Input

USB-C Female ×1,USB-C PD ×1

Output

USB-A3.0 ×2,USB-A2.0 ×1,HDMI ×1,DP ×1,RJ45×1,SD×1,TF×1,3.5mm Female Audio×1

Ports

USB-C Female: compatible with 3.2 standard and thunderbolt 3 interfaces
PD: Supports PD 100W charge
HDMI: Supports up to 8K@30Hz,backward compatible with 4K@120Hz, 4K@60Hz, 2K@144Hz,2K@120Hz
DP: Supports up to 8K@30Hz, backward compatible with 4K@120Hz,
4K@60Hz, 2K@165Hz, 2K@144Hz, 2K@120Hz
USB-A: USB3.0 standard, Supports 5Gbps, 5V/1A power supply
USB-A: USB2.0 standard, Supports 480Mbps, 5V/1A power supply
RJ45: Adaptive 10/100/1000M Ethernet
SD/TF: Maximum read and write speed 104MB/S, support simultaneous read and write
3.5mm Female Audio:3.5mm Mic/Audio(2 in 1) port
USB-C to USB-C cable: USB 3.2 Standard, Supports 10Gbps Max transmission speed, supports 100W charge,5A electricity
Adapter: Side Right Angle USB-C Female to Male
Notes: HDMI+DP simultaneous output supports 4K@60Hz output

Package List

Includes HB1101*1, USB C-USB C5A single right angle armor cable 0.36M
Please read our shipping tips carefully before you place your order

All orders above $25 are free shipping.
Orders under $24.99 will be charged $5.5 as shipping cost.

Please Note:

JSAUX provides fast and efficient delivery services for global customers.(But unable to deliver products at military addresses (APO/FPO) and some islands.)
The current processing time for all orders takes 2-4 days(Orders are not processed on weekends). 
Order delivery time will be at 7-12 business days(pre-sale items excluded).
International duties & taxes may apply and are not calculated at checkout.
Shipping time for pre-sale products is subject to the instructions on the product page.

Due to the requirements of logistics service providers: 

In order to get your order ready as soon as possible and avoid shipping issues, make sure to introduce an accurate postal address including your exact house number and any other info that may be necessary for the delivery company. 
For mainland China: For mainland China customers, please use Tmall to place your order. Hong Kong, Macao, please include your name, ID number and shipping address in traditional Chinese. Due to logistic reasons, it is temporarily not available for purchase in Taiwan regions.

⚠️

Brazil: Due to local tax policies, customers need to pay customs duties themselves. JSAUX is not responsible for any customs and taxes applied to your order.
Due to logistical reasons, we are temporarily not providing order services to the following countries and regions: Afghanistan, Albania, Algeria, Andorra, Angola, Anguilla, Argentina, Armenia, Aruba, Azerbaijan, Bahrain, Bangladesh, Barbados, Belarus, Bermuda, Bhutan, Bosnia & Herzegovina,British Virgin Islands, Brunei, Burkina Faso, Burundi,Bolivia, Cambodia, Cameroon, Cayman Islands, Central African Republic, China, Christmas Island, Costa Rica, Djibouti,Egypt, El Salvador, Ecuador,Falkland Islands, Faroe Islands, Gabon, Gambia, Georgia, Ghana, Gibraltar, Greenland, Guadeloupe, Guatemala, Guernsey, Guinea, Iceland, Indonesia, Jamaica, Jordan, Kazakhstan, Kenya, Kiribati, Kyrgyzstan, Lebanon, Lesotho, Liberia, Liechtenstein, Maldives, Martinique, Moldova, Monaco,Mongolia, Montenegro, Myanmar (Burma), Namibia, Nauru, New Caledonia, Nicaragua, Niger, Nigeria, Norfolk Island, North Macedonia, Oman, Pakistan, Paraguay, Rwanda, San Marino, Senegal, Serbia, Seychelles, Solomon Islands, South Sudan, Sri Lanka, Sudan, Tajikistan, Togo, Tonga, Tunisia, Turkmenistan, Tuvalu, Uganda, Ukraine, Uruguay, India, Uzbekistan, Vanuatu, Vatican City,

Some regions in the United States

(including Puerto Rico, Guam, US Virgin Islands, Northern Mariana Islands, American Samoa, and military bases like APO, FPO, and DPO).

15-Days RETURN:

Our return & exchange policy will be active for 15 days from the very same day you receive your product(s) at home. For more information, please visit our Shipping Policy section.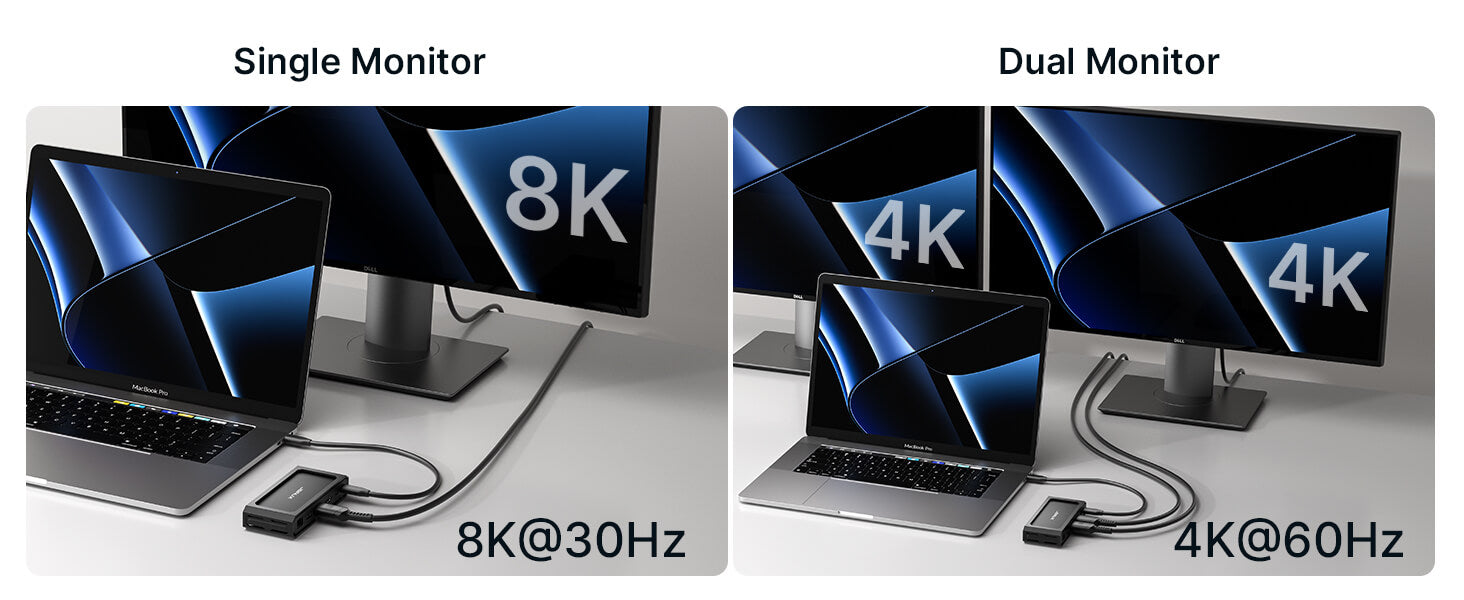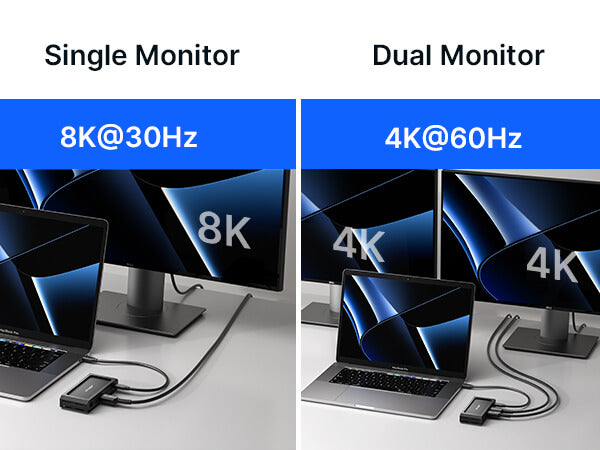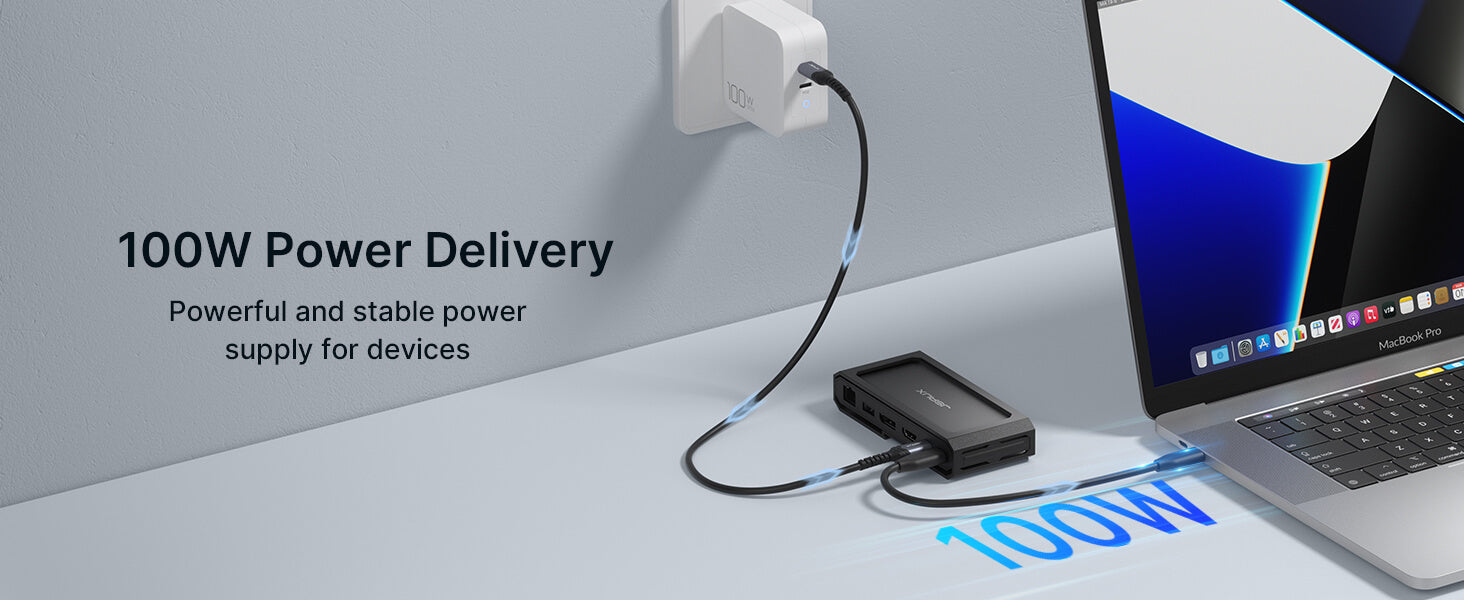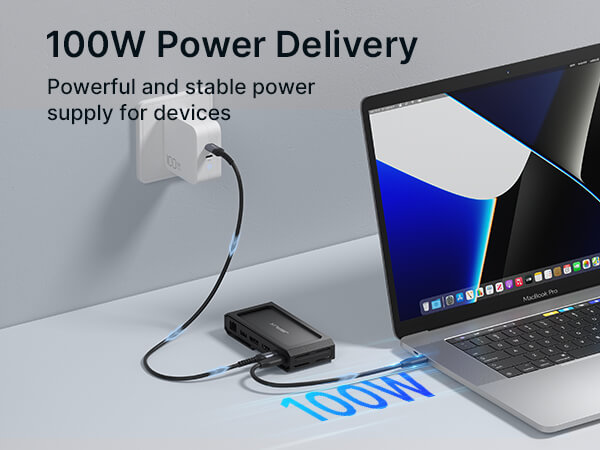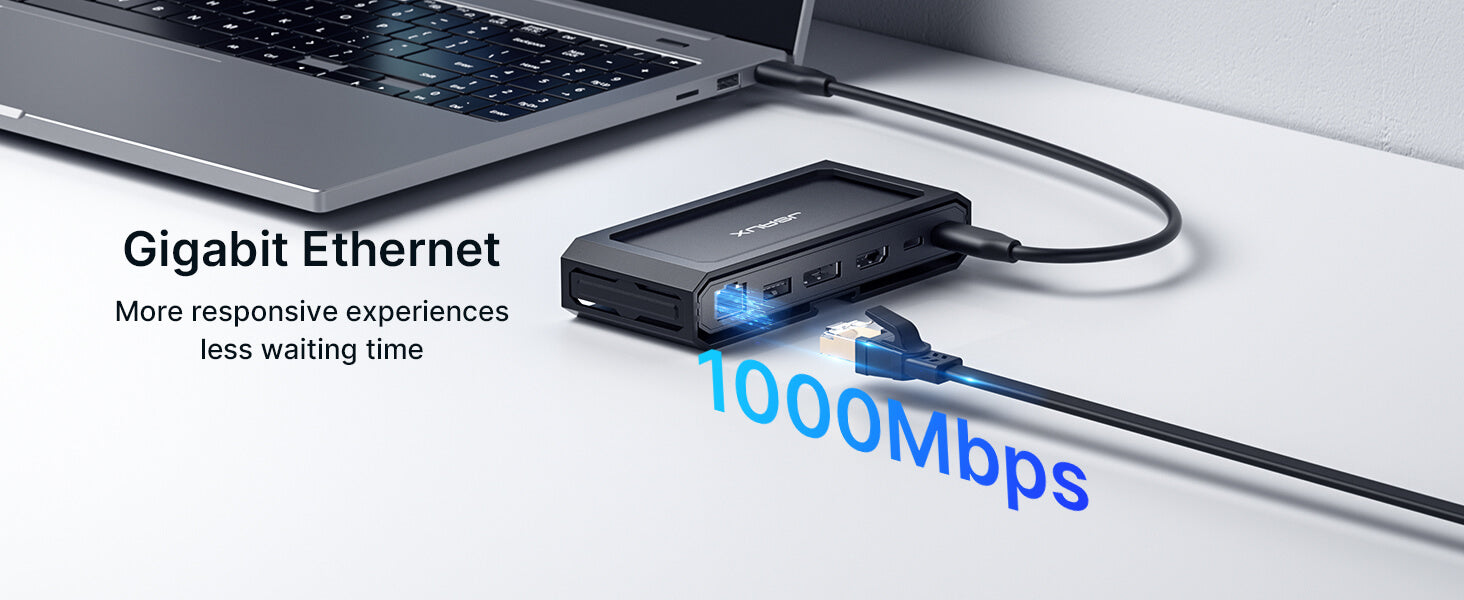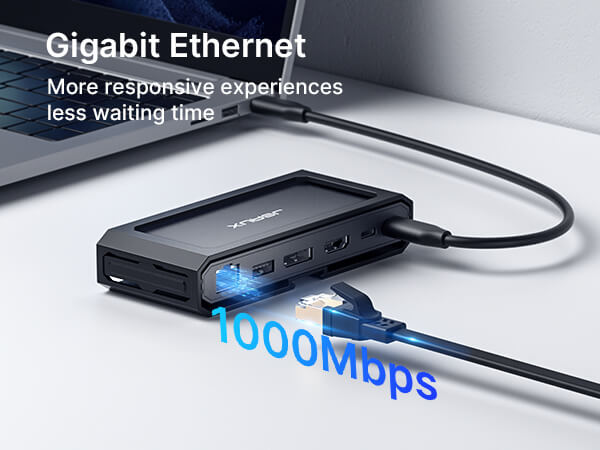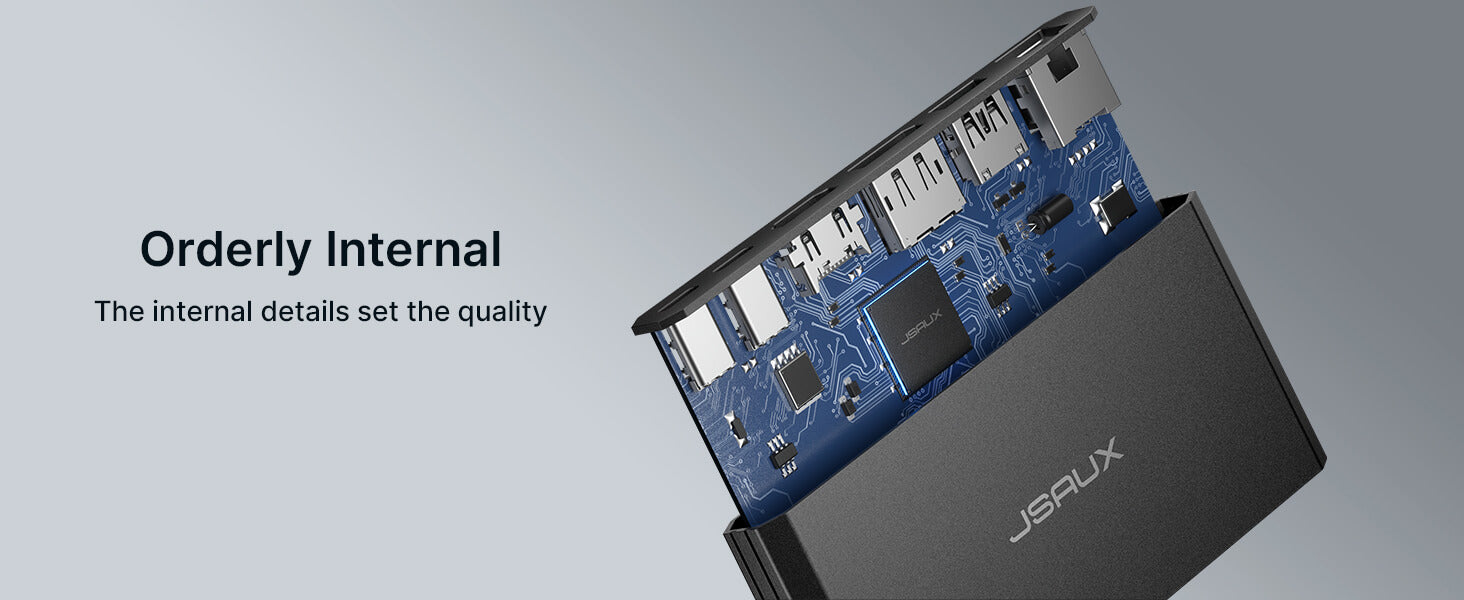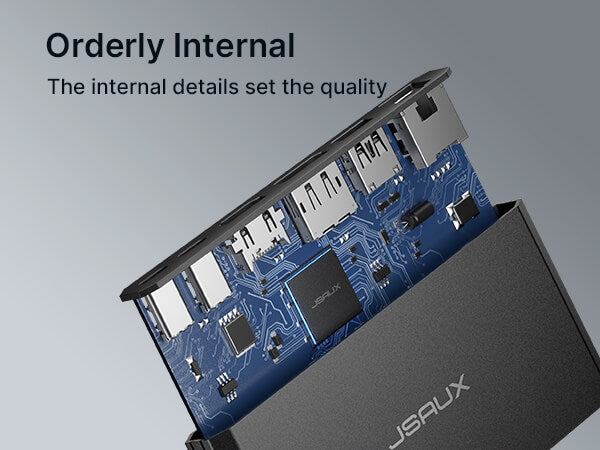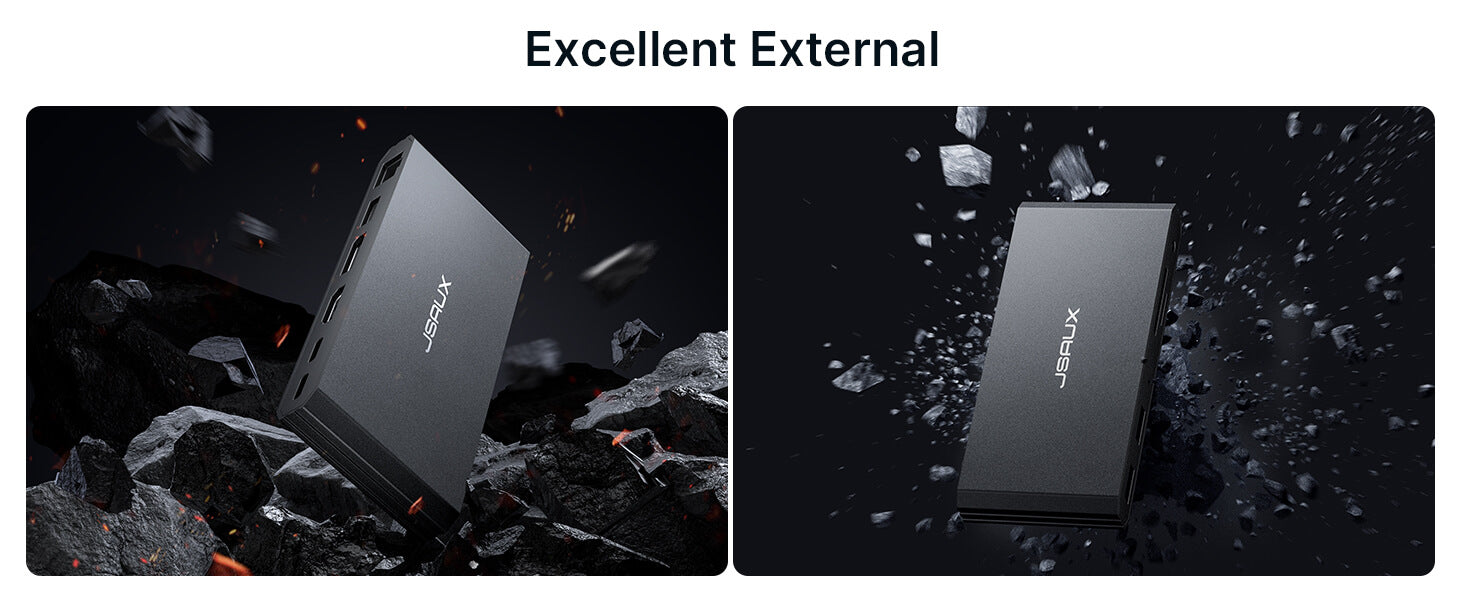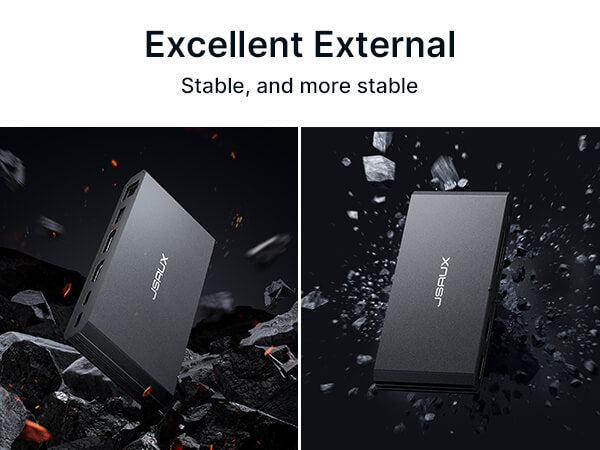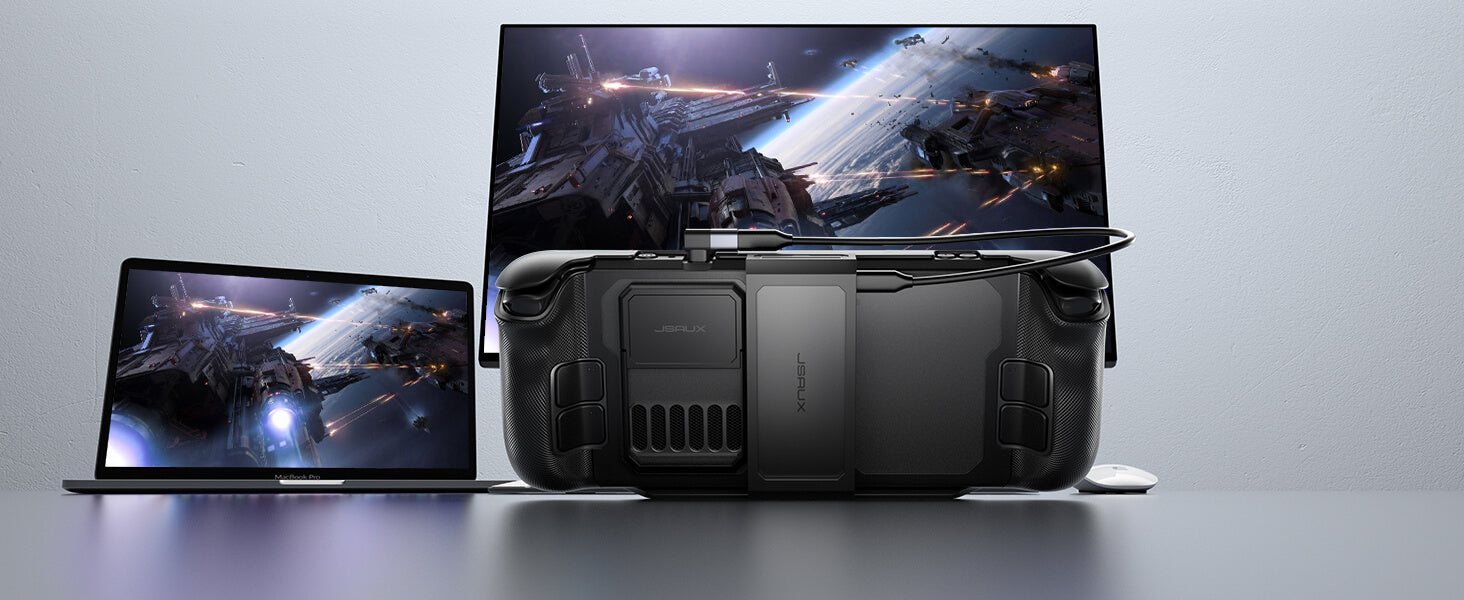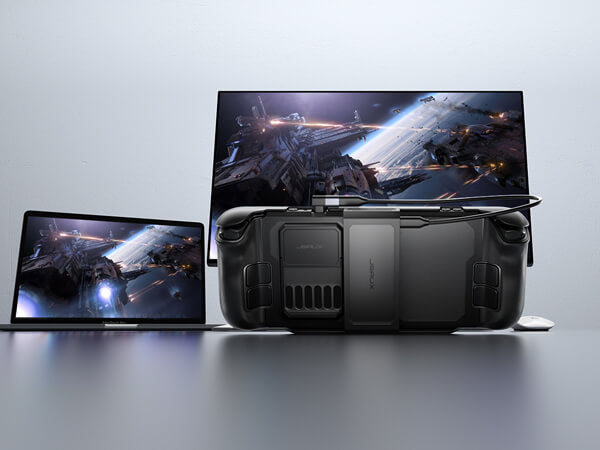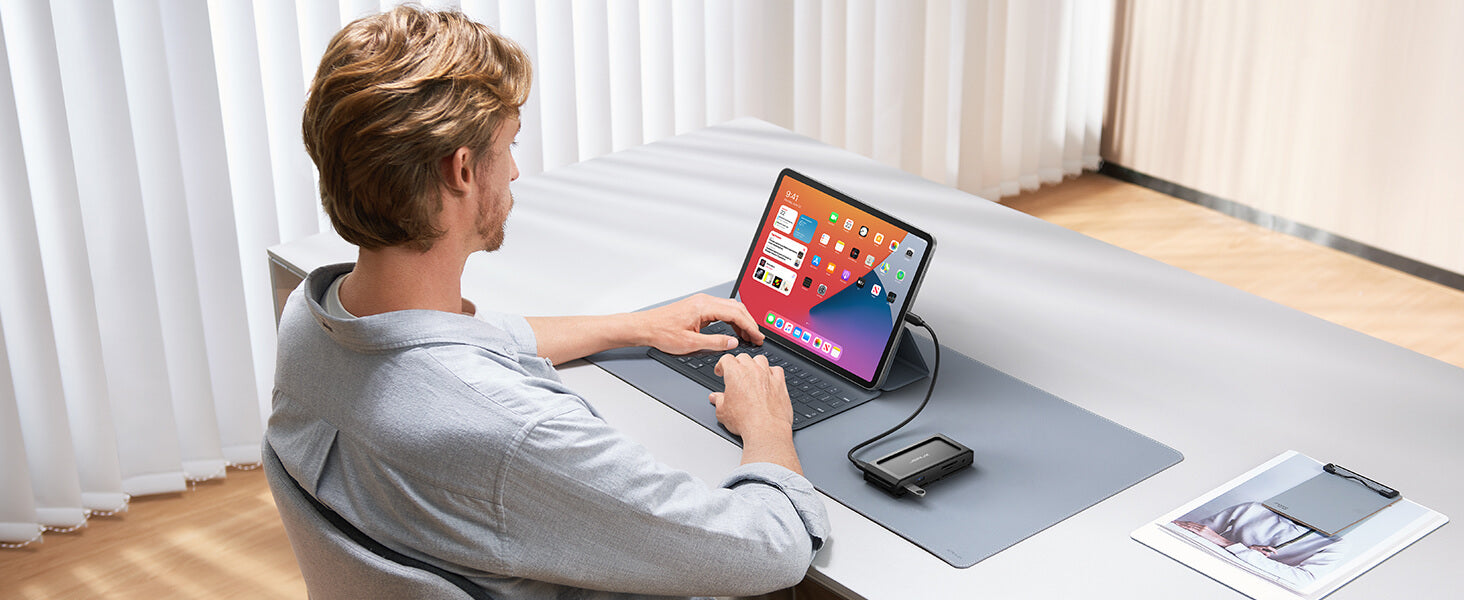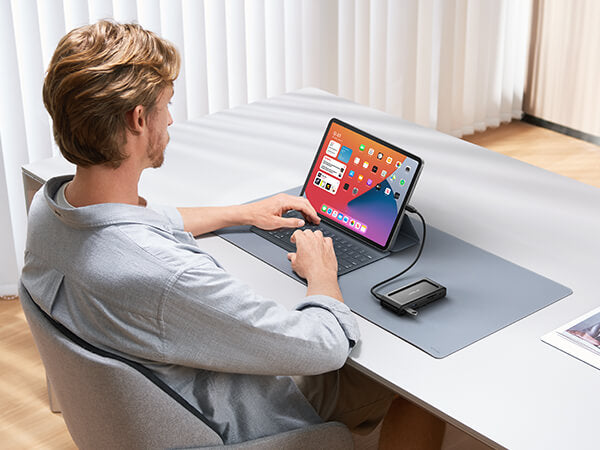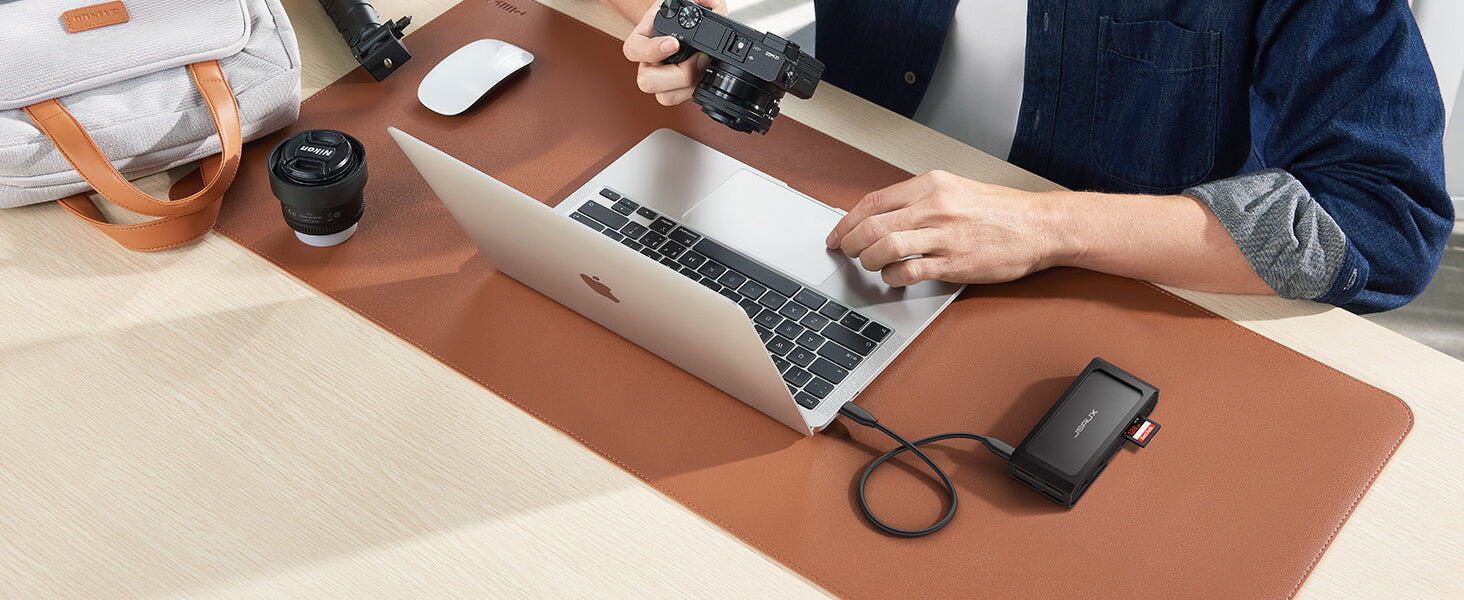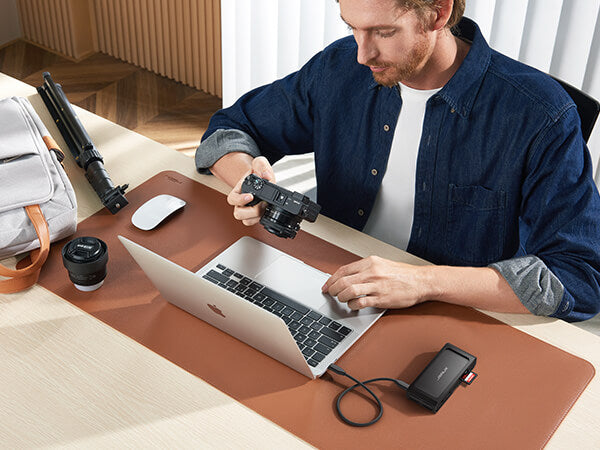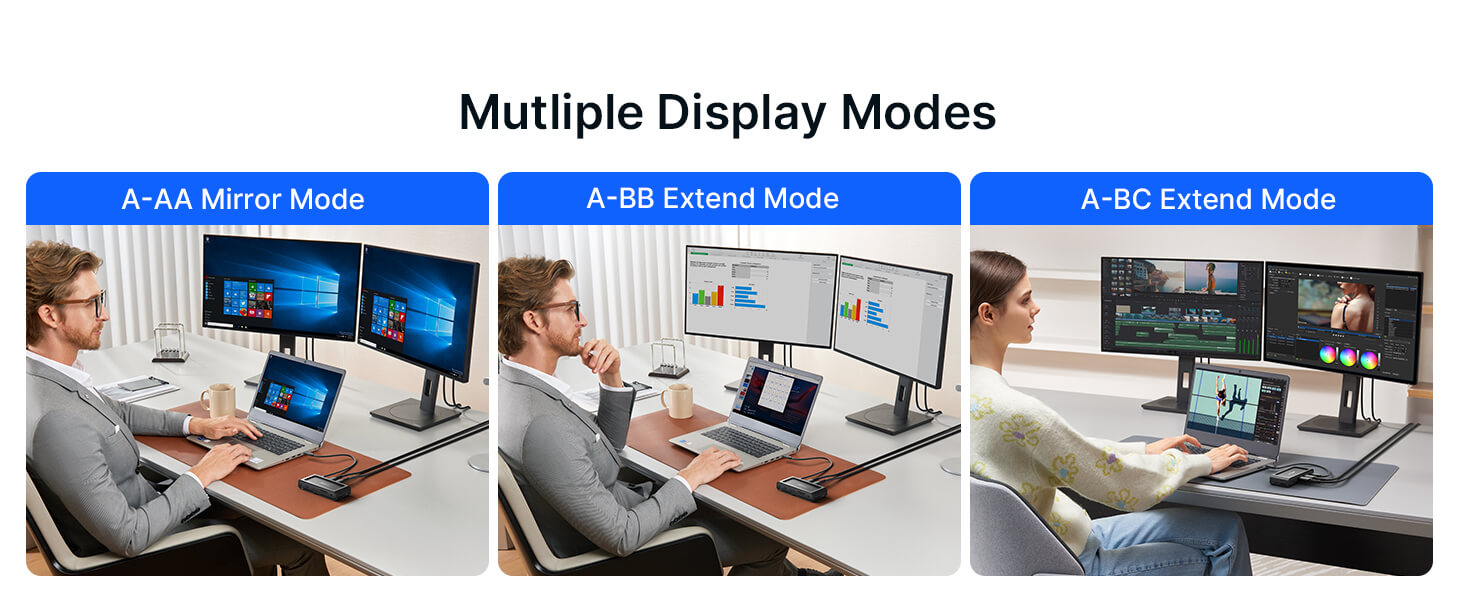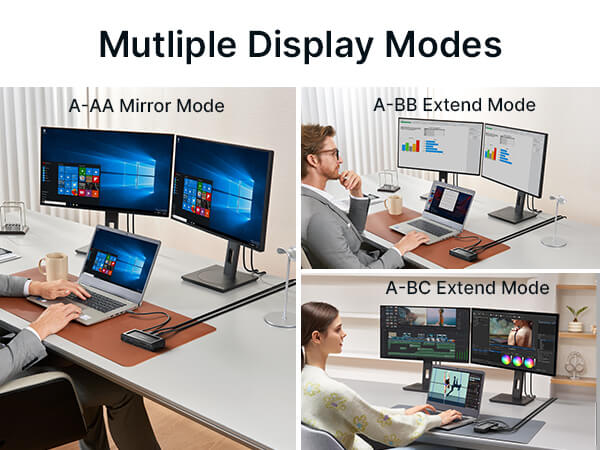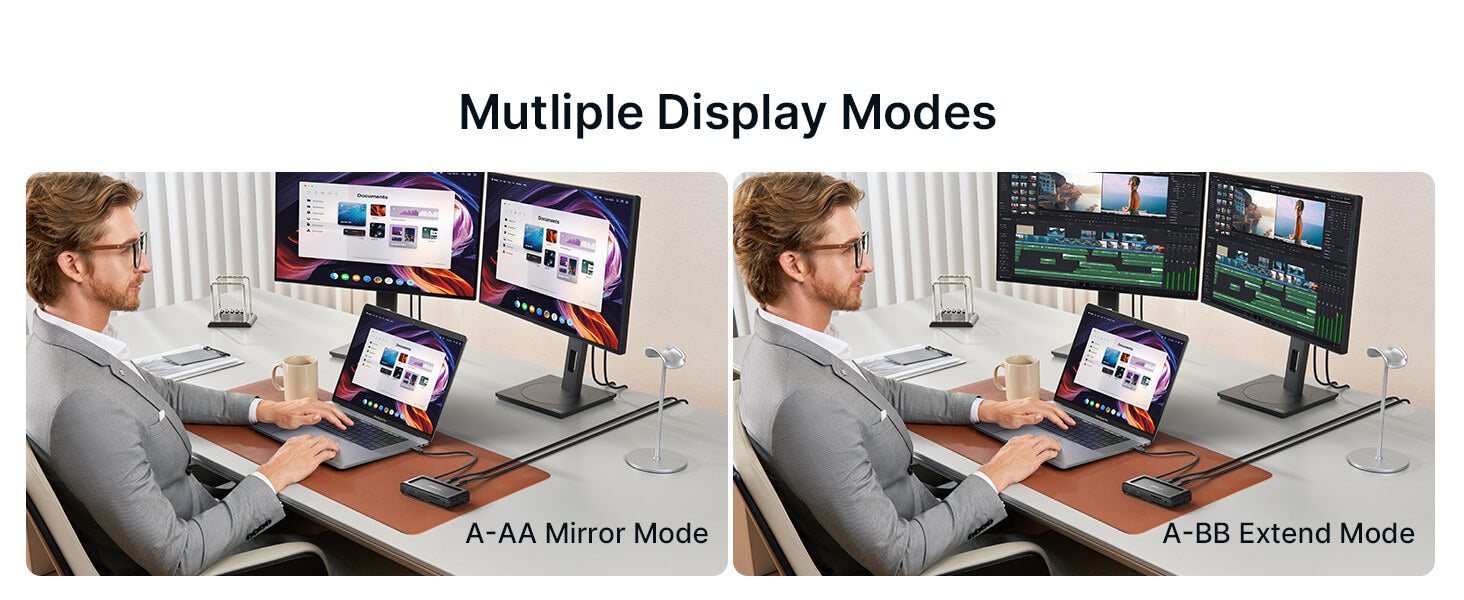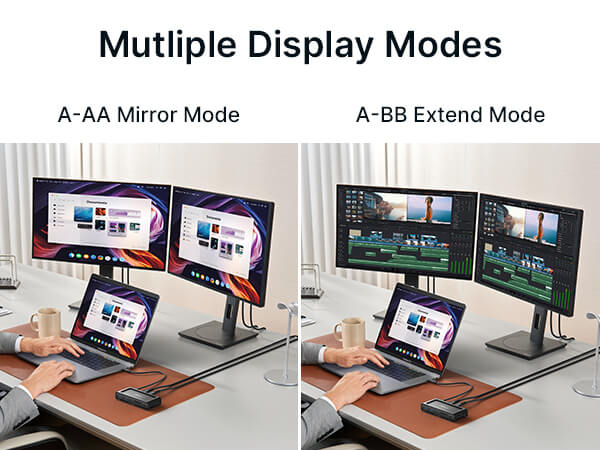 This product is rated 4.1 of 5.0 stars.
It has received 20 reviews.
REVIEW
11-in-1 Docking Station
the first month everything was great, everything worked as it should, but now it is lying idle because when I connect it, the WI-FI signal disappears, it just drops to 0, and sometimes it revives to 1 MB. Without a hub, I have a stable 400 MB WI-FI signal. Maybe my Mac M1 is trying to take the internet from it. Because when connecting the Internet cable (RJ 45), everything is fine. That's why it's a disappointment (and I can't send it in for repair because I'm abroad now. Products are great, but it didn't go without a defect :)
An excellent value option
I got a defective unit at first but got a replacement easily and quickly. The only caveat (from the 3 units that I interacted with) is that the screen goes black for a second randomly every hour or so. But for the price and features offered, this one's IMO unbeatable. Just be aware that you might end up getting a defective unit at first and then get a functional replacement.
Same issue as many
I love the idea of this dock and, as someone else has said, it is amazing until you plug in a HDMI or DP cable. Then the external screen just flickers constantly. Sometimes it goes blank for a couple of seconds.
I tried a USB3.2 cable, as Roland suggested, but that didn't work. Might have been the cable, it was pretty cheap, but having to spend AUD 30-40 on a good quality cable, which may not work, makes this no longer a 'value for money' dock.
Seems okay if the device is running off battery, not mains power. But being able to use it when the device is plugged in, is basically the point of a dock. The only way I've got it to work is by running the power through my powerbank. So wall to powerbank, powerbank to dock, dock to device. This works okay with only a very rare flickers.
But, over-all, a bit disappointed, especially as some other products I have from Jsaux are excellent.
THE ISSUE IS THE INCLUDED CABLE
To all people who are having issues with hdmi signal stability (or DP), the issue is the inluded cable. Apparently JSAUX didnt verify that their dock is designed to operate at 3.2 USB Speeds or above (supplied cable is usb 3.1). I have tried with various usb 3.2 and USB 4/thunderbolt cables and it works perfectly. JSAUX supply this dock with the correct cable please
Hello friend, thanks a lot for your support of JSAUX products.
We value your comments and helpful suggestions, and we will definitely make optimizations to the enclosed cable.
We attach great importance to the customer's experience, but the optimization process may take time. We look forward to bringing more surprises to our customers in the future.
Very usefull and compact
one of the best docks to have on the go