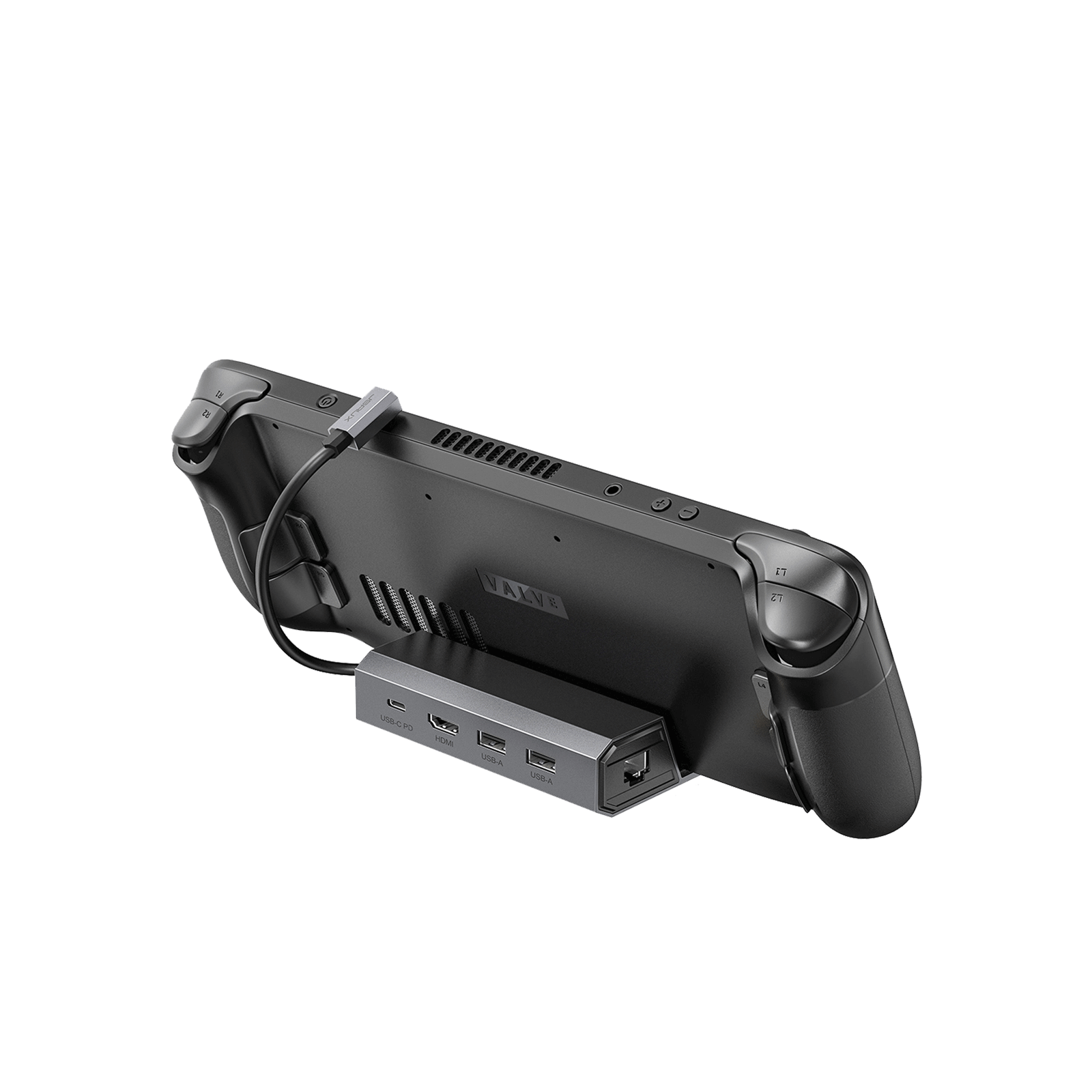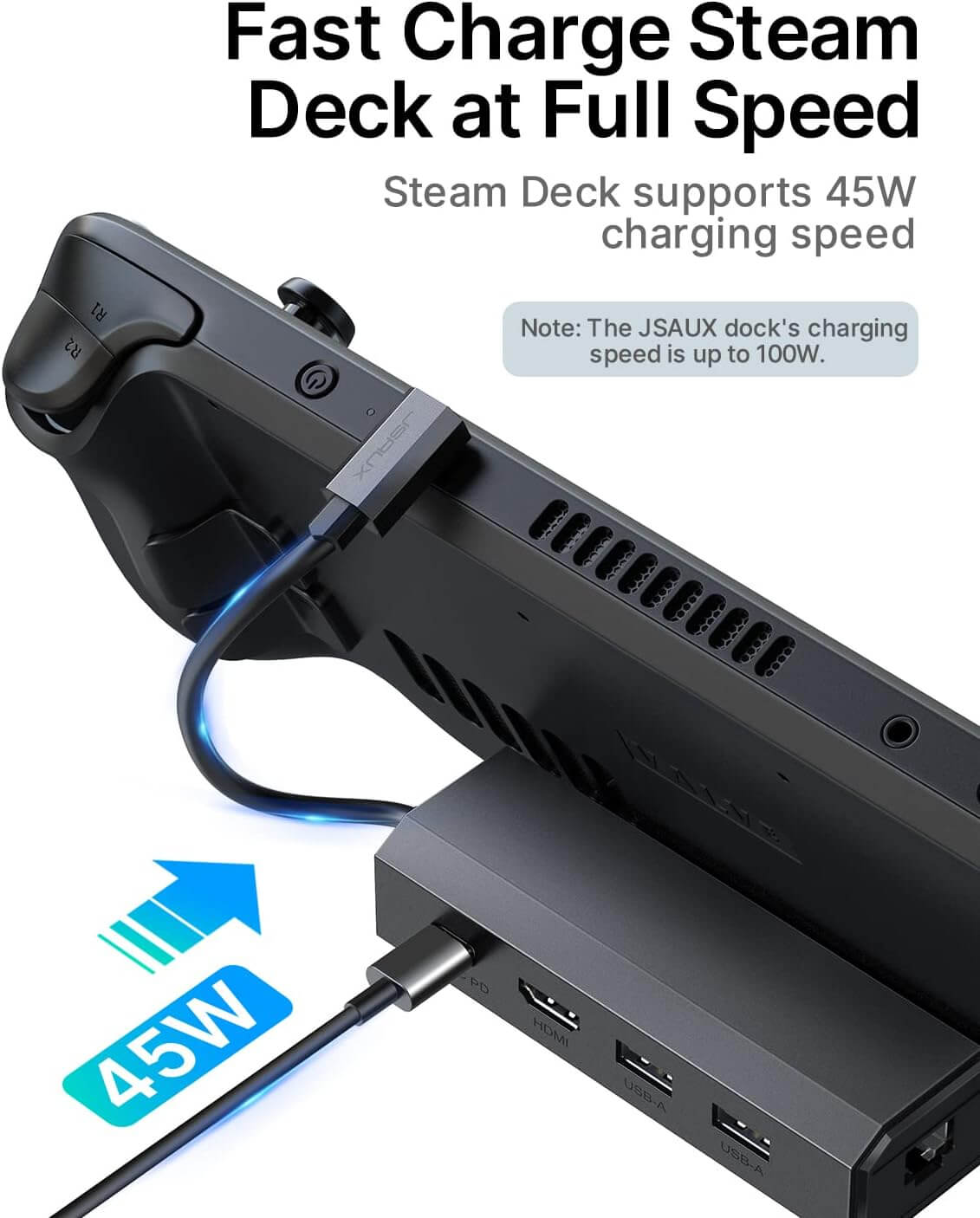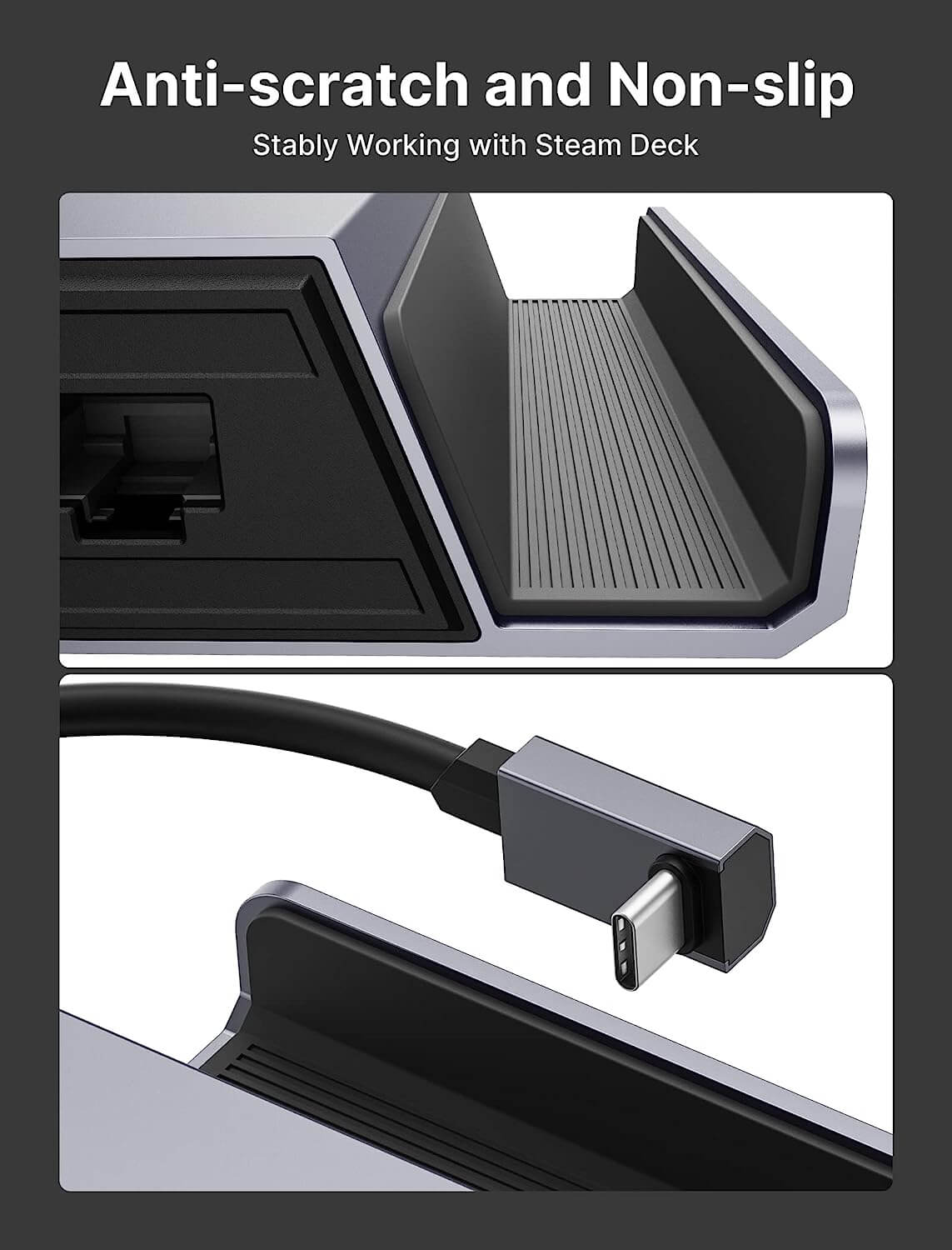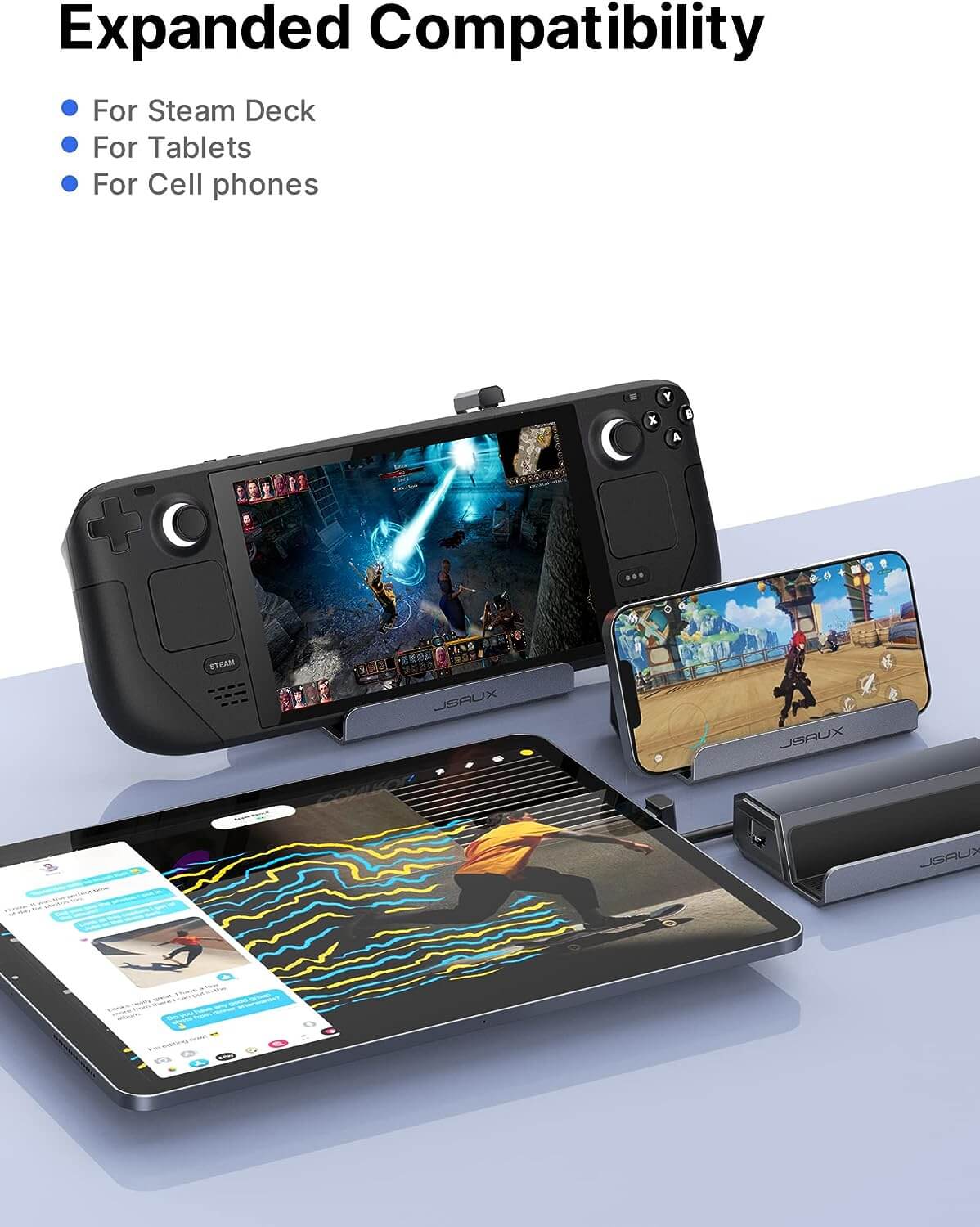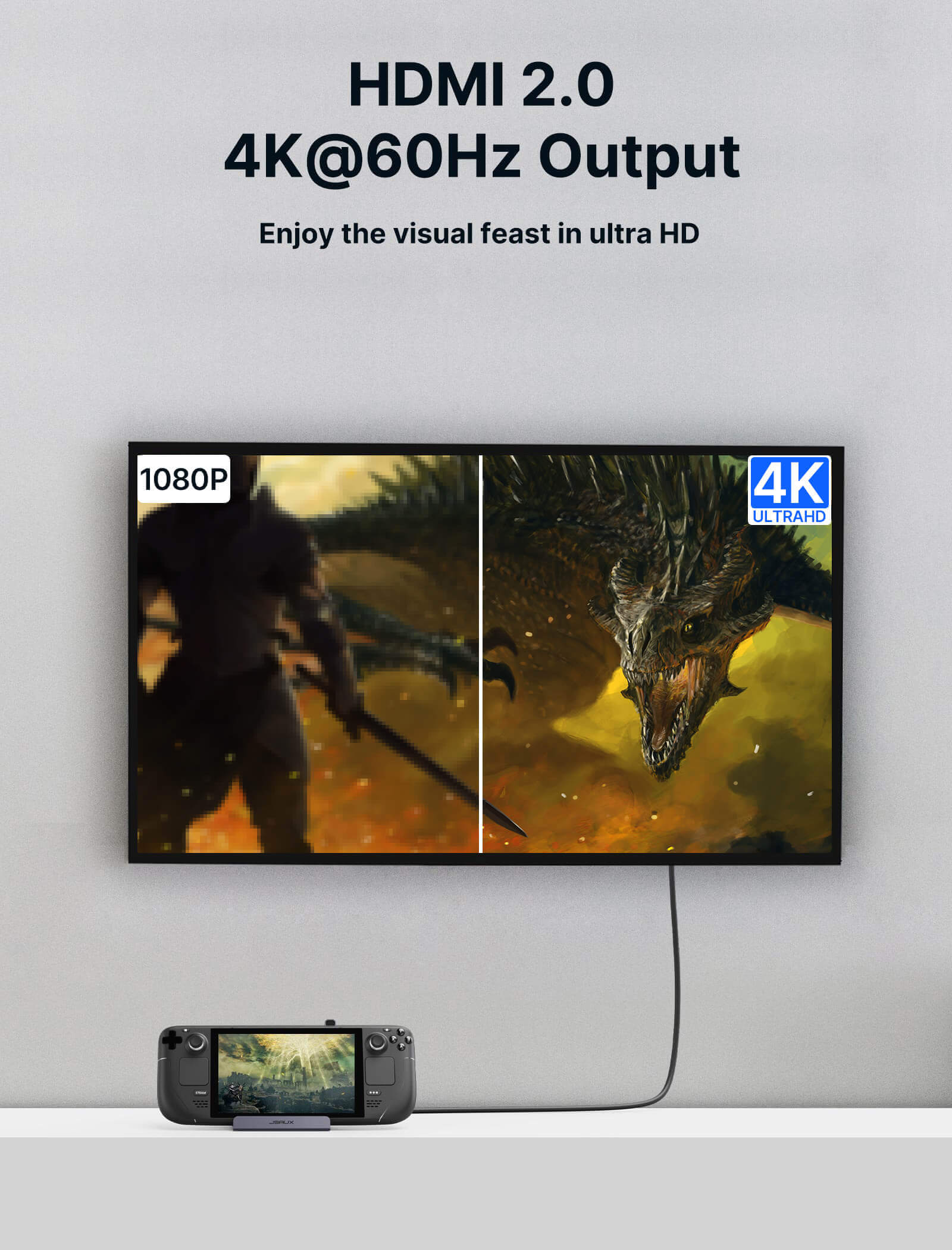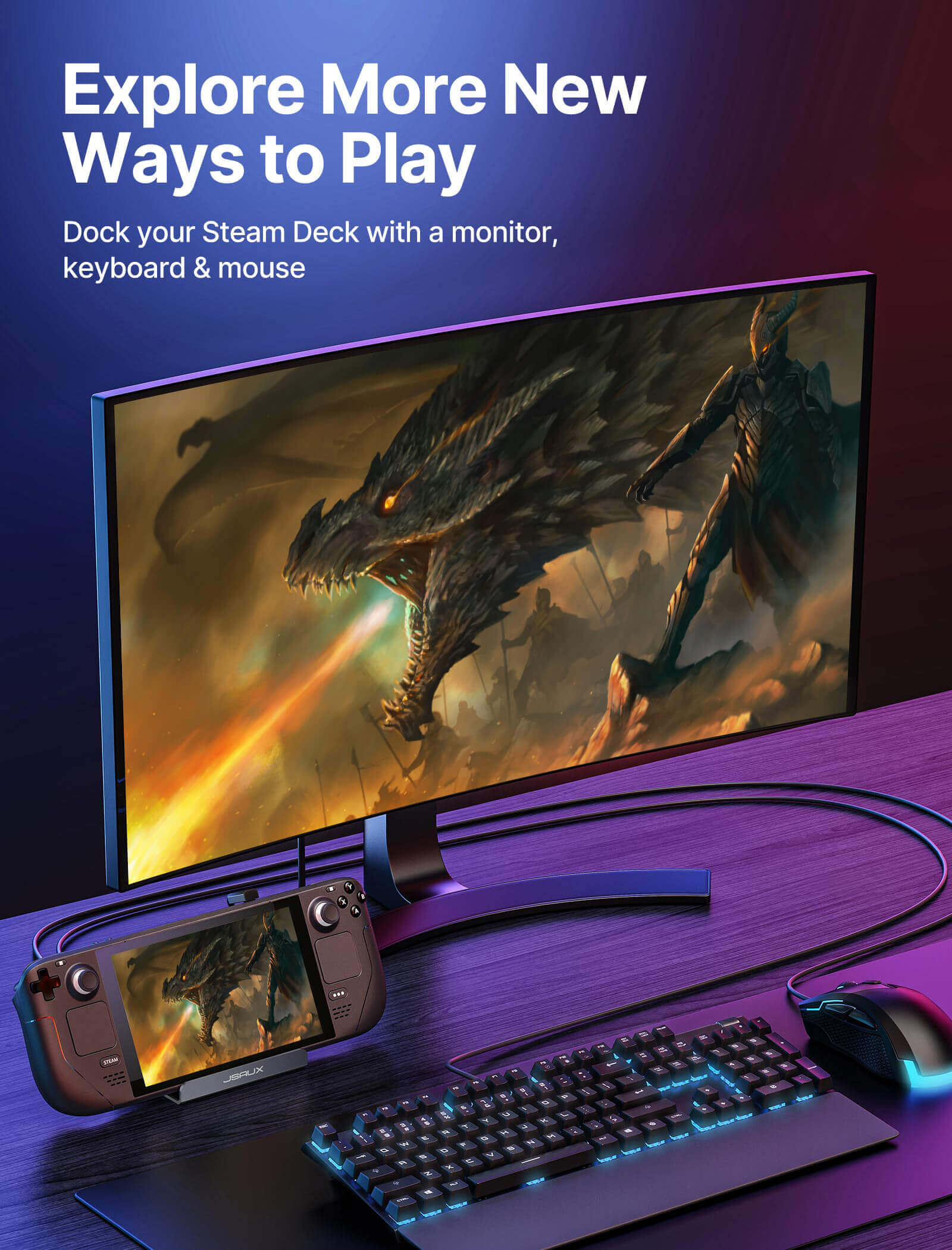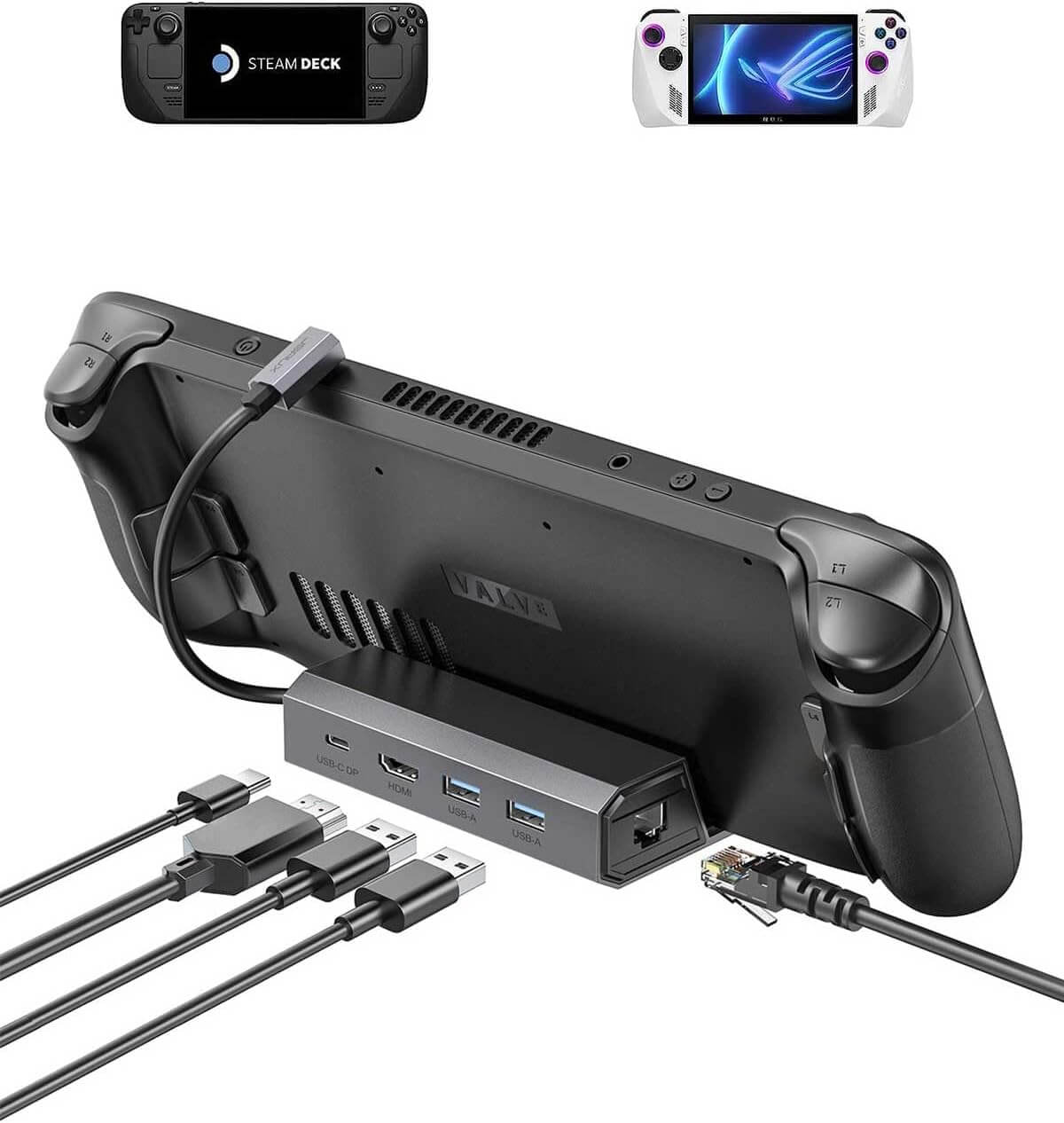 15-Day Refund Guarantee
Fast, Free Shipping Over $25
Quick Customer Support
HB0602
5-in-1 Docking Station
---
Black Friday Sale: Up To 40% Off!
1. When is the event?
Nov. 9th - Nov. 30th.
2. What benefits can I take advantage of?
💰Black Friday Event Prices💰:
Almost all products will be directly reduced in price. During this period, everyone can enjoy unique Black Friday event prices.
🏷️Black Friday Discounts🏷️:
👑New Member Benefites👑:
If you are a new customer, join our membership to earn 200 points!
🧡Black Friday Wish List🧡:
Add items to your wishlist by clicking the heart icon next to the product price. To share your wish list, tap the orange wishlist button in the lower left corner, take a screenshot of your wish list, and share it on social media with #JSAUXWishlist. We will draw 3 customers to fulfill their wishlist! – follow us on social media for updates!
3. Which products participate in the event?
All products are included. Mix and match as you like!
4. How to use the discount?
Simply add your favorite products to the cart, and the discount will be automatically applied based on the promotion's settings
Note: All discounts cannot be combined except for gift cards.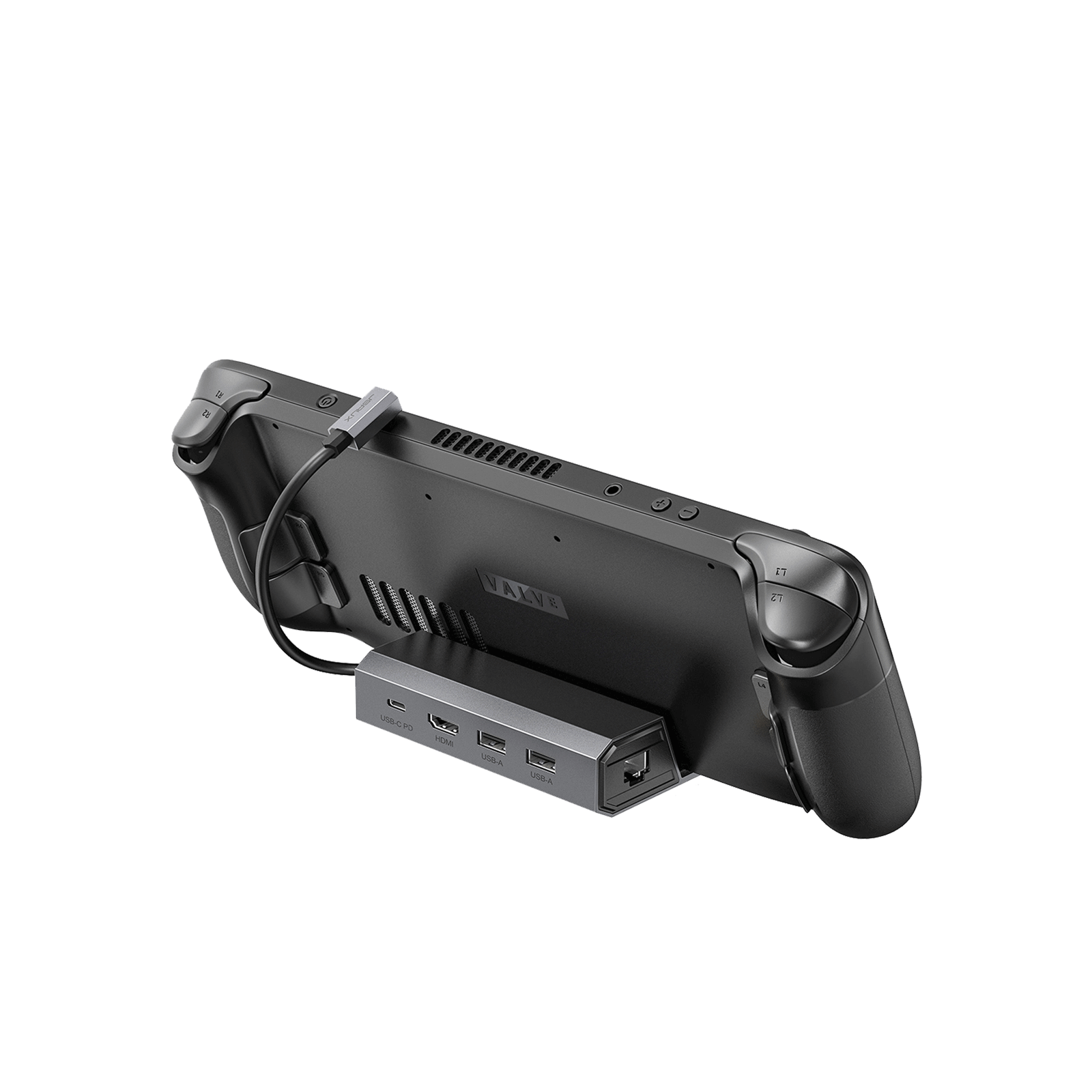 5-in-1 Docking Station for Steam Deck and ROG Ally: Features 4K@60Hz HDMI output, 100 Mbps RJ45/Ethernet input, USB-C charging, and dual USB-A 2.0 ports.
Enhanced Visuals: Enjoy sharper and smoother visuals with the 4K@60Hz HDMI 2.0 output when connecting to an external 4K monitor.
Full-Speed Steam Deck Charging: Supports 100W Max power delivery, ensuring your Steam Deck charges at full speed when used with the original charger.
All-in-One Convenience: Combining a hub and stand, eliminates the need for separate accessories. It streamlines your setup and keeps your gaming area organized.
Compatibility: 📢This product is not compatible with the AYA NEO console and can not guarantee 30W Turbo Mode for ROG Ally, as it depends on the charger used. For more details on compatible devices check the product Specs below.

Note: 

How to turn on the ROG Ally 30w turbo mode with JSAUX docks >>>>Please click and download the guide, If you need to download and update the firmware, please click here to download.

It is recommended to use a 100W charger to better experience ROG Ally's high-performance 30W mode.
Interface

Hardware Interface USB Type C, Ethernet, HDMI, USB 2.0

Number of Ports

USB-A 2.0*2、PD USB-C*1、HDMI 2.0*1、RJ45*1
Wattage: 100 watts
HDMI: 4K 60Hz / 2K 120Hz
PD(USB-C): PD 100W Max, Only supports PD USB-C interface input, compatible with PD2.0, 3.0
RJ45:100Mbps
USB-A: Support 480Mbps transmission, 5V/1A,

Compatible Devices

Steam Deck/ROG Ally【NOTE:📢NOT compatible with AYA NEO console. Cannot guarantee 30W Turbo Mode for Rog Ally. It may require a charger over 65W, based on current information. Ultimately, enabling 30W Turbo Mode depends on the specific charger used.】

NOTE

It got 100 Mbps Ethernet & USB 2.0 instead of the Gigabit Ethernet & USB 3.0.
NOT compatible with Protective Case with Kickstand, Please ensure that the thickness of your protective case is less than 2mm.
When your Steam Deck is connected to Docking Station, you need to adjust its resolution after entering desktop mode in order to achieve 4K output.
Since many games themselves are not well adapted in handheld mode, you may not be able to adjust the 4K resolution if you enter the game from handheld mode. We recommend that you restart the game and open the game you want in desktop mode to complete the 4K output.
If you want to achieve 4K@60Hz output, be sure to use an HDMI 2.0 cable or higher standard version. Also, please use as few cable adapters as possible, as using too many cable adapters can cause signal degradation, resulting in the inability to output 4K signal.
When you are docking your steam deck and need to connect high power external devices, please make sure you connect your PD charge to the docking staion to ensure that you can power the high power external devices. (Steam Deck and Docking Station cannot power high power external devices by themselves).
Do not use HDMI to DisplayPort cables or adapters please.
When running big games, too high image can put a large burden on the Steam Deck, which may be not capable of handling such high power consumption.You can reduce the picture quality of the game appropriately to reduce the latency of the external device during the game.
If you need to use HDMI Switch (the 8K one is better), make sure that the HDMI cable at both ends of it does not exceed 6.6 Feet.
Please read our shipping tips carefully before you place your order

All orders above $25 are free shipping.
Orders under $24.99 will be charged $5.5 as shipping cost.

Please Note:

JSAUX provides fast and efficient delivery services for global customers.(But unable to deliver products at military addresses (APO/FPO) and some islands.)
The current processing time for all orders takes 2-4 days(Orders are not processed on weekends). 
Order delivery time will be at 7-12 business days(pre-sale items excluded).
International duties & taxes may apply and are not calculated at checkout.
Shipping time for pre-sale products is subject to the instructions on the product page.

Due to the requirements of logistics service providers: 

In order to get your order ready as soon as possible and avoid shipping issues, make sure to introduce an accurate postal address including your exact house number and any other info that may be necessary for the delivery company. 
For mainland China: For mainland China customers, please use Tmall to place your order. Hong Kong, Macao, please include your name, ID number and shipping address in traditional Chinese. Due to logistic reasons, it is temporarily not available for purchase in Taiwan regions.

⚠️

Brazil: Due to local tax policies, customers need to pay customs duties themselves. JSAUX is not responsible for any customs and taxes applied to your order.
Due to logistical reasons, we are temporarily not providing order services to the following countries and regions: Afghanistan, Albania, Algeria, Andorra, Angola, Anguilla, Argentina, Armenia, Aruba, Azerbaijan, Bahrain, Bangladesh, Barbados, Belarus, Bermuda, Bhutan, Bosnia & Herzegovina,British Virgin Islands, Brunei, Burkina Faso, Burundi,Bolivia, Cambodia, Cameroon, Cayman Islands, Central African Republic, China, Christmas Island, Costa Rica, Djibouti,Egypt, El Salvador, Ecuador,Falkland Islands, Faroe Islands, Gabon, Gambia, Georgia, Ghana, Gibraltar, Greenland, Guadeloupe, Guatemala, Guernsey, Guinea, Iceland, Indonesia, Jamaica, Jordan, Kazakhstan, Kenya, Kiribati, Kyrgyzstan, Lebanon, Lesotho, Liberia, Liechtenstein, Maldives, Martinique, Moldova, Monaco,Mongolia, Montenegro, Myanmar (Burma), Namibia, Nauru, New Caledonia, Nicaragua, Niger, Nigeria, Norfolk Island, North Macedonia, Oman, Pakistan, Paraguay, Rwanda, San Marino, Senegal, Serbia, Seychelles, Solomon Islands, South Sudan, Sri Lanka, Sudan, Tajikistan, Togo, Tonga, Tunisia, Turkmenistan, Tuvalu, Uganda, Ukraine, Uruguay, India, Uzbekistan, Vanuatu, Vatican City,

Some regions in the United States

(including Puerto Rico, Guam, US Virgin Islands, Northern Mariana Islands, American Samoa, and military bases like APO, FPO, and DPO).

15-Days RETURN:

Our return & exchange policy will be active for 15 days from the very same day you receive your product(s) at home. For more information, please visit our Shipping Policy section.
Comparison Of Different Version Docking Stations
Model
5-in-1 Docking Station HB0602
6-in-1 Docking Station HB0603
M.2 6-in-1 Docking Station HB0604
7-in-1 Docking Station HB0702
11-in-1 Docking Station HB1101
HDMI
HDMI 2.0*1
4K@60Hz/ 2K@120Hz
HDMI 2.0 *1 
4K@60Hz/ 2K@120Hz
HDMI 2.0 *1
4K@60Hz/ 2K@120Hz
HDMI 2.0 *1
4K@60Hz/ 2K@120Hz
Dispaly Port
Dispaly Port *1
4K@60Hz/ 2K@120Hz
Q1. Why do SD cards become inoperable or unwritable?

A1. SD card format is not compatible with the Steam Deck system, you need to back up the SD card in advance and then format it to the correct format.
Q2. Does the docking station output video over a USB-C port?

A2. No, the USB-C port is for power input only.
Q3. Why does the flicker occasionally appear after I connect the Steam Deck to the monitor via Docking Station HB0602 for a period of time?

A3.After a long gaming experience, Steam Deck will enter a self-protection mechanism due to overheating. At this time, the occasional screen flicker is a mechanism of reducing the frequency of the screen, which is a normal phenomenon.
Q4. Some instructions for customers when setting resolution in desktop mode.

A4. 1. You can modify the resolution in desktop mode or game mode (Steam Deck version 3.3.2 and above)

2. It is recommended that after connecting the monitor, only the monitor should be used as the main playing screen, both "Enabled" and "Primary" under "Laptop Screen" should be unchecked.
This will provide a better gaming experience and also reduce the power consumption of the console screen.

3. If you need a split screen experience, we also recommend separating the two screens, otherwise, there will be a screen overlap situation.
(At present, due to Steamdeck system bug, so there is no way to split the screen to put the icons of two screens on one screen)
Q5. How to turn on the ROG Ally 30w turbo mode with JSAUX docks?
This product is rated 4.6 of 5.0 stars.
It has received 358 reviews.
REVIEW
Nice little dock for the SteamDeck
Saves space on my desk, a nice stand for the deck if you haven't connected a screen, and an ethernet port for faster downloads. Connecting the dock to the deck is a bit of a hassle, but the cable is nice and sturdy
Good docking station but can't connect my wired controller
I bought the docking station to play on my tv. Unfortunately I have a wired controller that isn't recognised by the docking station, it only sees my old Bluetooth wireless controller. I don't know if it's a SteamDeck issue or a Dock issue. If it's a Deck issue please disregard this review.
Return policy is crap
I tried returning since it had a defect. They put me through a bunch of loops just trying to get a refund. Asked me to send multiple pictures and pay for the return shipping on something that was defective… I ended up just throwing it away. I'll never put anything from this company again.
Works well but some compatibility issues
The dock does well if that is the only thing you have connected to your screen. I work with a setup of multiple screens and multiple device inputs and the dock will just blank the screen and monitor when I switch from and to the deck and need to do a power cycle before it works again.
Apart from that issue, it is a very good quality-vs-price product!
Perfect fit
Matched to perfection, the structural support for the Steam Deck is what makes this hub an essential buy. Not trying to exceed the SD design myself, so the single HDMI and dual USB (+gigabit Ethernet) is all I really need to play on a big screen, use my own mouse, keyboard, or separate controller, (use any passive hub to expand USB, even a cheap one) and a hard-wired Internet will give the optimal online performance that you just don't get with Wi-Fi.