15-Day Refund Guarantee
Fast, Free Shipping Over $25
Quick Customer Support
CC0050
100W USB-C Charging Cable
---
【Double Ended USB-C Cable】: This is the USB-C to USB-C Cable. NOT the USB-C to USB-A cable, which means it has the same USB-C charger block on both ends, so you need a USB-C wall charger to charge your device. ❌NOTE: This product DO NOT support video output.❌
【100W USB C Fast Charging】: JSAUX 100W USB C to USB c cable has PD and QC fast charging technology, supports up to 100W (20V/5A) output with USB-c power delivery adapters such as 30W/45W/60W/65W/96W/100W. Fast charge MacBook Pro 14" up to 68% in 35mins, charge Samsung S23 up to 92% in 35mins. (NOTE: The actual charging speed depends on your device and wall charger.)
【 Build-in Emark Chip】 This usbc to usbc cable has a built-in SUPER E-MARK chip, which will intelligently identify the charging device and its charging power, thus adjusting the appropriate voltage and current to provide the fastest fast charging power without overloading and protecting your device's battery. It also detects when the battery power reaches 80% and turns on the trickle mode to effectively extend the life of the battery and the device.
【Certified Safety & Quality Assurance】: JSAUX Type C to Type C cable has electronic safety certifications that comply with appropriate standards, you have no need to worry about this cable quality at all. Upgraded 3D aluminum connector and exclusive laser welding technology, which can ensure the metal part won't break.
【Perfect Compatibility】JSAUX USB C to C Cable Compatible with virtually all USB-C devices including phones, tablets, and laptops. Such as MacBook Air/Pro, Samsung Galaxy S23 Ultra/S23+/S23/S22 Ultra/S22+/S22/S21 Ultra/S21+/S21/S20/ S20+/S20 Ultra/Note 20, Pixel series, iPad Mini 6, iPad Pro 2022/2021/2020/2018, iPad Air, Steam Deck, Switch and more upcoming devices with USB-C port.
Compatible Devices

Samsung Galaxy Note 20 / 20 Ultra, Note 10 / 10 Plus, Samsung A90 A80, A72 A71 A70, Samsung Galaxy S23 / S23+ / S23 Ultra, S22 / S22+ / S22 Ultra, S21 / S21+ / S21 Ultra, S20 / S20+ / S20 Ultra, S10+ / S10e / S10 / S9+ / S9 / S8+ / S8, MacBook Air 2018 / 2019 / 2020 / 2021 / 2022, MacBook Pro 2017 / 2018 / 2019 / 2020 / 2021 / 2022, Pixel 6 / 6 Pro / 5a / 5a XL / 4 / 4XL / 3a / 3a XL, Nexus 6P, Switch, Switch Lite, Valve Steam Deck, iPad 10th Gen, iPad Pro 2022 / 2021 / 2020 / 2018, iPad Air 5th(2022) / 4th(2020), iPad Mini 6

Recommended Uses For Product

Dimensions

78.74(L) x 0.2(W) x 0.2(H) inches
Please read our shipping tips carefully before you place your order

All orders above $25 are free shipping.
Orders under $24.99 will be charged $5.5 as shipping cost.

Please Note:

JSAUX provides fast and efficient delivery services for global customers.(But unable to deliver products at military addresses (APO/FPO) and some islands.)
The current processing time for all orders takes 2-4 days(Orders are not processed on weekends). 
Order delivery time will be at 7-12 business days(pre-sale items excluded).
International duties & taxes may apply and are not calculated at checkout.
Shipping time for pre-sale products is subject to the instructions on the product page.

Due to the requirements of logistics service providers: 

In order to get your order ready as soon as possible and avoid shipping issues, make sure to introduce an accurate postal address including your exact house number and any other info that may be necessary for the delivery company. 
For mainland China: For mainland China customers, please use Tmall to place your order. Hong Kong, Macao, please include your name, ID number and shipping address in traditional Chinese. Due to logistic reasons, it is temporarily not available for purchase in Taiwan regions.
Due to logistical reasons, we are temporarily not providing order services to the following countries and regions: Afghanistan, Albania, Algeria, Andorra, Angola, Anguilla, Argentina, Armenia, Aruba, Azerbaijan, Bahrain, Bangladesh, Barbados, Belarus, Bermuda, Bhutan, Bosnia & Herzegovina, British Virgin Islands, Brunei, Burkina Faso, Burundi,Bolivia, Cambodia, Cameroon, Cayman Islands, Central African Republic, China, Christmas Island, Costa Rica, Djibouti,Egypt, El Salvador, Ecuador,Falkland Islands, Faroe Islands, Gabon, Gambia, Georgia, Ghana, Gibraltar, Greenland, Guadeloupe, Guatemala, Guernsey, Guinea, Iceland, Indonesia, Jamaica, Jordan, Kazakhstan, Kenya, Kiribati, Kyrgyzstan, Lebanon, Lesotho, Liberia, Liechtenstein, Maldives, Martinique, Moldova, Monaco, Montenegro, Myanmar (Burma), Namibia, Nauru, New Caledonia, Nicaragua, Niger, Nigeria, Norfolk Island, North Macedonia, Oman, Pakistan, Paraguay, Rwanda, San Marino, Senegal, Serbia, Seychelles, Solomon Islands, South Sudan, Sri Lanka, Sudan, Tajikistan, Togo, Tonga, Tunisia, Turkmenistan, Tuvalu, Uganda, Ukraine, Uruguay, India, Uzbekistan, Vanuatu, Vatican City, United States (including Puerto Rico, Guam, US Virgin Islands, Northern Mariana Islands, American Samoa, and military bases like APO, FPO, and DPO).

15-Days RETURN:

Our return & exchange policy will be active for 15 days from the very same day you receive your product(s) at home. For more information, please visit our Shipping Policy section.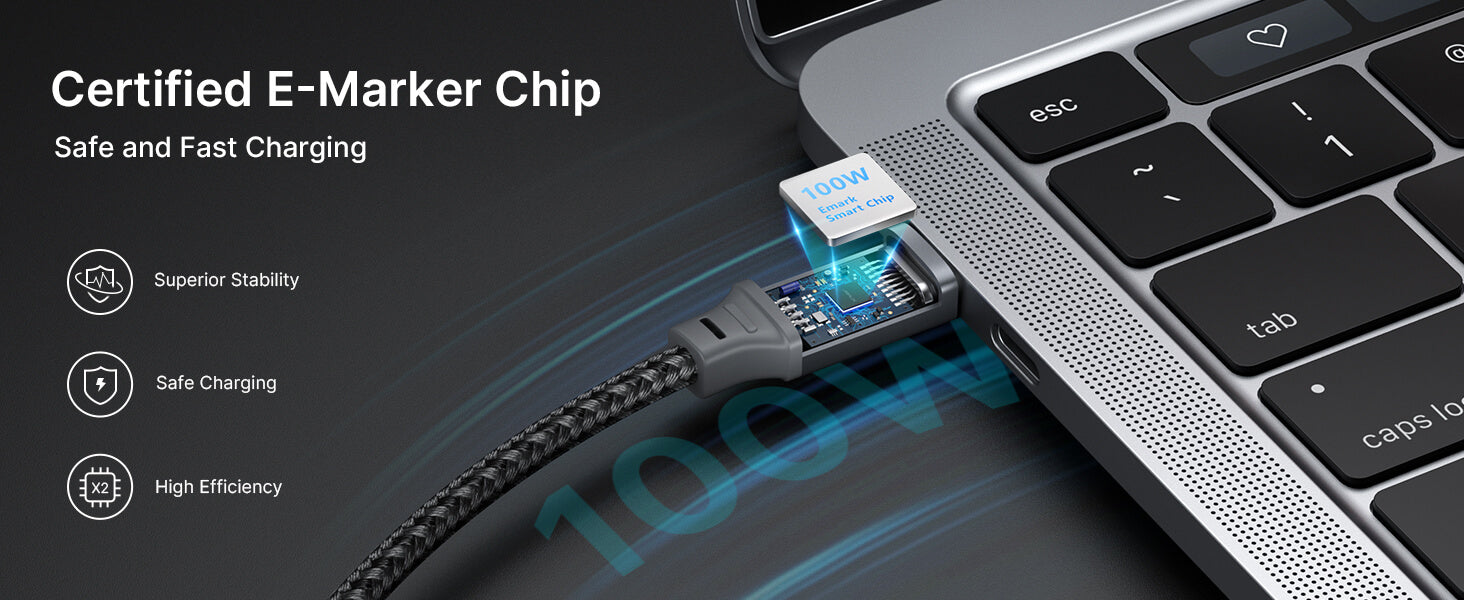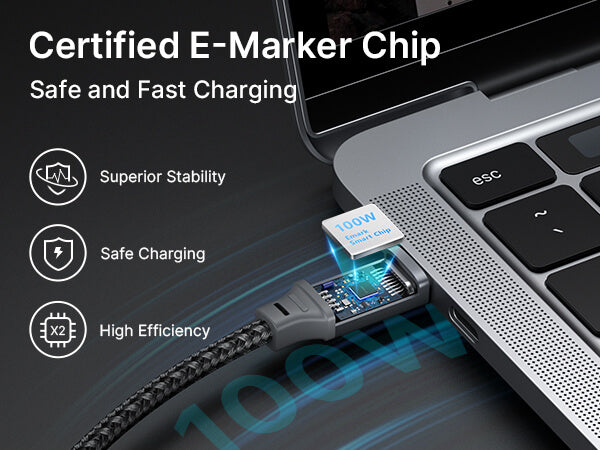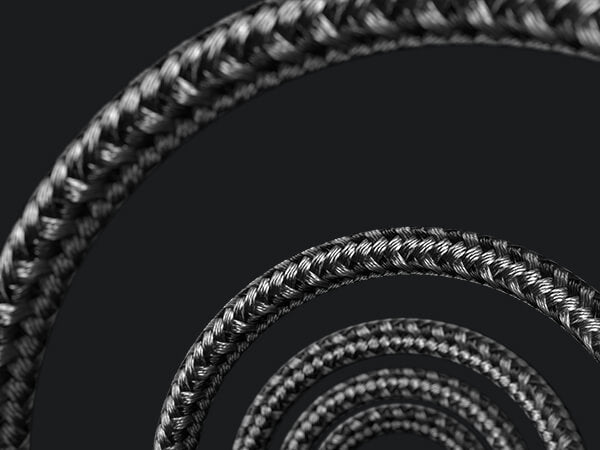 Nylon Braided
Adds strong military fiber, can withstand15000+bending, and there is no need to worry about entanglement, which can effectively extend cable life.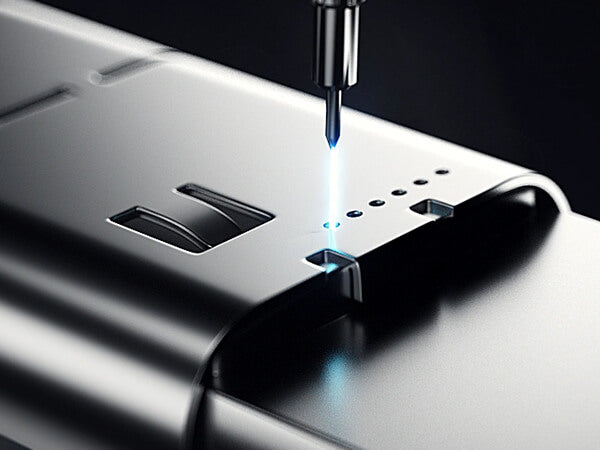 Laser Welding Connector
Upgraded 3D aluminum connector and exclusive laser welding technology, which ensure the metal part won't break.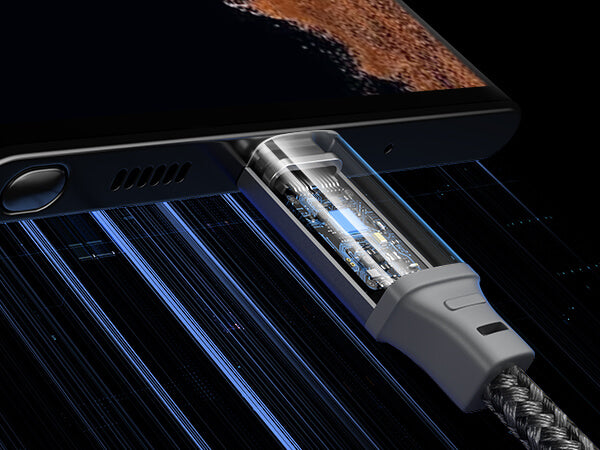 Certified E-Marker Chip
Intelligently adjusting the appropriate voltage and current to provide the fastest charging without overloading and protecting your device's battery.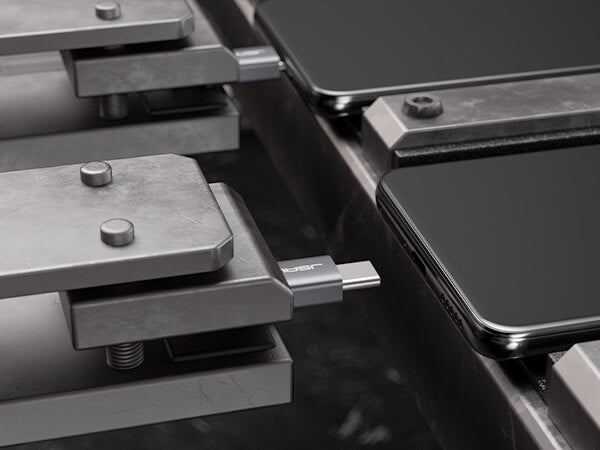 40000+ Bending Lifetime
Special strain relief design, can bear40000+bends in strict laboratory tests.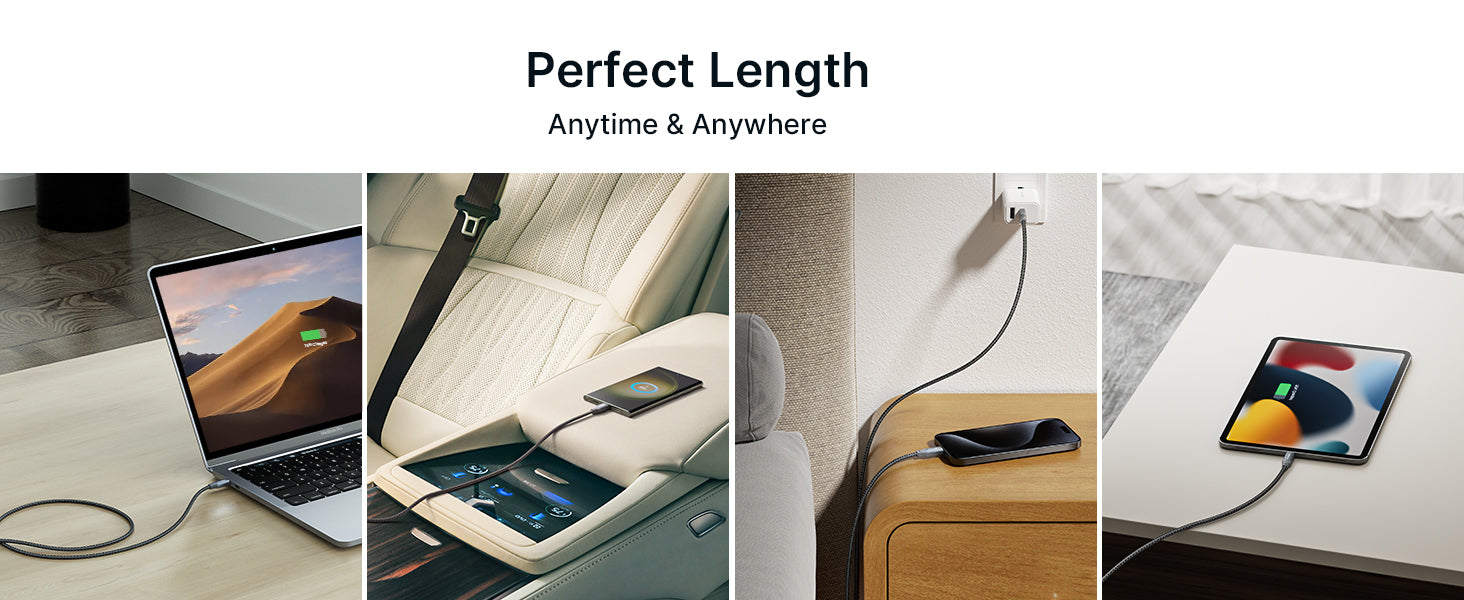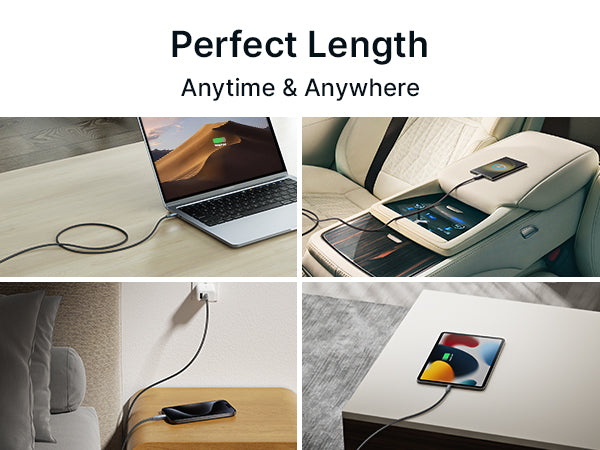 This product is rated 5.0 of 5.0 stars.
It has received 1 review.
REVIEW