15-Day Refund Guarantee
Fast, Free Shipping Over $25
Quick Customer Support
HC4503
3-in-1 45W Charger Dock
---
【3-IN-1 Design】 1. USB-C 3.2 port: 45W charging output for fast charging of Steam Deck, Switches, and laptops with the included cable; 2. USB-A 2.0: Supports 480Mbps data transfer between the device and U-disk/hard drive, Also supports 5W charging output; 3. 4K HDMI output: supports 4K@60Hz output in TV mode and game mode
【Fast and Safe Charging】45W Fast charging speed, not only for Switch but also for MacBook and other laptops. The built-in smart chip provides multiple protection and protects your device from over-current, over-voltage, overheating, and short-circuit.
【4K High-definition HDMI Output】This TV dock adapter can connect Steam Deck to HDMI-enabled devices (e.g.: monitor, TV, projector), extending working space with split-screen or mirroring display. This HDMI type c hub adapter supports resolution up to 4K@60Hz. Have fun with a big screen and high-quality pictures thanks to its HDMI port supporting 4K.
【Wide Compatibility】JSAUX 45W multi-function charger is compatible with Steam Deck, Nintendo Switch, 2018-2020 MacBook Air 13", 2016-2020 MacBook Pro 13"/15"16", HP Spectre x360, Lenovo X1 Yoga, DELL XPS13/15/17, HUAWEI MateBook X/Xpro, iPad Air 4,2018-2021 iPad Pro 11"/12.9", Samsung Galaxy Galaxy Tab S4/S5e/S6, Galaxy Note8/9/10/Note20/20 Ultra.
【What You Get】1×JSAUX Steam Deck Charger, 1×3.3ft USB-C to USB C 3.1 Gen2 Cable.

Notes:
This product is divided into the US version and the EU version, please choose the right version that suits you according to your region.
Ports

Total USB Ports: 2
Number of Ports: 3
Total HDMI Ports: 1

Input

AC 90V-240V~50/60Hz 1.5A Max

Output

USB-C 3.1:PD3.0(45W Max)
USB-A:USB-A 2.0(480Mbps)
HDMI 2.0:4K@60Hz

Compatible Devices

Steam Deck, MacBook Pro / MacBook Air / Mac mini / iMac; HP; ASUS; DELL; LENOVO, etc, Samsung S22 / S21 / S20 / S10 / S9 / S8, other Type-C models, Nintendo Swtich, Switch OLED

Cable Length

USB-C to USB-C Cable(3.3FT/1M )

List

1 × 3-in-1 45W Charger Dock, 1 × USB-C 3.1 Cable, 1 × Manual
Please read our shipping tips carefully before you place your order

All orders above $25 are free shipping.
Orders under $24.99 will be charged $5.5 as shipping cost.

Please Note:

JSAUX provides fast and efficient delivery services for global customers.(But unable to deliver products at military addresses (APO/FPO) and some islands.)
The current processing time for all orders takes 2-4 days(Orders are not processed on weekends). 
Order delivery time will be at 7-12 business days(pre-sale items excluded).
International duties & taxes may apply and are not calculated at checkout.
Shipping time for pre-sale products is subject to the instructions on the product page.

Due to the requirements of logistics service providers: 

In order to get your order ready as soon as possible and avoid shipping issues, make sure to introduce an accurate postal address including your exact house number and any other info that may be necessary for the delivery company. 
For mainland China: For mainland China customers, please use Tmall to place your order. Hong Kong, Macao, please include your name, ID number and shipping address in traditional Chinese. Due to logistic reasons, it is temporarily not available for purchase in Taiwan regions.
Due to logistical reasons, we are temporarily not providing order services to the following countries and regions: Afghanistan, Albania, Algeria, Andorra, Angola, Anguilla, Argentina, Armenia, Aruba, Azerbaijan, Bahrain, Bangladesh, Barbados, Belarus, Bermuda, Bhutan, Bosnia & Herzegovina, British Virgin Islands, Brunei, Burkina Faso, Burundi,Bolivia, Cambodia, Cameroon, Cayman Islands, Central African Republic, China, Christmas Island, Costa Rica, Djibouti,Egypt, El Salvador, Ecuador,Falkland Islands, Faroe Islands, Gabon, Gambia, Georgia, Ghana, Gibraltar, Greenland, Guadeloupe, Guatemala, Guernsey, Guinea, Iceland, Indonesia, Jamaica, Jordan, Kazakhstan, Kenya, Kiribati, Kyrgyzstan, Lebanon, Lesotho, Liberia, Liechtenstein, Maldives, Martinique, Moldova, Monaco, Montenegro, Myanmar (Burma), Namibia, Nauru, New Caledonia, Nicaragua, Niger, Nigeria, Norfolk Island, North Macedonia, Oman, Pakistan, Paraguay, Rwanda, San Marino, Senegal, Serbia, Seychelles, Solomon Islands, South Sudan, Sri Lanka, Sudan, Tajikistan, Togo, Tonga, Tunisia, Turkmenistan, Tuvalu, Uganda, Ukraine, Uruguay, India, Uzbekistan, Vanuatu, Vatican City, United States (including Puerto Rico, Guam, US Virgin Islands, Northern Mariana Islands, American Samoa, and military bases like APO, FPO, and DPO).

15-Days RETURN:

Our return & exchange policy will be active for 15 days from the very same day you receive your product(s) at home. For more information, please visit our Shipping Policy section.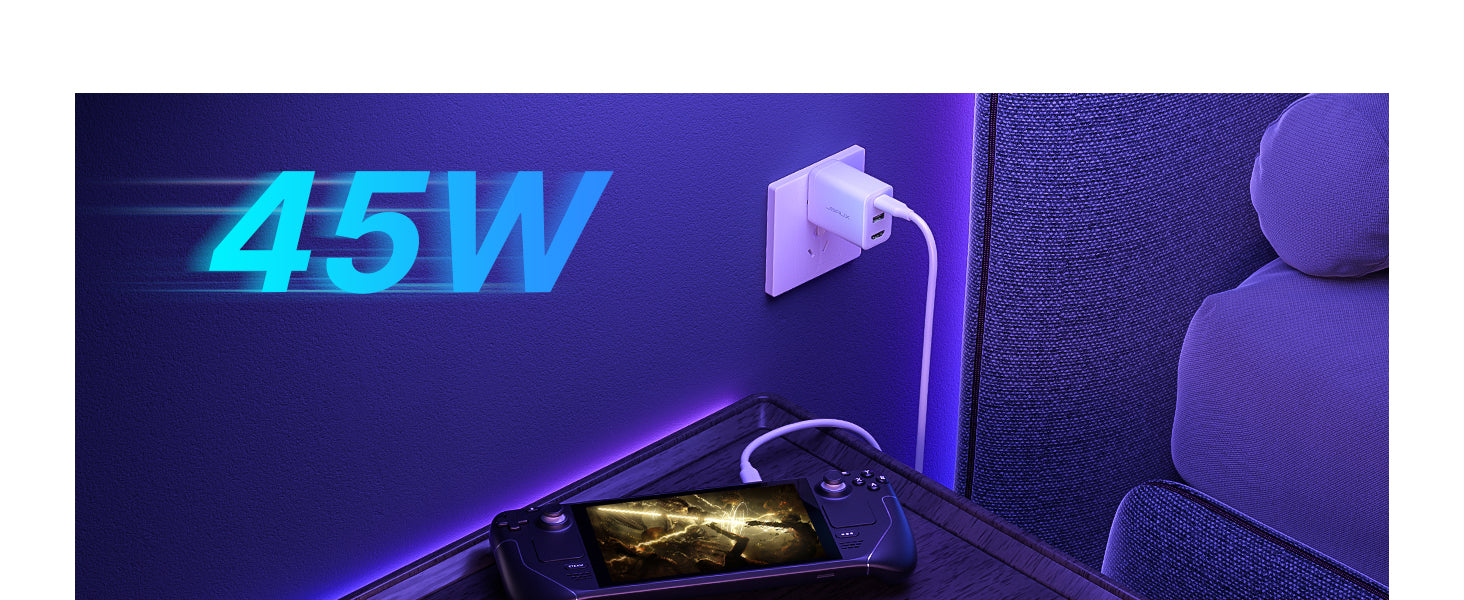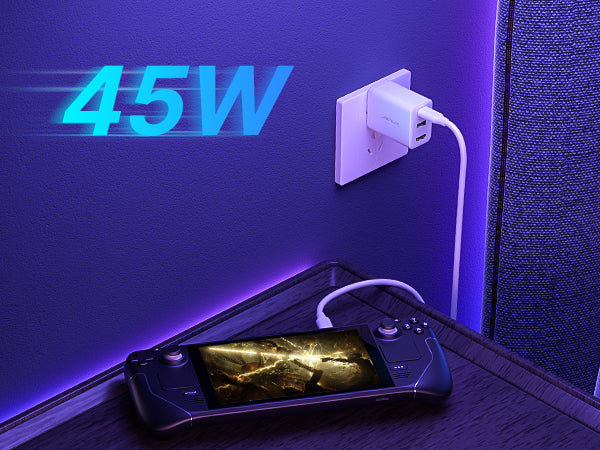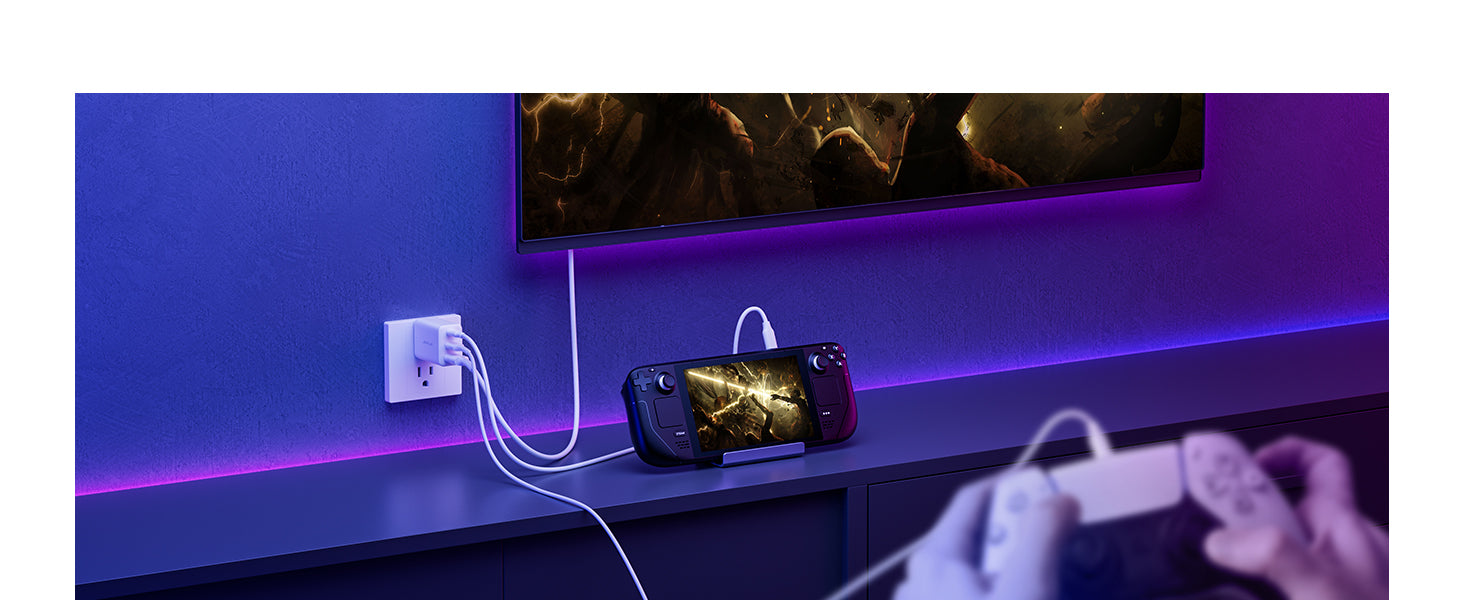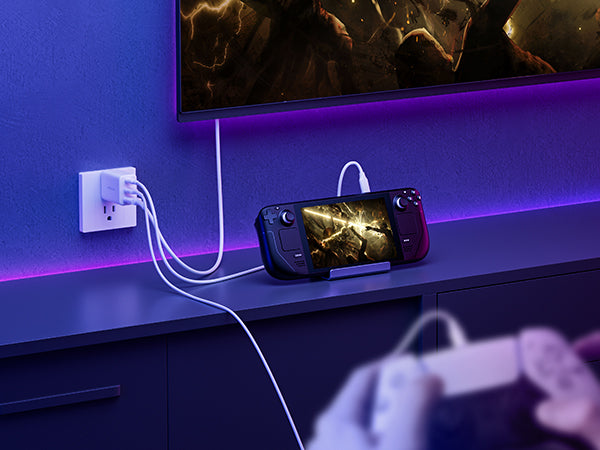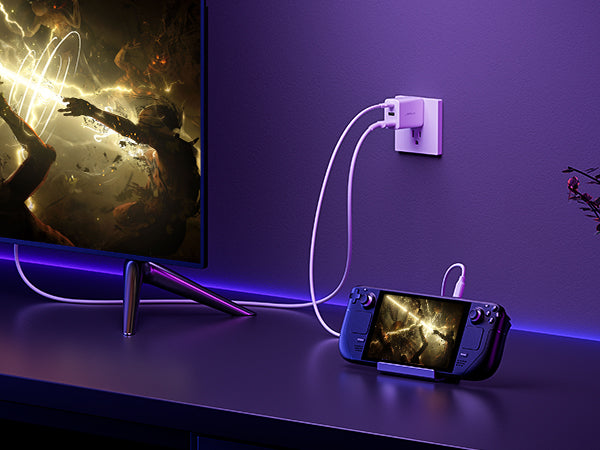 Q1. Does this HC4503 fit in my JSAUX Carrying Case?

A1. Yes, it could be put in JSAUX Carrying Case BG0102/BG0103/BG0106/BG0105.
Q2. What HDMI cable should I use to support this Charger Dock?

A2. It supports HDMI 2.0.
This product is rated 4.4 of 5.0 stars.
It has received 12 reviews.
REVIEW
3-In-1 45W Charger Dock For Steam Deck With 3.3ft Cable HC4503
rj45...
pagaría el doble si fuera de 150w como mínimo (para poderlo aprovechar también en el móvil y que tuviese entrada rj45, no entiendo como no la han añadido... si sacan uno así, seré de los primeros en comprarlo
Best portable solution
Mostly using it in the bedroom (the big dock is on my desk) but if i need it i can easily pack it in to the back of the deck case and have a dock 'lite' with me on the go
Llego hoy.
Funciona correctamente lo acabo de probar, estoy muy contenta con el tiempo de entrega y el paquete estaba bien cerrado, gracias
Works perfectly
I had to get a new dock for my steam deck so I got this portable one it charged my deck perfectly and I can store it in my Jsaux case as well. It also works on my phone.