15-Day Refund Guarantee
Fast, Free Shipping Over $25
Quick Customer Support
PB6501
20000mAh 65W PD Portable Charger
---
【65W High-Speed Charging】Equipped with PD65W charging support, this power bank can quickly charge your devices, including the Steam deck at full speed (45W), ensuring you're never caught without power on the go.
【20000mAh Large Capacity】This portable charger provides ample battery life to keep your devices charged all day long, making it the perfect companion for long trips or busy days out and about.

【Intelligent Display】The smart digital display keeps you informed of your battery level, voltage, and current so that you can stay on top of your charging needs. It also alerts you to safety issues by alarming, making it a smart and user-friendly charging solution for your devices.

【Multi-Protection】This portable charger includes built-in protection against over-current, over-voltage, overheating, and short-circuit, ensuring your phone and personal safety.

【Convenient Charging】Equipped with a built-in cable, allows for hassle-free charging on the go without carrying an extra charging cable.

【Multiple Output Ports】Equipped with two USB-C ports and two USB-A ports, this portable charger offers versatile charging options for multiple devices at the same time, making it a must-have for families or groups on the move.

【Universal Compatibility】Compatible with a wide range of USB-C PD devices, including Steam Deck, Switch, iPhone, Samsung Galaxy, Huawei, and more, it is the ultimate charging solution for all your mobile needs.

Input

Type-C/Type-C cable 5V⎓ 3A/ 15V⎓ 3A/ 20V⎓ 3.25A(65W Max)

Output

Type-C:3.3-11V⎓ 5A/ 5-15V⎓ 3A/ 20V⎓ 3.25A(65W Max)
USB A1/ USB A2:5V⎓4.5A/ 4.5V⎓5A/ 5V⎓3A/ 9V⎓3A/ 12V⎓2.5A(30W Max)
USB A1+USB A2:5V⎓3A(15W Max)
Type-C+Type-C cable:20w+ 45w
Type-C/ Type-C cable +A1/ A2:45W+ 18W
Type-C+Type-C cable +A1/ A2:20W+ 30W+ 15W

Self-contained cable length

Compatible Devices

All USB-C PD Laptops like:
Acer Chromebook 11/ Chromebook 15/ Chromebook 514/ Chromebook R 13/ Spin 11/ Apple All MacBook series for example 15 / 13 MacBook Pro/ MacBook Pro(2016-2018)/MacBook Air(2018)/MacBook (2015)/MacBook Pro 16/ ASUS Chromebook Flip/ Zenbook 3/ Flip S/ Transformer 3 Pro/ Dell Chromebook 3380/ XPS 13 & 15(2016-2018)/ Google Chromebook Pixel(2015)/Pixelbook(2017)/ Huawei MateBook X Pro/ HP Chromebook (2017-2018)/Lenovo ThinkPad X1/Microsoft Surface Book 2 13.5"&15"etc.

All USB-C PD smartphones like:
iPhone 13/ 13 Pro/ 13 Pro Max/ 12 mini/ 12/ 12 Pro/ 12 Pro Max/ 11/ 11 Pro/ 11 Pro Max/ XR/ XS Max/ XS/ X/8 Plus/ 7 Plus/ Samsung S 21 20 10/ S9 etc/ Huawei P40 Pro/ Mate 40/ Mate 30/ Nova 8/ Honor 8X etc.
Please read our shipping tips carefully before you place your order

All orders above $25 are free shipping.
Orders under $24.99 will be charged $5.5 as shipping cost.

Please Note:

JSAUX provides fast and efficient delivery services for global customers.(But unable to deliver products at military addresses (APO/FPO) and some islands.)
The current processing time for all orders takes 2-4 days(Orders are not processed on weekends). 
Order delivery time will be at 7-12 business days(pre-sale items excluded).
International duties & taxes may apply and are not calculated at checkout.
Shipping time for pre-sale products is subject to the instructions on the product page.

Due to the requirements of logistics service providers: 

In order to get your order ready as soon as possible and avoid shipping issues, make sure to introduce an accurate postal address including your exact house number and any other info that may be necessary for the delivery company. 
For mainland China: For mainland China customers, please use Tmall to place your order. Hong Kong, Macao, please include your name, ID number and shipping address in traditional Chinese. Due to logistic reasons, it is temporarily not available for purchase in Taiwan regions.
Due to logistical reasons, we are temporarily not providing order services to the following countries and regions: Afghanistan, Albania, Algeria, Andorra, Angola, Anguilla, Argentina, Armenia, Aruba, Azerbaijan, Bahrain, Bangladesh, Barbados, Belarus, Bermuda, Bhutan, Bosnia & Herzegovina, British Virgin Islands, Brunei, Burkina Faso, Burundi,Bolivia, Cambodia, Cameroon, Cayman Islands, Central African Republic, China, Christmas Island, Costa Rica, Djibouti,Egypt, El Salvador, Ecuador,Falkland Islands, Faroe Islands, Gabon, Gambia, Georgia, Ghana, Gibraltar, Greenland, Guadeloupe, Guatemala, Guernsey, Guinea, Iceland, Indonesia, Jamaica, Jordan, Kazakhstan, Kenya, Kiribati, Kyrgyzstan, Lebanon, Lesotho, Liberia, Liechtenstein, Maldives, Martinique, Moldova, Monaco, Montenegro, Myanmar (Burma), Namibia, Nauru, New Caledonia, Nicaragua, Niger, Nigeria, Norfolk Island, North Macedonia, Oman, Pakistan, Paraguay, Rwanda, San Marino, Senegal, Serbia, Seychelles, Solomon Islands, South Sudan, Sri Lanka, Sudan, Tajikistan, Togo, Tonga, Tunisia, Turkmenistan, Tuvalu, Uganda, Ukraine, Uruguay, India, Uzbekistan, Vanuatu, Vatican City, United States (including Puerto Rico, Guam, US Virgin Islands, Northern Mariana Islands, American Samoa, and military bases like APO, FPO, and DPO).

15-Days RETURN:

Our return & exchange policy will be active for 15 days from the very same day you receive your product(s) at home. For more information, please visit our Shipping Policy section.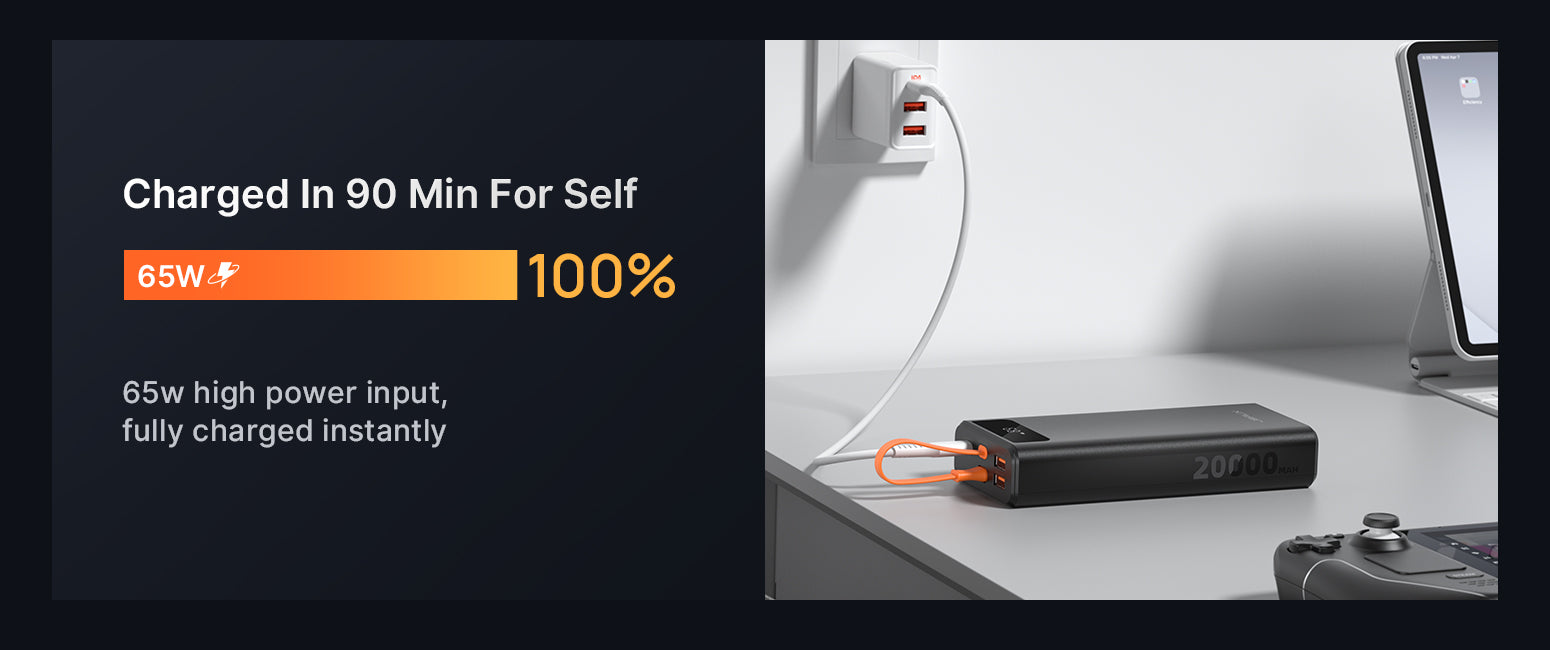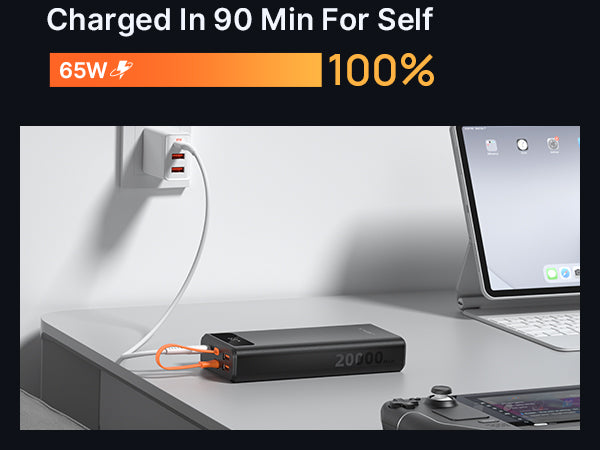 Q1.Why can't I purchase the power bank PB6501?

A1. Due to the limitations of the logistics provider, the Power Bank PB6501 can only be shipped to the following countries and regions(we are still looking for a better solution), we are sorry for the inconvenience. USA / UK / Germany / Austria / Canada / Belgium / Czech Republic / Denmark / Estonia / Spain / Finland / France / Greece / Hungary / Italy / Lithuania / Luxembourg / Netherlands / Poland / Sweden / Slovenia / Slovakia / Portugal / Latvia / Bulgaria / Malta / Romania / Croatia / Ireland
Q2.Will a powerbank obstruct the intake vents when installed?

A2. The Power Bank is tied horizontally, and there is a certain distance from the game console, which will not block the air inlet and outlet of the game console.
Q3.I'm worried about putting heat into the steam deck from the battery use?

When the power bank is in use, the shell heat won't be very high, and it won't cause the temperature in the game console to rise.
This product is rated 5.0 of 5.0 stars.
It has received 3 reviews.
REVIEW
Must have 2! Electric Boogaloo
It works well with the case and it doesn't take up too much space. While it does make the system slightly heavier its a great addon for those long plays without an outlet in sight.
20000mAh 65W PD Portable Charger
Almost intact but still very reliable
I got mine a while ago now (can't remember exactly when) but it is working great and I used it on a camping trip to keep my devices charged since I could only use a generator for 2 hours in the morning and evening to power stuff and it held up really well although after I got home I thought the built in cable was stronger than it actually was and damaged the built in cable to where it was barely working and was exposing the internal wires for the cable, so I used a pair of scissors to cut it off and it's still working great