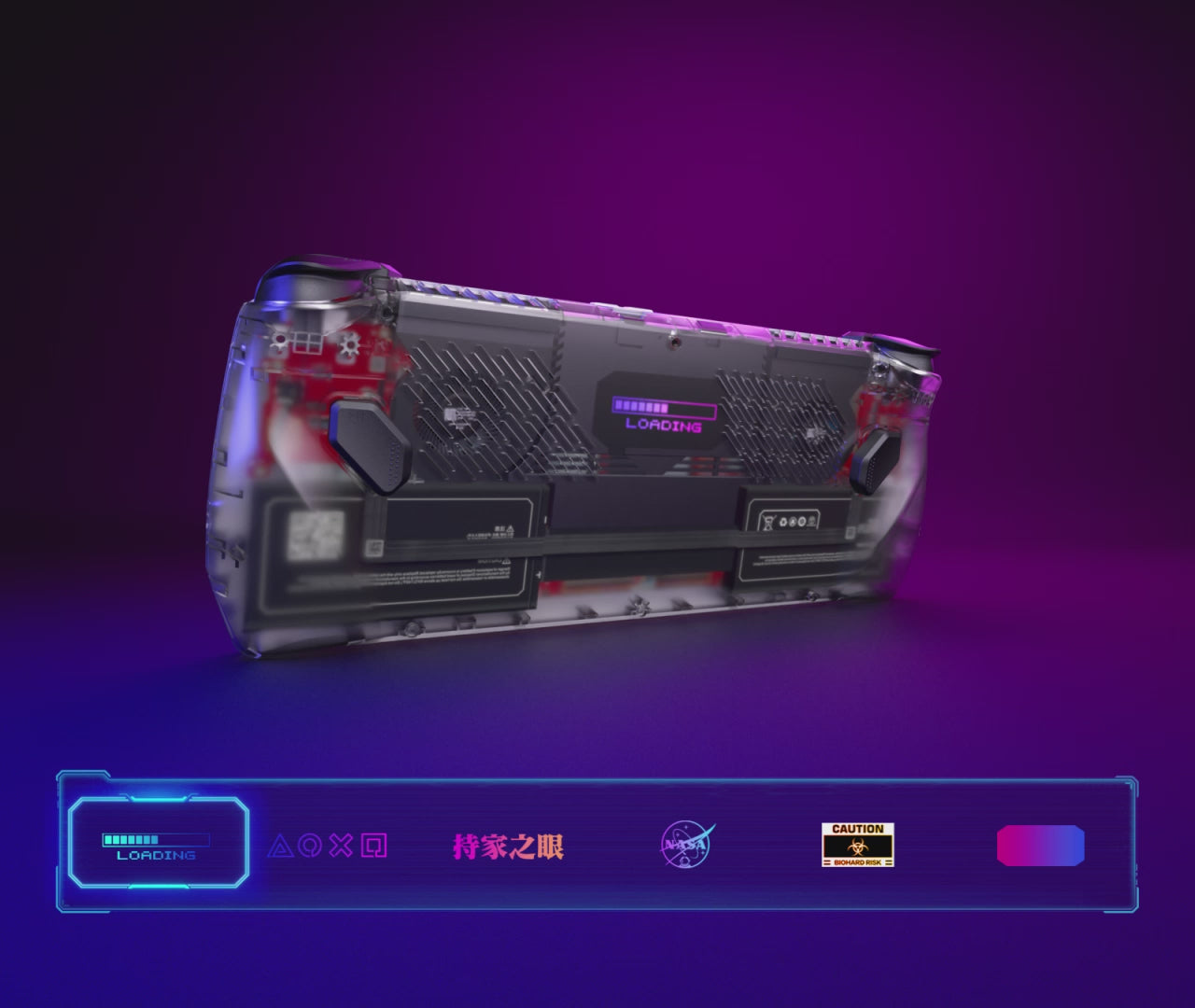 15-Day Refund Guarantee
Fast, Free Shipping Over $25
Quick Customer Support
PC0110
RGB Transparent Back Plate for ROG Ally
---
Black Friday Sale: Up To 40% Off!
1. When is the event?
Nov. 9th - Nov. 30th.
2. What benefits can I take advantage of?
💰Black Friday Event Prices💰:
Almost all products will be directly reduced in price. During this period, everyone can enjoy unique Black Friday event prices.
🏷️Black Friday Discounts🏷️:
👑New Member Benefites👑:
If you are a new customer, join our membership to earn 200 points!
🧡Black Friday Wish List🧡:
Add items to your wishlist by clicking the heart icon next to the product price. To share your wish list, tap the orange wishlist button in the lower left corner, take a screenshot of your wish list, and share it on social media with #JSAUXWishlist. We will draw 3 customers to fulfill their wishlist! – follow us on social media for updates!
3. Which products participate in the event?
All products are included. Mix and match as you like!
4. How to use the discount?
Simply add your favorite products to the cart, and the discount will be automatically applied based on the promotion's settings
Note: All discounts cannot be combined except for gift cards.
【Light Up Your ROG Ally】Experience 5 captivating RGB lighting modes that will elevate your gaming machine to an unparalleled visual spectacle.
【Unleash Your ROG Ally's Personality】 Explore 5 dynamic and unique RGB patterns to define your gaming setup with flair. Plus, we throw in 4 extra transparent customizable slides for limitless personalization options.
【See Your Inner ROG Ally】Visualize the Internals feature lets you uncover the technological marvels that power your console, revealing its fascinating secrets.
【Tech-Style Decals】Enhance your device's aesthetics effortlessly with built-in PVC stickers that let you add a tech-inspired look to the back cover before installation.
【Type-C Easy Charging】With a built-in 170mAh lithium battery, enjoy up to 3 hours of uninterrupted RGB lighting, effortlessly rechargeable via USB-C.
【Certified for Reliability】CE, ROHS, UKCA, FCC-SDOC, and UN38.3 - ensuring the utmost reliability in your gaming experience.

Notes📢:

Not compatible with the PC0109 ModCase for ROG Ally. the protective case may obstruct the light source behind the PC0110 back plate. And the switch of RGB light may be blocked. 
There is a Light Sensor inside the ROG Ally. After removing the back cover, you need to attach the Light Sensor Adhesive Sheet we included, install our back cover, and then plug in the game console so that the game console can be used normally.

After reinstalling the back cover, the game console needs to be plugged in and activated with a charger before it can be turned on.

The Back Plate may be out of power when received. It is best to charge it before using it for the first time.

Changing the product's LOGO pattern can be complex; it's advisable to decide on the pattern before installation for convenience.

When using transparent customizable slides, please ensure to have light-blocking paint ready.

If you prefer not to use the RGB module, you can simply remove it or replace it with a 2280 SSD.

The transparent back cover isn't recommended for users who have no experience in DIY and/or disassembling electronic devices. We strongly recommend carefully reviewing the iFixit videos if you choose to install them or seek the services of a professional. Any equipment malfunction caused by the disassembly of the game console, but not by this product, shall be borne by the user.
Material

Back Cover: PC (Polycarbonate)
Stickers: PC (Polycarbonate)

Adjust RGB

Turn on RGB: Long-press the power button for 2 seconds to turn on the device.
Switch RGB: After powering on, short press the power button to switch RGB

RGB Types

5 lighting patterns:
asynchronous mixed-colour breathing, rainbow, single-side mixed-colour breathing, synchronous mixed-colour breathing, and spectrum cycling.

RGB charging

170mAh battery capacity; Type-C interface; average battery life 3H

Item List

1. RGB Transparent Backplate*1
2. Silicone Accessories: 1 set of touch-sensitive thumbstick caps, 1 set of non-touch thumbstick caps, 2 sets of back button sticky pads, 2 charging port dust plugs, 1 set of anti-static gloves
3. USB-C Charging Cable*1
4. Installation Tools: Screwdriver, screws, and more.
5. Black Sticker*1
6. Replaceable Lighting Slides*9 (5 preset slides + 4 transparent customizable slides)
7. Light sensor adhesive sheet*4
Please read our shipping tips carefully before you place your order

All orders above $25 are free shipping.
Orders under $24.99 will be charged $5.5 as shipping cost.

Please Note:

JSAUX provides fast and efficient delivery services for global customers.(But unable to deliver products at military addresses (APO/FPO) and some islands.)
The current processing time for all orders takes 2-4 days(Orders are not processed on weekends). 
Order delivery time will be at 7-12 business days(pre-sale items excluded).
International duties & taxes may apply and are not calculated at checkout.
Shipping time for pre-sale products is subject to the instructions on the product page.

Due to the requirements of logistics service providers: 

In order to get your order ready as soon as possible and avoid shipping issues, make sure to introduce an accurate postal address including your exact house number and any other info that may be necessary for the delivery company. 
For mainland China: For mainland China customers, please use Tmall to place your order. Hong Kong, Macao, please include your name, ID number and shipping address in traditional Chinese. Due to logistic reasons, it is temporarily not available for purchase in Taiwan regions.

⚠️

Brazil: Due to local tax policies, customers need to pay customs duties themselves. JSAUX is not responsible for any customs and taxes applied to your order.
Due to logistical reasons, we are temporarily not providing order services to the following countries and regions: Afghanistan, Albania, Algeria, Andorra, Angola, Anguilla, Argentina, Armenia, Aruba, Azerbaijan, Bahrain, Bangladesh, Barbados, Belarus, Bermuda, Bhutan, Bosnia & Herzegovina,British Virgin Islands, Brunei, Burkina Faso, Burundi,Bolivia, Cambodia, Cameroon, Cayman Islands, Central African Republic, China, Christmas Island, Costa Rica, Djibouti,Egypt, El Salvador, Ecuador,Falkland Islands, Faroe Islands, Gabon, Gambia, Georgia, Ghana, Gibraltar, Greenland, Guadeloupe, Guatemala, Guernsey, Guinea, Iceland, Indonesia, Jamaica, Jordan, Kazakhstan, Kenya, Kiribati, Kyrgyzstan, Lebanon, Lesotho, Liberia, Liechtenstein, Maldives, Martinique, Moldova, Monaco,Mongolia, Montenegro, Myanmar (Burma), Namibia, Nauru, New Caledonia, Nicaragua, Niger, Nigeria, Norfolk Island, North Macedonia, Oman, Pakistan, Paraguay, Rwanda, San Marino, Senegal, Serbia, Seychelles, Solomon Islands, South Sudan, Sri Lanka, Sudan, Tajikistan, Togo, Tonga, Tunisia, Turkmenistan, Tuvalu, Uganda, Ukraine, Uruguay, India, Uzbekistan, Vanuatu, Vatican City,

Some regions in the United States

(including Puerto Rico, Guam, US Virgin Islands, Northern Mariana Islands, American Samoa, and military bases like APO, FPO, and DPO).

15-Days RETURN:

Our return & exchange policy will be active for 15 days from the very same day you receive your product(s) at home. For more information, please visit our Shipping Policy section.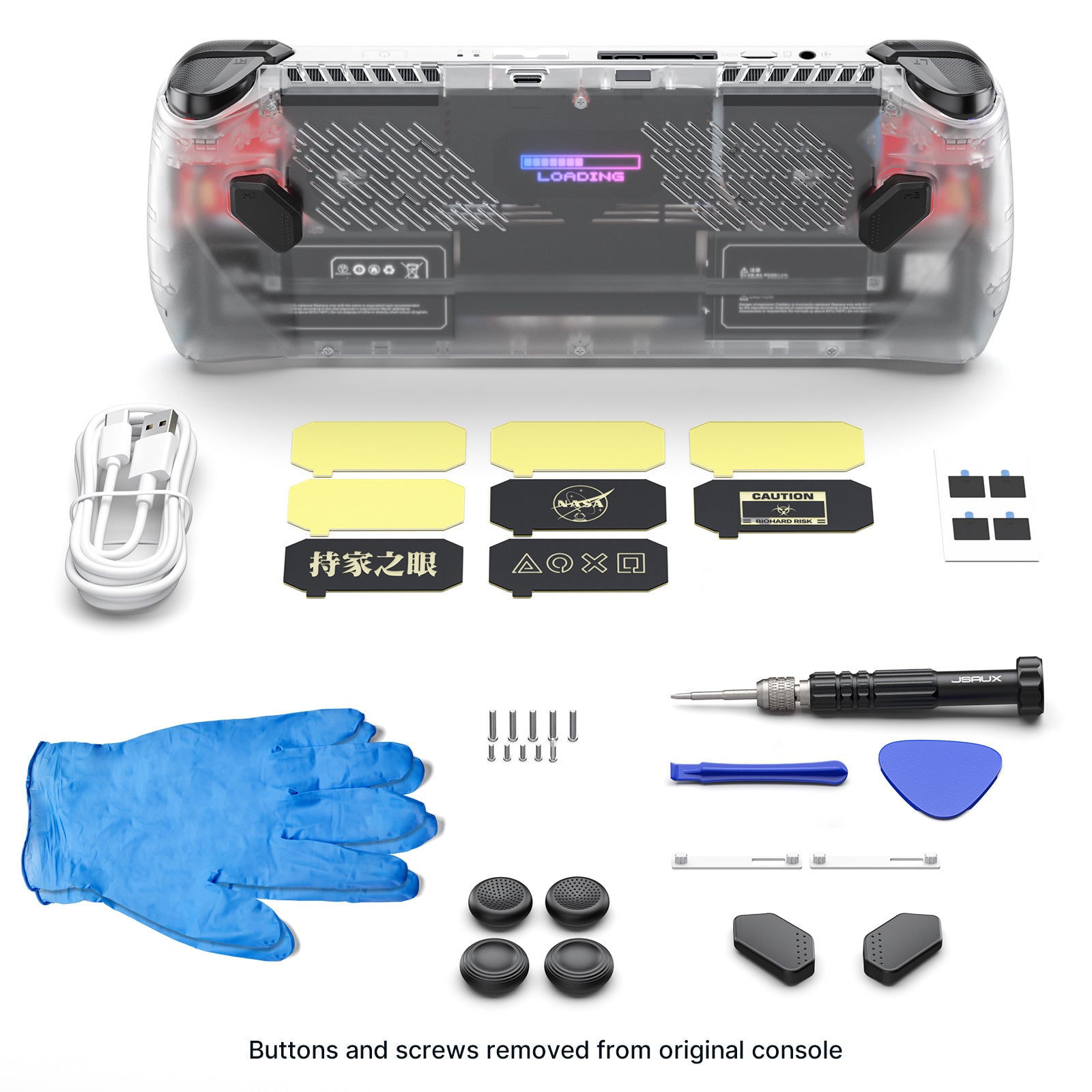 RGB Transparent Back Plate for ROG Ally
Installation Tutorial
Professional video and text versions of the installation tutorials are provided, please use them together.
Learn More
Q1. Will the internal PCB and plastic brackets of the product affect the operation of the original game console?

A1. Please don't worry; this won't have any impact on your handheld device. There is ample space inside the gaming console to accommodate the light board bracket and PCB.
Q2. Can I use a 100W or higher power adapter for charging the product?

A2. You can use a high-power charger to charge the product. Rest assured, this will not cause any damage.
Q3. Can it compatible with the PC0201 Silicone Grip Case Set for ROG Ally?

A3. Yeah, they are compatible.
Q4. Is it compatible with PC0109 ModCase for ROG Ally?

A4. No, they are not compatible, the protective case  may obstruct the light source behind the PC0110 back plate. And the switch of RGB light may be blocked.
Q5. Will installing PC0110 consume power from my ROG Ally?

A5: No, please don't worry. Our product comes with a built-in 170mAh lithium battery, providing up to 3 hours of continuous RGB lighting without interruption and can be easily recharged via USB-C. Therefore, it won't consume any power from your ROG Ally.
Q6. What are the 4 transparent customizable slides in the packaging for, and how do I use them?

A6. The 4 transparent customizable slides included in the packaging are intended for customizing RGB patterns.

1. Cut a piece of cardboard or any other material into your desired shape to be used as a paint mask.
2. Apply double-sided tape to the back of the paint mask, then affix it to the transparent customizable slide to secure it in place.
3. Spray black paint onto the transparent customizable slide, and allow it to dry for approximately 1 hour.
4. After the paint has dried, gently peel off the paint mask to complete your custom design.
Q7. Are there specific dimensions available for the transparent customizable slides?

A7. We provide a size guide for transparent customizable slides ( Download PSD file ). "Group 1" in the file contains all size specifications. You can add your desired graphics into it, hide "Group 1," and then export the image.
This product is rated 5.0 of 5.0 stars.
It has received 4 reviews.
REVIEW
Exceeded my expectations
Feels great in the hands might even be a touch slimmer then original backplate. After install everything looked great. There was no rough edges or corners and the seam was flush and smooth all the way around the Ally. Very happy with my purchase.
Finally!!
installation process takes at least 45 mins for me. I'm not a handy person but i had made it. Looks cool but i wish there's light also at grip side. it comes with silicon handle for enough grip for me to hold them overall I'm happy because i make it look incredibly rockin it. i trust jsaux brand and looking forward for more ROG ally accessories to come. one mode I'm hoping to look forward is the fan cooling like they made for steam deck. That's the one i really hoping that jsaux could bring it for sale.
Highly recommend
The over all look is super nice seeing all the inside components, depending what you decide to use in the kit. Also the cooling performance. Game depending I've seen as good as 6 degrees in soem of my games. So would highly recommend to everyone.