15-Day Refund Guarantee
Fast, Free Shipping Over $25
Quick Customer Support
PC0108
Transparent Shell Series for Steam Deck
---
Coupon Notes: 1. Only available to those who have purchased a transparent back plate before (not RGB&Vents ver.). 2. Only available to single front cover, not sets.
【Transparent Front Cover for Steam Deck PC0108】


⚠️Notes: Due to the complexity of the dismantling procedure and the possibility of damaging your machine, we recommend that users with no experience in dismantling machines consider this carefully before doing so. 


【Clear View of Internal Components】Get a clear view of your Steam Deck's internal components with the Transparent Front Cover PC0108, and showcase the impressive engineering.
【Engaging DIY Customization】For enthusiasts who enjoy hands-on customization, Follow the comprehensive video and text tutorials provided for a perfect DIY experience.
【Premium Quality Materials & Accessories】Crafted from top-notch materials, the Transparent Front Cover guarantees durability and a premium feel. It comes with a comprehensive set of high-quality accessories to provide the necessary support.
【Perfect Fit】The meticulously designed Transparent Front Cover perfectly fits with your Steam Deck, and without any loose or mismatched parts.
【Rigorous Testing Process】The Transparent Front Cover has undergone thorough testing to ensure its feasibility and compatibility with the Steam Deck.


Notes: When dismantling the procedure, please use the video and text tutorial provided below together. If you need help, please contact our customer support team immediately.

Notes: When tightening screws, ensure proper alignment without excessive force. Avoid over-tightening to prevent deformation, which may lead to device damage.

【Transparent Back Plate for Steam Deck PC0106B】
The upgraded version of the Transparent Back Plate for Steam Deck PC0106
【Enhanced Airflow】Compare to Transparent Back Plate PC0106, Added intake vent for shorter airflow path, significantly improving heat dissipation.
【Improved Cooling】Compare to Transparent Back Plate PC0106, Embedded aluminum fins for lower surface temperatures, ensuring a cooler casing and reducing the risk of accidental burns.

【Anti-Glare Screen for Steam Deck GP0300】
Designed exclusively for Steam Deck, it features anti-glare functionality, smooth touch response, and excellent fingerprint resistance. Achieve a seamless fit with the transparent front cover. Includes a comprehensive installation guide and a complimentary tool kit. Take control and experience the perfect screen upgrade for Steam Deck.

⚠️Notes: The Transparent Front Cover isn't recommended for users without experience in DIY and/or disassembling electronic devices. We strongly recommend carefully reviewing the Installation videos and Text if you choose to install it or seek the services of a professional. The user shall bear any equipment malfunction caused by the disassembly of the Steam Deck, but not by this product.

List

Front Cover PC0108:

Transparent Front Cover *1
Double-headed Screwdriver *1
Tweezers *1
Disassembly Film *1
Disassembly Rod *1
Pry Bar *1
Screen Back Adhesive Cutting Blade *2
Anti-static Gloves *1
Screw Box and Spare Screws *1
Accessory Tray *1
Accessory Location Diagram *1
Disassembly Tips Card *1
User Manual *1
Warranty Card *1
Please read our shipping tips carefully before you place your order

All orders above $25 are free shipping.
Orders under $24.99 will be charged $5.5 as shipping cost.

Please Note:

JSAUX provides fast and efficient delivery services for global customers.(But unable to deliver products at military addresses (APO/FPO) and some islands.)
The current processing time for all orders takes 2-4 days(Orders are not processed on weekends). 
Order delivery time will be at 7-12 business days(pre-sale items excluded).
International duties & taxes may apply and are not calculated at checkout.
Shipping time for pre-sale products is subject to the instructions on the product page.

Due to the requirements of logistics service providers: 

In order to get your order ready as soon as possible and avoid shipping issues, make sure to introduce an accurate postal address including your exact house number and any other info that may be necessary for the delivery company. 
For mainland China: For mainland China customers, please use Tmall to place your order. Hong Kong, Macao, please include your name, ID number and shipping address in traditional Chinese. Due to logistic reasons, it is temporarily not available for purchase in Taiwan regions.
Due to logistical reasons, we are temporarily not providing order services to the following countries and regions: Afghanistan, Albania, Algeria, Andorra, Angola, Anguilla, Argentina, Armenia, Aruba, Azerbaijan, Bahrain, Bangladesh, Barbados, Belarus, Bermuda, Bhutan, Bosnia & Herzegovina, British Virgin Islands, Brunei, Burkina Faso, Burundi,Bolivia, Cambodia, Cameroon, Cayman Islands, Central African Republic, China, Christmas Island, Costa Rica, Djibouti,Egypt, El Salvador, Ecuador,Falkland Islands, Faroe Islands, Gabon, Gambia, Georgia, Ghana, Gibraltar, Greenland, Guadeloupe, Guatemala, Guernsey, Guinea, Iceland, Indonesia, Jamaica, Jordan, Kazakhstan, Kenya, Kiribati, Kyrgyzstan, Lebanon, Lesotho, Liberia, Liechtenstein, Maldives, Martinique, Moldova, Monaco, Montenegro, Myanmar (Burma), Namibia, Nauru, New Caledonia, Nicaragua, Niger, Nigeria, Norfolk Island, North Macedonia, Oman, Pakistan, Paraguay, Rwanda, San Marino, Senegal, Serbia, Seychelles, Solomon Islands, South Sudan, Sri Lanka, Sudan, Tajikistan, Togo, Tonga, Tunisia, Turkmenistan, Tuvalu, Uganda, Ukraine, Uruguay, India, Uzbekistan, Vanuatu, Vatican City, United States (including Puerto Rico, Guam, US Virgin Islands, Northern Mariana Islands, American Samoa, and military bases like APO, FPO, and DPO).

15-Days RETURN:

Our return & exchange policy will be active for 15 days from the very same day you receive your product(s) at home. For more information, please visit our Shipping Policy section.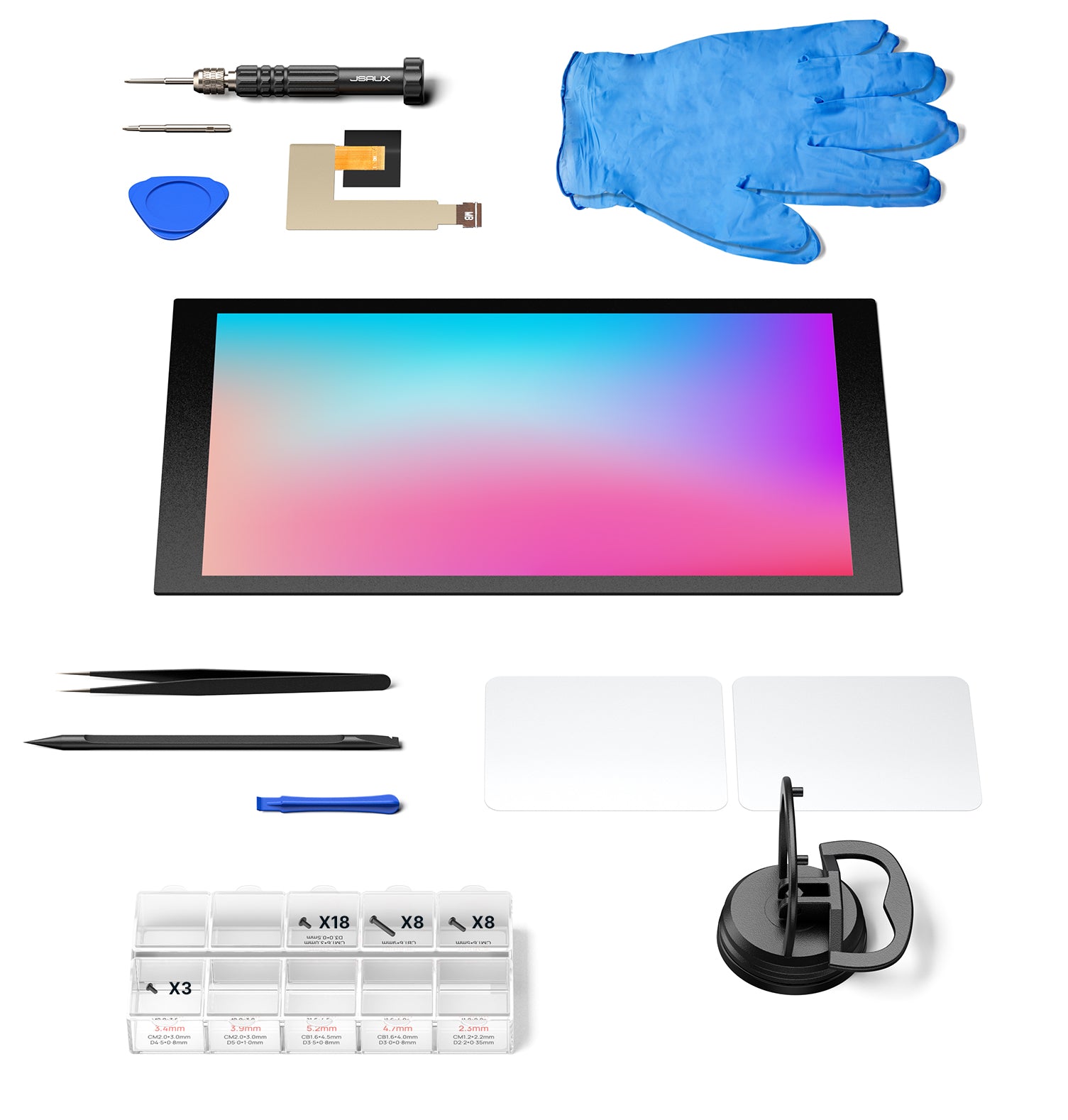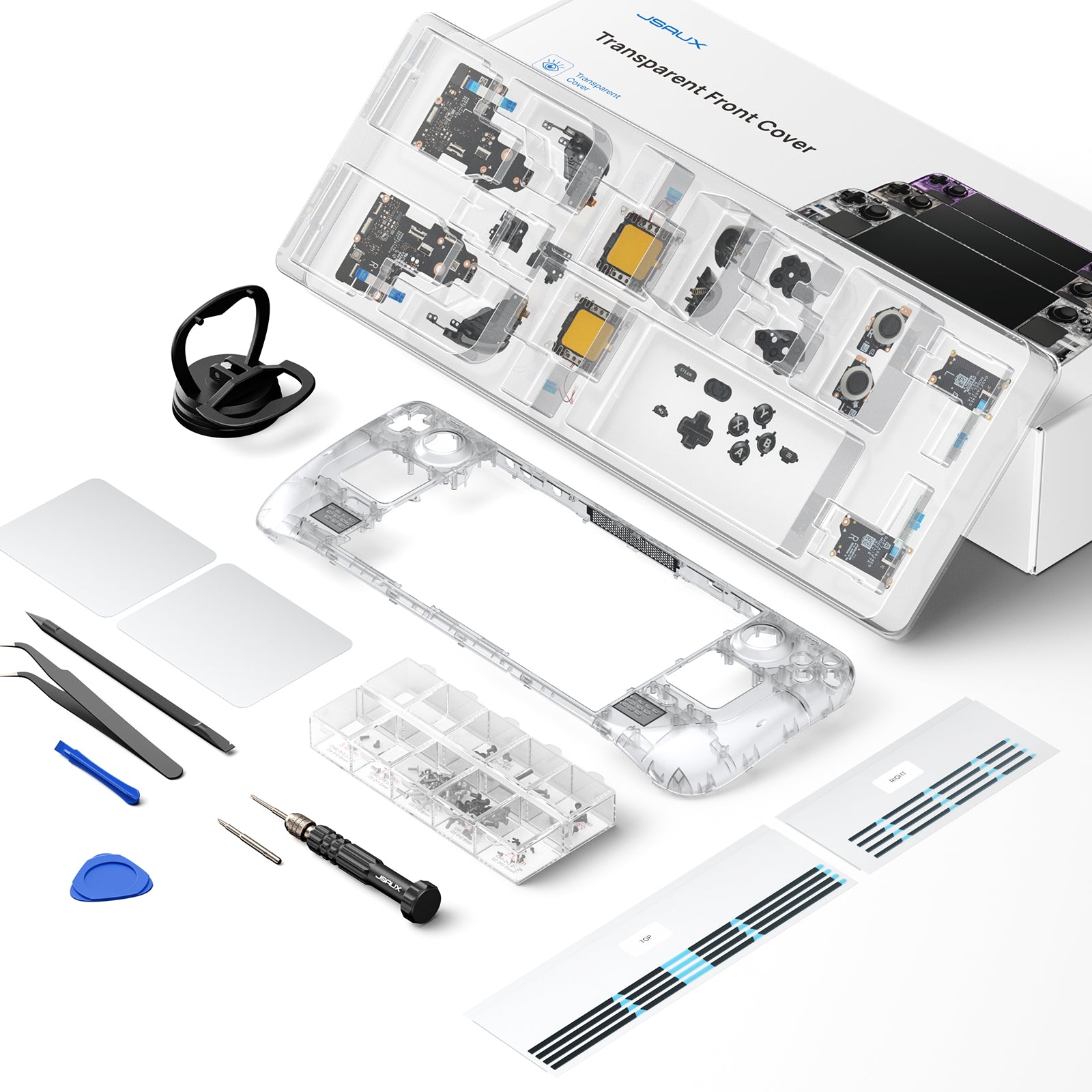 TRANSPARENT FRONT COVER
PC0108 Installation Tutorial
Professional video & text versions of the installation tutorials are provided, please use them together.
Learn More
ANTI-GLARE SCREEN FOR STEAM DECK
GP0300 Installation Tutorial
Professional video and text versions of the installation tutorials are provided, please use them together.
Learn More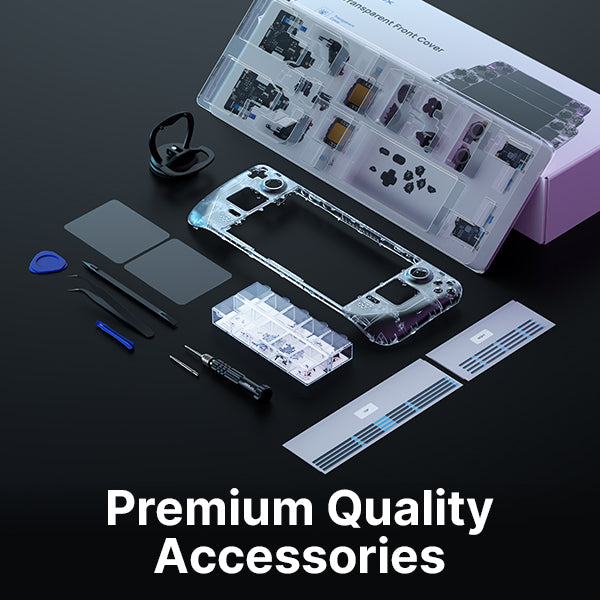 High-Quality Guarantee
From the front cover to the accessories, we have chosen high-cost but better materials, which is the main reason why it is more expensive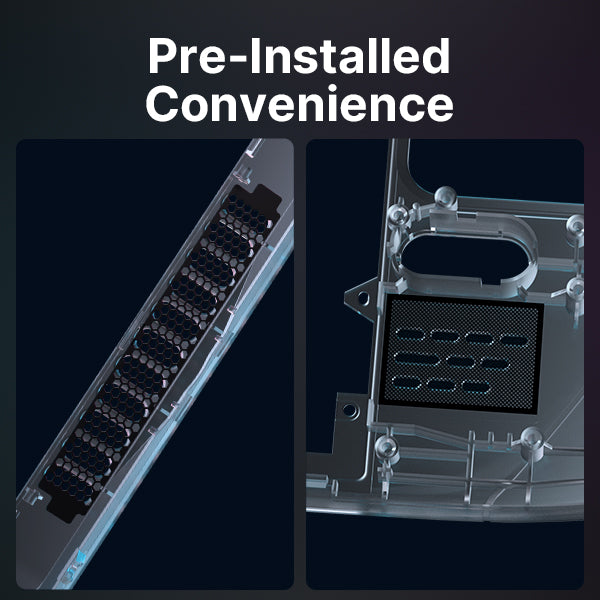 Pre-Installed Convenience
We tried our best to complete the operations that can be pre-installed, so as to simplify the steps and provide convenience for you.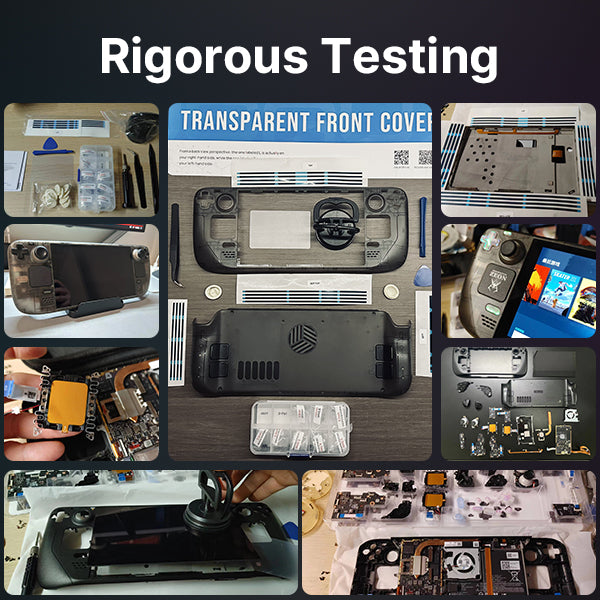 Rigorous Testing
Through strict installation testing and multiple people's complete installation testing to eliminate problems and ensure the feasibility of installation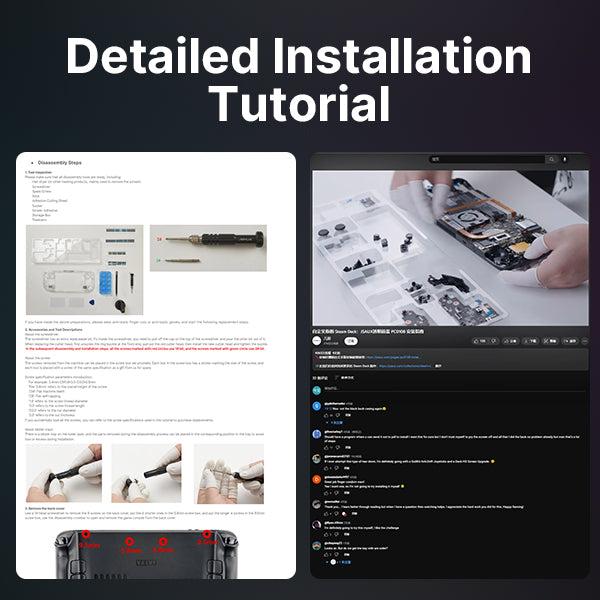 Detailed Installation Tutorial
Safely install the Transparent Face Cover on your Steam Deck with our video & text instructions. Proceed carefully for success.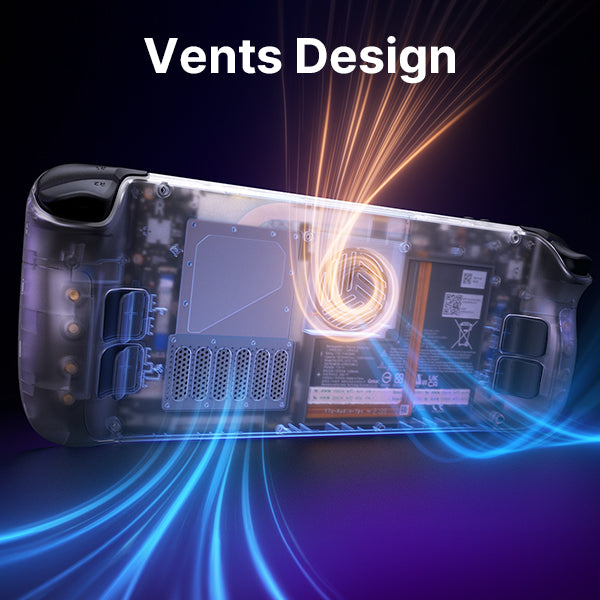 Vents Design
The upgraded back plate with vents design optimizes the heat dissipation airflow channels and effectively improves the heat dissipation efficiency.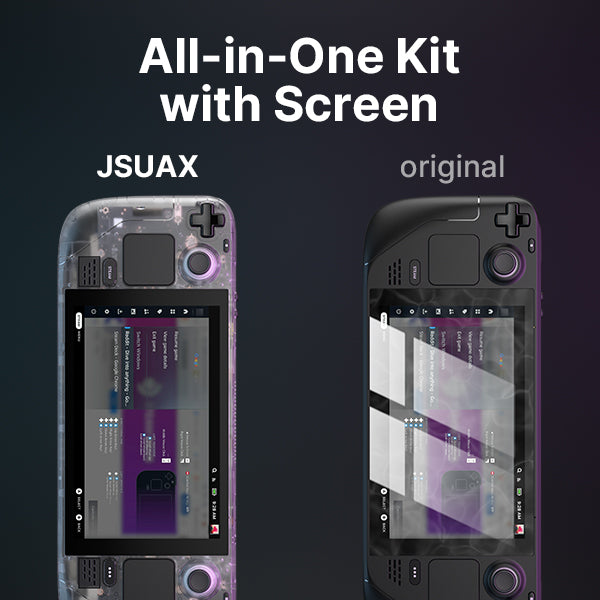 Anti-Glare Screen
For Steam Deck, only Highest-end Model have Anti-Glare Coating. Upgrade your gaming experience with the Anti-Glare screen GP0300.
JSAUX Transparent Shell Series for Steam Deck
Color
Crystal/ Purple/ Brown/ Red/ Blue/ Green
Q1. What should be paid attention to when disassembling the machine?

1. Replacing the cover of the Steam Deck involves a significant amount of work. The replacement process takes about 3-5 hours and is very difficult. We recommend that you find professional maintenance personnel to do it.

2. For information on changes to the overall device repair policy resulting from the disassembly, please refer to the official information provided by VALVE.

3. To minimize the risk of damage, please discharge the Steam Deck battery to below 25% before disassembly.

4. Before disassembling, please completely power off the Steam Deck and unplug all cables. Please follow the anti-static safety operation rules, such as washing hands before disassembling the device, wearing anti-static gloves, wearing clothes that are not easy to generate static electricity, and maintaining indoor humidity.

5. If you installed a Micro SD card, make sure to remove it before disassembling the Steam Deck.

6. If you use a screen protector on your screen, please remove the screen protector before disassembly.

7. Avoid touching other internal components of the device as much as possible. Please properly store the original parts and screws that have been removed.

8. For more detailed disassembly tutorials, please refer to the tutorial on the official website of JSAUX: https://jsaux.com/pages/pc0108-installation-tutorial
Q2. Is the front cover compatible with your PC0106 Transparent Back Plate?
Q3. What is the difference between the PC0108 front cover and the original front cover?

A3. The PC0108 front cover is made of frosted translucent ABS+PC material, and the specifications and dimensions are the same as the original front cover.
Q4. After changing the front cover, can I still install the protective cover?

A4. Yes, the size of the PC0108 transparent front cover is the same as the original front cover, so the compatibility of the PC0108 is the same as that of the original Steam Deck cover, and both can support various types of JSAUX and third-party protective cases.
Q5. Is it normal for the front cover to see through light?

A5. Yes, the cover is transparent, and there are light-emitting elements inside the machine that can directly transmit light to the outside through the cover.
Q6. More questions about installation
This product is rated 5.0 of 5.0 stars.
It has received 38 reviews.
REVIEW
Looks even better in person
The instructions were organized well, even though there were a few grammatical errors. The whole conversion process took about 3 hours in total. If you're doing this swap yourself, a hair dryer is not hot enough for the screen adhesive. Get a heat gun and use it at around 600F. I hope that JSAUX offers more color options in the future because I would definitely buy the kit again
Awesome!!
This new shell is everything I thought it would be. The material is strong, and very well made. Do not attempt to do this yourself unless you are knowledgeable in taking apart electronics. The instructional video was well put together, and made the process fairly easy. The tools provided worked very well with this process.
Awesome Project and Product
This was a pretty serious project but the instructions and tools included made it both fun and not too challenging. The screen removal and glue cleaning aren't fun, but with some patience the final product is glorious. I'm loving my purple steam deck and would recommend anyone who feels capable to try this fun project.
Awesome shell!
Shell looks great, feels great, and was super easy to install with the included video tutorial.