30-Day Refund Guarantee
Fast, Free Shipping Over $25
Quick Customer Support
Magnetic Wireless Charger WP1501
30-Day Refund Guarantee
Fast, Free Shipping Over $25
Quick Customer Support
【Compatible for iPhone 14/13/12】Compatible with iPhone 14, iPhone 14 Pro, iPhone 14 Plus, iPhone 14 Pro Max, iPhone 13, iPhone 13 Pro, iPhone 13 Pro Max, iPhone 13 mini, iPhone 12, iPhone 12 Pro, iPhone 12 Pro Max, iPhone 12 mini, AirPods (3rd generation), AirPods Pro, AirPods with Wireless Charging Case (2nd generation), Wireless Charging Case for AirPods, and MagSafe Cases.
【Perfect Alignment & Easy charging at night】In the dark of the bedroom, never worry about how difficult to find the charging port. The magnetic wireless charging pad lets the perfectly aligned magnets attach to your iPhone 14/13/12, whether you are working, watching videos, listening to music, or chatting.
【Portable & Multi-port Input】The high-quality metal material offers good performance with a longer spam life. Only 0.23 inch (thickness), with 4.9 ft integrated multi-port cable, just like the smallest & lightest wireless mag safe charger. Free up more space and is easy to carry. Recommended using with 18W, 20W, or higher USB-C & USB-A Power Adapter (SOLD SEPARATELY).
【Intelligent Protection】As with MagSafe Charger, your iPhone or JSAUX magnetic wireless charger might get slightly warmer while your iPhone charges. To extend the lifespan of your battery, if the battery gets too warm, the software might limit charging to above 80 percent.
【Safety Protection】: Intelligent protection to ensure charging safety. Foreign object detection, battery protection, over-current protection, over-heat protection, and short-circuit protection give your iPhone 12 a safe, fast magnetic wireless charging experience.
Note: Products with electrical plugs are designed for use in the US. Outlets and voltage differ internationally and this product may require an adapter or converter for use in your destination. Please check compatibility before purchasing.
Color: Blue
Total USB Ports: 2
Brand: JSAUX
Compatible Devices: IPhone 12 / iPhone 12 mini / iPhone 12 Pro / iPhone 12 Pro Max, IPhone 13 / iPhone 13 mini / iPhone 13 Pro / iPhone 13 Pro MaxIPhone 12 / iPhone 12 mini / iPhone 12 Pro / iPhone 12 Pro Max, IPhone 13 / iPhone 13 mini / iPhone 13 Pro / iPhone 13 Pro Max
Compatible Phone Models: IPhone 12 / iPhone 12 mini / iPhone 12 Pro / iPhone 12 Pro Max / AirPods / AirPods 2 / AirPods Pro
Special Feature: Magnetic Wireless Charger
Connector Type: USB

Please read our shipping tips carefully before you place your order
All orders above $25 are free shipping.
Orders under $24.99 will be charged $5.5 as shipping cost.
Please Note:
JSAUX provides fast and efficient delivery services for global customers.(But unable to deliver products at military addresses (APO/FPO) and some islands.)
The current processing time for all orders takes 2-4 days(Orders are not processed on weekends). 
Order delivery time will be at 7-12 business days(pre-sale items excluded).
International duties & taxes may apply and are not calculated at checkout.
Shipping time for pre-sale products is subject to the instructions on the product page.
Due to the requirements of logistics service providers: 
In order to get your order ready as soon as possible and avoid shipping issues, make sure to introduce an accurate postal address including your exact house number and any other info that may be necessary for the delivery company. 
For mainland China: For mainland China customers, please use Tmall to place your order. Hong Kong, Macao, please include your name, ID number and shipping address in traditional Chinese. Due to logistic reasons, it is temporarily not available for purchase in Taiwan regions.
Due to logistical reasons, we are temporarily not providing order services to the following countries and regions: Afghanistan, Albania, Algeria, Andorra, Angola, Anguilla, Argentina, Armenia, Aruba, Azerbaijan, Bahrain, Bangladesh, Barbados, Belarus, Bermuda, Bhutan, Bosnia & Herzegovina, British Virgin Islands, Brunei, Burkina Faso, Burundi, Cambodia, Cameroon, Cayman Islands, Central African Republic, China, Christmas Island, Costa Rica, Egypt, El Salvador, Ecuador,Falkland Islands, Faroe Islands, Gabon, Gambia, Georgia, Ghana, Gibraltar, Greenland, Guadeloupe, Guatemala, Guernsey, Guinea, Iceland, Indonesia, Jamaica, Jordan, Kazakhstan, Kenya, Kiribati, Kyrgyzstan, Lebanon, Lesotho, Liberia, Liechtenstein, Maldives, Martinique, Moldova, Monaco, Montenegro, Myanmar (Burma), Namibia, Nauru, New Caledonia, Nicaragua, Niger, Nigeria, Norfolk Island, North Macedonia, Oman, Pakistan, Paraguay, Rwanda, San Marino, Senegal, Serbia, Seychelles, Solomon Islands, South Sudan, Sri Lanka, Sudan, Tajikistan, Togo, Tonga, Tunisia, Turkmenistan, Tuvalu, Uganda, Ukraine, Uruguay, India, Uzbekistan, Vanuatu, Vatican City, United States (including Puerto Rico, Guam, US Virgin Islands, Northern Mariana Islands, American Samoa, and military bases like APO, FPO, and DPO).
15-Days RETURN:
Our return & exchange policy will be active for 15 days from the very same day you receive your product(s) at home. For more information, please visit our Shipping Policy section.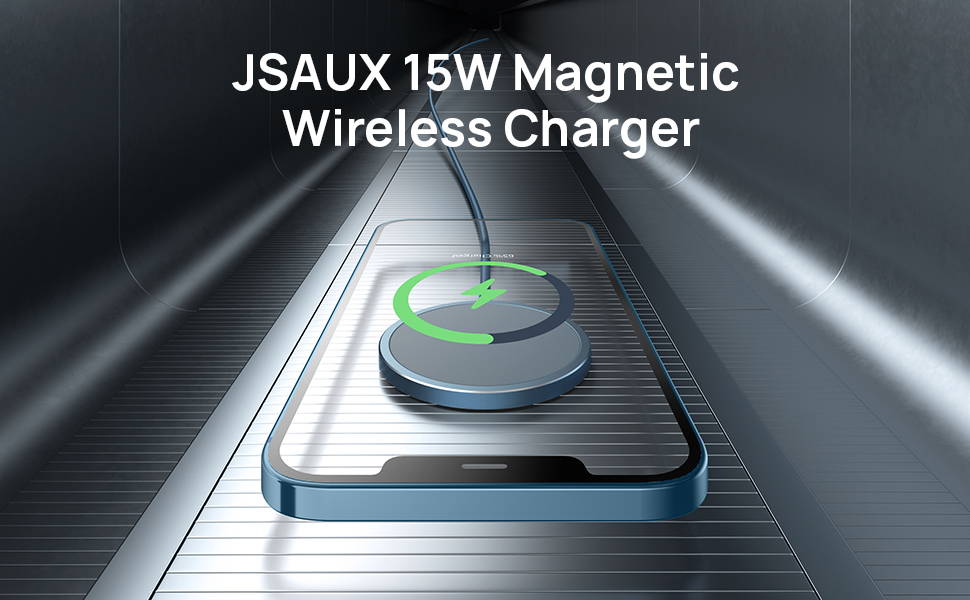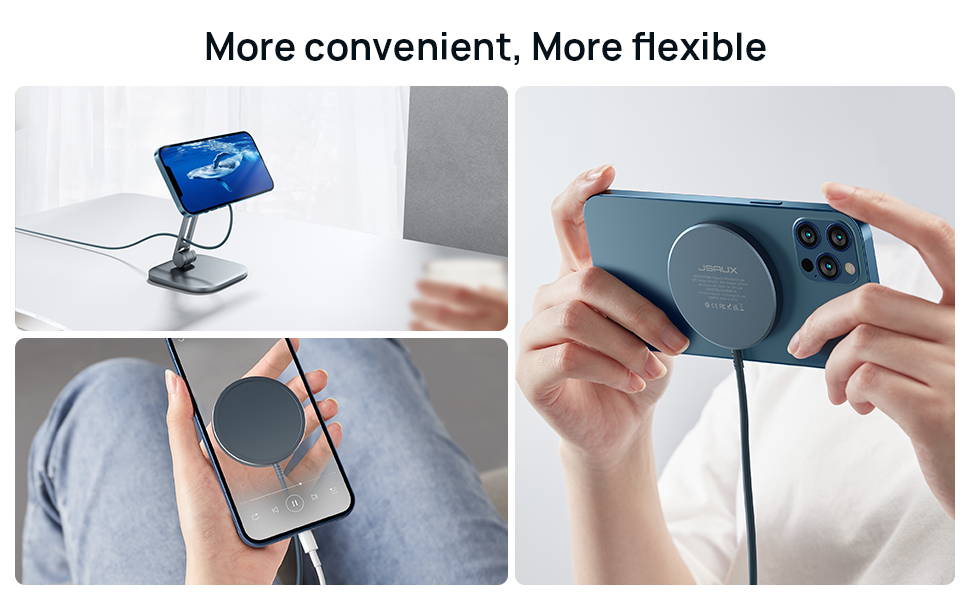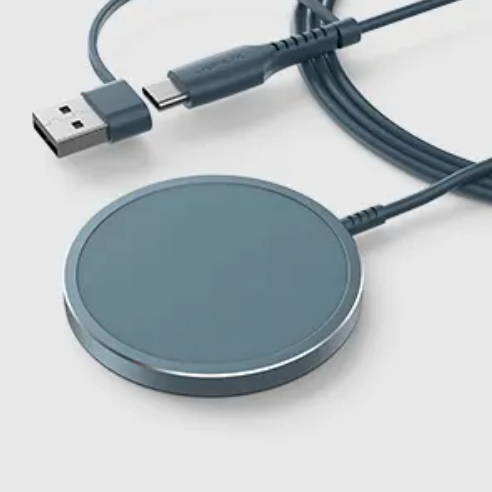 Built-in 2 switchable input ports for you to choose, whether you have a USB-C or USB-A adapter.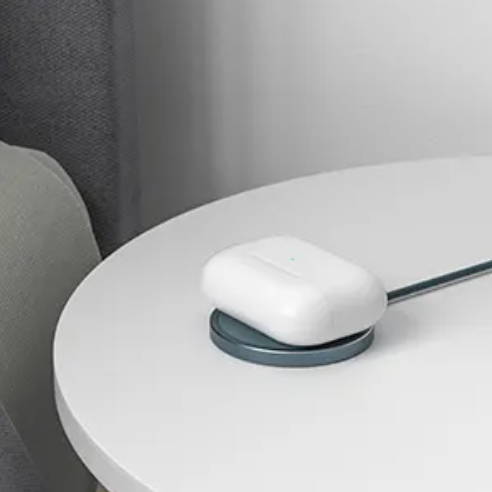 The wireless charging pad can charge your AirPods, AirPods 2, AirPods Pro equipped with AirPods wireless charging case.
Strong Magnetic Alignment
Strong magnetic technology, perfectly auto aligned with your iPhone 12 when wireless charging.
Compatibility List
iPhone 12 / iPhone 12 mini / iPhone 12 Pro / iPhone 12 Pro Max / AirPods / AirPods 2 / AirPods Pro
1. 7.5W Max magnetic wireless charging for the iPhone 12 series.
2. Please use 18W, 20W or higher power wall adapters instead of 5W, 10W one.
3. Please use iPhone original magnetic case. Not compatible with other brands of magnetic cases, such as otterbox defender cases.
4. Using a non-leather case is better. If you put your iPhone in a leather case while using a magnetic charging pad, it may leave a circular imprints on the case.
5. AirPods or AirPods Pro have to equipped with AirPods wireless charging case.
A1.As with MagSafe Charger, to extend the lifespan of your battery, if the battery gets too warm, software might limit charging above 80 percent. When the temperature drops, it will charge again.Please don't worry, it will be safe.
A2.I'm afraid not. Please use 18W, 20W or higher power wall adapters instead of 5W or 12W APPLE USB Power Adapters to ensure that the device can provide 15W of charging power.
A3.Power output of up to 15W MAX , for iPhone is 7.5W MAX.
A4.YES. But AirPods 2/3 or AirPods Pro have to equipped with AirPods MagSafe Charging Case.
A5.The factors that determine the battery life are the speed and temperature of the battery charging. As long as the phone battery is properly charged, it will not affect the health of the battery.
A6.When the battery is full, the magnetic wireless charger will not stop charging. It will continue to charge in trickle flow mode.